Blake Lively's Halloween Plans Include Watching Moana After Her Kids Go To Sleep
Blake Lively talks to Jimmy Fallon about her daughters' Halloween costumes and why she probably won't dress up.
---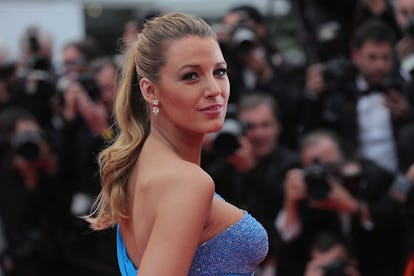 Neilson Barnard/Getty Images
During an appearance on The Tonight Show Starring Jimmy Fallon to promote her new thriller All I See Is You, Blake Lively talks about what it's like to live with two toddlers— specifically hers, James and Ines—and what they plan to dress up as for Halloween this year. She initially regaled the audience with a tale of her youngest daughter Ines's rejection of her homemade cookie monster cake during her first birthday party. Her celebratory meal of choice happens to be steak, which she grabbed two of from her mom's plate during the party. "I've given birth to a baby Viking," Lively tells Fallon in the clip. "It's like she's a White Walker!"
After a recent discussion with her oldest daughter, James, about what she wanted to be for Halloween (Cinderella, of course), Lively asked her what Inez should be, suggesting that perhaps her little sister could dress up as another Disney princess, but according to James there can only be one Disney princess at a time in their household. She told her mom Ines should be either "Mike Wazowski" from Monster's Inc. or a minor character from Moana, but absolutely not Elsa from Frozen. Sisters always know how to one-up each other.
Lively also reveals how much she and her husband Ryan Reynolds love to watch the animated Disney film, Moana, perhaps even more than their daughters enjoy the movie. She tells Fallon, "my husband and I wait for them to go to bed so that we can turn on Moana, and watch the part where she walks through the waves!" Like most moms, Lively would also love for the whole family to get involved, suggesting that Reynolds put on a matching outfit with their youngest daughter Inez, but ultimately, that's what they do for a living so this Halloween they might sit out on the costume part. If you want to imagine what an entire Lively-Reynolds Halloween ensemble would look like, there's always next year.
Related: Blonde Bombshell Blake Lively Has Epic Hair, and She Knows It
See W's most popular videos: