A Blind Blake Lively Undergoes a Mysterious Eye Operation in First Trailer for All I See Is You
She also goes from brunette to platinum blonde.
---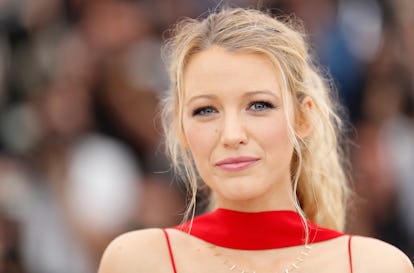 Pascal Le Segretain/Getty Images
Blake Lively's latest role might be her most unrecognizable yet. In the first trailer for All I See Is You, the blonde bombshell tries a couple of different looks. She begins the two-minute video as a brunette blind woman named Gina and over the course of the clip she morphs into an entirely different character. Lively's character, who went blind after a childhood car accident, becomes eligible to receive an eye operation that promises to restore her vision — and that's when things get weird. Gina's relationship goes from fairy tale with her husband (Jason Clarke), who she can finally see, to something more foreboding. And, for some reason, she switches up her hair color and goes platinum blonde, much like every other celebrity this year. Although, perhaps that was influenced by her character's friendship with Yvonne Strahovski from The Handmaid's Tale? The two also shower together.
If it all seems hard to process, that's kind of the point. Director and co-writer by Marc Foster told Entertainment Weekly about his process: "When I make a film, my visuals are always guided by the motivation of both the character and the story. In this case, I wanted to find a way to tell a story without the limitations of traditional narrative devices, where I could literally embody a painter and create innovative and fluid visuals."
Lively's latest role seems to challenge her previous thoughts about how most characters for women in Hollywood are two-dimensional. She also criticized the media's portrayal of women in talking about her personal life. "It's nonsense. It simplifies people," she said of how she's often seen as having the "perfect life." "Not all men, but a subsection of men, have a desire to understand and control women. To do that, you have to paint them into this thing you can wrap your head around. But women are complex. It also is [a reminder] that what you see in the media is not real life."
In any case, see Lively as a brunette and platinum blonde below ahead of the October 27 release of All I See Is You.
Blonde Bombshell Blake Lively Has Epic Hair, and She Knows It
At the 2005 Nickelodeon's 18th Annual Kids Choice Awards, a young Blake Lively wore her golden blonde curls with a turquoise blue eyeliner.

Getty.
Wearing her long natural waves with a tinted coral lip, Lively looked like a California babe at the CW Network Upfront.

Getty.
Wearing her long mermaid waves with a hint of blush on her cheeks, Lively attended the VIVA LA CURE Benefiting for EIF's Women's Cancer Research Fund in 2007.

Getty.
Wild, tousled curls with a soft shimmery, smoky eye was the look at the US Weekly's Hot Hollywood Issue Celebration.

Getty.
Attending the premiere of Sherlock Holmes, Lively wore her hair in voluminous curls with a satin nude lip.

Getty.
Wearing a simple, elegant up do with glossy, natural lip, Lively attended the The Private Lives Of Pippa Lee premiere.

Getty.
Sporting a sleek, braid high pony with luminous skin, Lively tried out a new look at the 61st Primetime Emmy Awards.

Getty.
Wearing a sleek low bun with a taupe smoky eye, Lively attended the Spike TV's "Scream 2010" event.

Getty.
With red mermaid waves and a natural lip, Lively went glam at the TIME 100 Gala in 2011.

Getty.
Channeling old Hollywood glamour with voluminous waves, a sleek cat eye and a red lip, Lively hit the red carpet at the Los Angeles premiere of Savages.

Getty.
At the 2013 Costume Institute Gala, Lively wore her hair in a sleek, high pony with a subtle smoky eye and a light pink lip.

Getty.
Wearing her golden blonde curls softly tousled with a silk headband, Lively looked retro at the 2014 CFDA Fashion Awards.

Getty.
At the 2014 Costume Institute Gala, Lively paired her polished curls with a berry pink lip.

Getty.
At the 2016 Costume Institute Gala, Lively wore her hair in a voluminous up do with a bold, satin red lip.

Getty.
Radiating at the 74th Annual Golden Globe Awards, Lively opts for a sleek, knotted up do with a copper smokey eye and pale pink lip.

Getty.
Wearing her signature bombshell waves in a tousled half up do with loose curls framing her face, Lively attends the Michael Kors Collection Fall 2017 runway show.

Getty.
Wearing a sleek, high pony and sun-kissed skin with a nude lip, Lively hit the red carpet at the 2017 Costume Institute Gala.

Getty.
Debuting her latest do yet, Lively steps out at the All I See Is You L.A. screening in a pinned up faux bob that she effortlessly paired with a matte red lip.

Invision/AP/Shutterstock
Blake Lively attends the 'Final Portrait' New York screening at Guggenheim Museum on March 22, 2018 in New York City. Photo courtesy of Getty Images.

ANGELA WEISS
Blake Lively attends the premiere for "A Quiet Place" at AMC Lincoln Square Theater on April 2, 2018 in New York City. Photo courtesy of Getty Images.

Jamie McCarthy
Actress Blake Lively poses for a picture during the "Deadpool 2" New York Screening at AMC Loews Lincoln Square on May 14, 2018 in New York City. Photo courtesy of Getty Images.

Bennett Raglin
Blake Lively poses outside the Crosby Hotel on August 18, 2018 in New York City. Photo courtesy of Getty Images.

James Devaney
Watch: 10 Famous Actresses Who Drastically Cut Their Hair Short For Movie Roles