The Most Out-There Celebrity Beauty Trends of 2017
What a long strange trip it's been.
---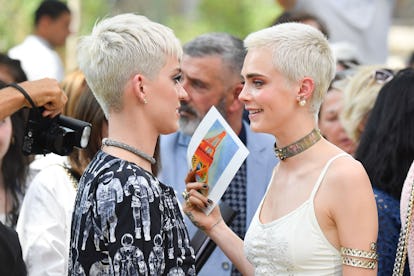 Stephane Cardinale – Corbis/Corbis via Getty Images
Everyone has their own take on 2017 but, no matter who you ask, one thing is certain: It was never boring. That was as much the case in the beauty world, where trends ranged from natural to the most maximalist, with statements made on both ends of the spectrum. Celebrities took bigger risks, whether embracing imperfection with "non-touring," or wobbly eye makeup, or opting for hyper-polished dye jobs in every shade, from platinum to green. As the year winds down to a close, take a look at some of the most-out there beauty trends from 2017, making this year a truly unforgettable one.
Bleached and Buzzed
The biggest beauty trend from 2017 didn't involve makeup. Instead, it required a bottle of bleach and a pair of clippers. This year, more than a handful of celebrities used those tools to shake up their looks. Zoë Kravitz chopped off her brunette hair to opt for a blonde buzz cut and, later, a pixie cut. Amandla Stenberg did the same. Celebrities going bleached and buzzed hit an all-time peak, though, in July when Katy Perry, Cara Delevingne, and Kristen Stewart arrived at the Chanel Haute Couture show looking like a set of triplets. Meanwhile, Gigi Hadid may have pulled off the best reveal, as she pranked her Instagram followers with a selfie that showed her blonde hair in a pixie cut, before sharing that it was just an April Fool's joke.
Zoë Kravitz
Amandla Stenberg
Katy Perry
Gigi Hadid
Crystals
2017 is not only the year crystals went mainstream, it's also the year crystals were impossible to miss in the beauty world. From Kravitz's Audrey Hepburn look complete with a sparkly tiara in the Big Little Lies finale to Rihanna's iconic Crop Over Festival outfit where she went as a human crystal—sticking a handful of them to her forehead—celebrities' use of crystals went beyond healing stones. There were plenty of unexpected uses of crystals too, like how Solange Knowles dotted them all over her forehead and eyelids and how Janelle Monáe wore loose ones in her hair to the 2017 Met Gala, where Brie Larson also arrived with lone crystals at the end of her eyes.
Zoë Kravitz
Brie Larson
Janelle Monáe
Rihanna
Solange Knowles
Coloring Outside of the Lines
Imperfection is the new perfection, at least when it comes to eye makeup. This past year, a handful of celebrities demonstrated that as they took bigger risks with their eye makeup. Solange Knowles kicked off the trend in January with blue eye shadow that looked like it had been finger-painted on. She later followed up that look with white eyeshadow. Amandla Stenberg put her own twist on the look with a wobbly metallic cat eye. Other celebrities followed suit with blue experimental eye shadow like Stella Maxwell when she walked in Versace's Fall 2017 show and fellow model Suki Waterhouse. Not to mention, Gigi Hadid wore mismatched eyeshadow with reverse eyeliner (at the crease of her eyes, rather than her lids) for a Maybelline campaign.
Solange Knowles
Gigi Hadid
Stella Maxwell
Amandla Stenberg
Suki Waterhouse
Rita Ora
Rosé
Millennial pink everywhere you looked in 2017, even in the beauty world. Rosé hair was a full-on trend with everyone from Frank Ocean to Kim Kardashian and Kylie Jenner trying it out. Sophie Turner also dipped her ends into the trend for her Coachella look, while other celebrities just opted for rosé makeup. Emily Ratajkowski and Lily Rose Depp proved that pink eye is actually something that you should strive for — at least, of the eyeshadow variety.
Kylie Jenner
Kim Kardashian
Sophie Turner
Emily Ratajkowski
Lily Rose Depp
Non-touring
For as much as celebrities experimented with makeup this year, the no makeup look was just as popular. "Non-touring," the anti-Kardashian beauty approach—which even Kim has gotten behind—was championed by fresh faces like Chrissy Teigen, Bella Hadid, Brie Larson, Solange Knowles, Dakota Fanning, Karlie Kloss and Emily Ratajkowski, proving that less really can be more.
Chrissy Teigen
Bella Hadid
Solange Knowles
Dakota Fanning
Brie Larson
Emily Ratajkowski
Karlie Kloss
Masked
Just like "non-touring" was a thing, self-care selfies also became a trend in 2017. For many celebrities, that entailed shamelessly sharing their mid-mask pictures. "Pre Met Gala face," shared Madonna in the caption of hers, "Before getting into Battle Dress. I prepare for combat with MDNA Chrome Clay Mask." Other celebrities shared their travel mask routines, such as Bella Hadid and Brie Larson. Meanwhile, Irina Shayk raised the mask bar to an impossibly glamorous standard in a silver mask by skin guru Mimi Luzon.
Madonna
Bella Hadid
Brie Larson
Irina Shayk
Highlighter Hair
For as much as natural beauty reigned over 2017, being bold was also on trend. Outside of bleached and buzzed hair this often meant bright dye jobs. Fluorescent highlighter hair was almost a fixture on Instagram as everyone from Kylie Jenner to Rihanna and Barbara Palvin tried it out.
Gigi Hadid
Kylie Jenner
Rihanna
Barbara Palvin
Watch: Tracee Ellis Ross Had the 18th Birthday to End All Birthdays
Tracee Ellis Ross Had the 18th Birthday to End All Birthdays