Blake Lively Didn't Stick Up for Herself as a Young Actress Because She Didn't Want to Be Labeled a "Diva"
"I didn't feel like I could fight for myself."
---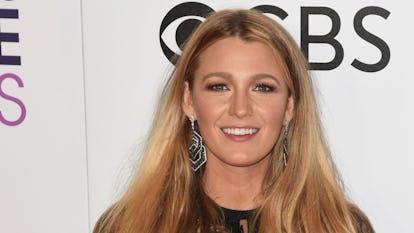 C Flanigan/Getty Images
As Beyoncé once informed us a all, "a diva is a female version of a hustla," but it took Blake Lively quite a few years to figure that out for herself. Even when she was playing a strong minded character Gossip Girl, she was often afraid to stick up for herself during her early years out of fears of being labeled an actual "diva" behind the scenes.
"I think that sometimes you're not encouraged to stand up for yourself," Lively, 30, said. "It doesn't even mean in really dramatic ways. That just means that if you're working too many hours, or you aren't being paid what someone else at your work level is being paid, or if you're being treated differently than someone else on the crew, or whoever."
The All I See Is You star said that although she's always been "passionate" about defending others, that same passion didn't extend to defending herself while she was finding her footing in Hollywood. "I didn't feel like I could fight for myself in the same way, because I was afraid of coming across as a diva or difficult or demanding," she said. "As a woman, you're afraid of a label you may acquire by demanding fair treatment for yourself that you know that you've earned."
Now, Lively said, she wishes she could lend her younger self a dose of self-confidence. "I'd encourage myself to love myself and fight for myself, as hard as I fought for other people," she said.
Luckily, the wisdom Lively has gained over the years won't go to waste. In her September 2017 cover interview for Glamour, she explained how she and husband Ryan Reynolds are raising their two daughters, 2-year-old James and 1-year-old Ines, to be strong young women unafraid to challenge the patriarchy. "We've joked that my daughter is bossy. But my husband said, 'I don't ever want to use that word again. You've never heard a man called bossy,'" she said. "There would never be any negative connotation for a man being a boss, so to add a negative connotation on a woman being bossy? It's belittling. And it doesn't encourage them to be a boss."
And that's how Blake Lively went from being bullied by the patriarchy into not speaking up for herself to a feminist mother not afraid to tell her bosses that she's being treated unfairly. If that makes her a diva, so be it.
Related: The Gossip Girl Sex Scenes That Were Considered Too Hot to Air
Blonde Bombshell Blake Lively Has Epic Hair, and She Knows It
At the 2005 Nickelodeon's 18th Annual Kids Choice Awards, a young Blake Lively wore her golden blonde curls with a turquoise blue eyeliner.

Getty.
Wearing her long natural waves with a tinted coral lip, Lively looked like a California babe at the CW Network Upfront.

Getty.
Wearing her long mermaid waves with a hint of blush on her cheeks, Lively attended the VIVA LA CURE Benefiting for EIF's Women's Cancer Research Fund in 2007.

Getty.
Wild, tousled curls with a soft shimmery, smoky eye was the look at the US Weekly's Hot Hollywood Issue Celebration.

Getty.
Attending the premiere of Sherlock Holmes, Lively wore her hair in voluminous curls with a satin nude lip.

Getty.
Wearing a simple, elegant up do with glossy, natural lip, Lively attended the The Private Lives Of Pippa Lee premiere.

Getty.
Sporting a sleek, braid high pony with luminous skin, Lively tried out a new look at the 61st Primetime Emmy Awards.

Getty.
Wearing a sleek low bun with a taupe smoky eye, Lively attended the Spike TV's "Scream 2010" event.

Getty.
With red mermaid waves and a natural lip, Lively went glam at the TIME 100 Gala in 2011.

Getty.
Channeling old Hollywood glamour with voluminous waves, a sleek cat eye and a red lip, Lively hit the red carpet at the Los Angeles premiere of Savages.

Getty.
At the 2013 Costume Institute Gala, Lively wore her hair in a sleek, high pony with a subtle smoky eye and a light pink lip.

Getty.
Wearing her golden blonde curls softly tousled with a silk headband, Lively looked retro at the 2014 CFDA Fashion Awards.

Getty.
At the 2014 Costume Institute Gala, Lively paired her polished curls with a berry pink lip.

Getty.
At the 2016 Costume Institute Gala, Lively wore her hair in a voluminous up do with a bold, satin red lip.

Getty.
Radiating at the 74th Annual Golden Globe Awards, Lively opts for a sleek, knotted up do with a copper smokey eye and pale pink lip.

Getty.
Wearing her signature bombshell waves in a tousled half up do with loose curls framing her face, Lively attends the Michael Kors Collection Fall 2017 runway show.

Getty.
Wearing a sleek, high pony and sun-kissed skin with a nude lip, Lively hit the red carpet at the 2017 Costume Institute Gala.

Getty.
Debuting her latest do yet, Lively steps out at the All I See Is You L.A. screening in a pinned up faux bob that she effortlessly paired with a matte red lip.

Invision/AP/Shutterstock
Blake Lively attends the 'Final Portrait' New York screening at Guggenheim Museum on March 22, 2018 in New York City. Photo courtesy of Getty Images.

ANGELA WEISS
Blake Lively attends the premiere for "A Quiet Place" at AMC Lincoln Square Theater on April 2, 2018 in New York City. Photo courtesy of Getty Images.

Jamie McCarthy
Actress Blake Lively poses for a picture during the "Deadpool 2" New York Screening at AMC Loews Lincoln Square on May 14, 2018 in New York City. Photo courtesy of Getty Images.

Bennett Raglin
Blake Lively poses outside the Crosby Hotel on August 18, 2018 in New York City. Photo courtesy of Getty Images.

James Devaney
Juno Temple Does ASMR: "Quietly" Channeling Blondie: