The Gossip Girl Sex Scenes That Were Considered Too Hot to Air
The producers dished on what could have been.
---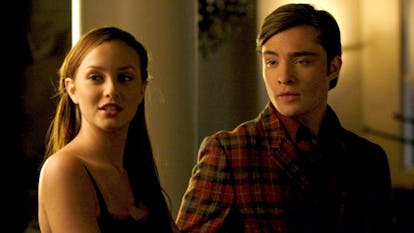 Courtesy Everett Collection
On the 10-year anniversary of its first episode, we are all probably fondly remembering our favorite outrageous Gossip Girl plot. There was the time Serena kind of killed a guy, the threesome scene that involved Hilary Duff, and more teenage drug use, deceit and casual sex then had ever been portrayed on broadcast television before. Yet, apparently there were some things The CW wouldn't let the show get away with.
The good people over at Vulture posted an interview with co-creators Josh Schwartz and Stephanie Savage and executive producer Joshua Safran about the plot lines and scenes that almost made it to air—and friends, there are some real gems here.
The best reveal of all, though, is when Safran casually hints at some too-sexy-for-The-CW scenes, saying, "I only regret things like not showing Chuck finger Blair and the dildos and other sexual stuff."
"We had a story about Chuck taking care of Blair under a table at Xan's…I don't think we were able to do it, but we hinted at it," he continued, without actually clarifying what Xan's is.
As for the sex toys, that was obviously a Georgina Sparks prank, similar to the porn she sends Serena near the end of season one. "There were dildos [Georgina] sent to Dan at the house, and we had these really huge dildos in this house that Penn [Badgley, who played Dan] was so shocked to see—but we cut it because you couldn't show them on air… The deleted-scene version… is hilarious because they're like a foot and a half long. Penn was really shocked," said Safran.
The co-creators also revealed that they heard "secondhand" that a teenage Jennifer Lawrence taped an audition to play Serena and was "bummed" she lost the role to Blake Lively. She shouldn't have been so sad; according to a feature in Vanity Fair, Lively basically had the part the moment the series was born. And it's not like Lawrence hasn't done well for herself since otherwise.
Related: 8 Fashion Lessons We Learned from Blair Waldorf, Former W Intern and Gossip Girl's True Arbiter of Style