8 Fashion Lessons We Learned from Blair Waldorf, Former W Intern and Gossip Girl's True Arbiter of Style
It's time to give credit where credit is due.
---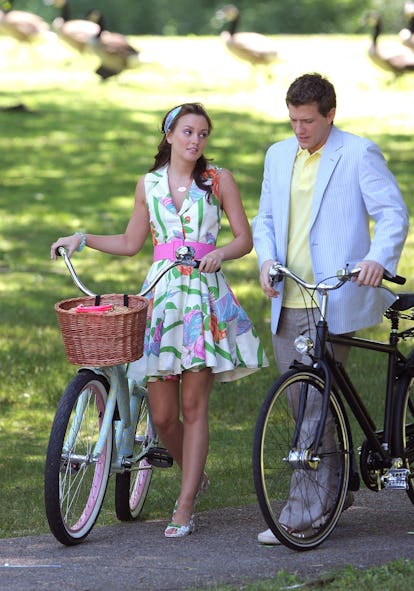 James Devaney
In just a few short weeks, Gossip Girl, the beloved teen drama series, will celebrate a full decade since its debut. To mark the occasion, Vanity Fair looked back at its history, how the show got off the ground, became a cultural juggernaut, and the legacy it left behind.
The show may have made many lasting contributions to the zeitgeist, and yet as far as the fashion set is concerned, its greatest accomplishment was turning Blair Waldorf into a style icon. The less savvy may focus on Serena van der Woodsen, the show's golden girl portrayed by Blake Lively, as the show's resident fashion plate, but they are mistake. If you look to what character left the biggest impression and most unforgettable looks, all signs point to its immortal queen bee. (The same cannot be said for the otherwise fine real-life actress who plays her, Leighton Meester).
In another piece celebrating the show's upcoming anniversary published by Fashionista this week, costume designer Eric Daman broke down the characters' signature looks. "Blair just seemed meticulous, OCD; everything had to be perfect, and she had to please her mom…I thought bringing that very meticulous, thought-out way of being to her dressing would be key in who she was," he said.
In that sense, you can't help but respect Blair's fashion sense more than Serena's, whose aesthetic was more, um, laid-back. For Blair, fashion was gospel, a trait that was reflected in later fashion-focused plotlines, like her internship at W magazine (!!) in Season 4. So, you were to take any fashion cues from any of the characters, Blair would most certainly be your best bet—and a very strict teacher, at that.
So, without further ado, the best fashion lessons to be learned from Blair Waldorf.
Don't be afraid of uniform dressing:
As in actual uniforms. During her time at Constance Billard, Blair did not let a pesky dress code stop her from showing off her personal style. The high schooler made the plaid look her own by embracing the prep, adding on coordinating layers and plenty of accessories.
Invest in outerwear:
It can get extremely chilly in Manhattan come the colder months, and one way to ensure you look chic no matter the weather is to make sure your winter coats are attention-grabbing and supremely chic. That way, you can wear basically whatever you want underneath and still look impeccably put together—not that Blair would be caught dead in sweats.
Lingerie is a must:
Speaking of sweats, it's unlikely that Blair would even wear these around her house. Why would you, when you have a closet full of lacy lingerie, despite being a sophomore in high school. You never know when a former minion-gone-rogue is going to stop by, and it's hard to be in a place of power when you have on a coffee-stained t-shirt.
Coordination is key:
If you want to look like the the queen of the Upper East Side, it is imperative that you look like you've put plenty of time and effort into your wardrobe. The easiest way to do this? Match everything. Everything. Don't question it.
Know when to dress to theme:
If the situation calls for a theme, you best adhere. Masked ball? Wear a vintage mask customized to your features. White party? Wear immaculate, virginal white. Impromptu trip to Paris because your playboy boyfriend left you right before your planned romantic getaway? Wear a beret, duh, and plot revenge.
And when to rebel:
Anyone can wear a white wedding dress. Blair Waldorf wears a baby blue wedding dress.
Headbands are your friend:
Rarely seen without her signature accessory, headbands quickly became synonymous with Blair Waldorf—and are making a comeback thanks to brands like Gucci, Tory Burch, and Chanel, all of whom showed them on their Fall 2017 runway.
Tights are not pants:
They just aren't.
Related: The O.C.'s Most Iconic Fashion Moments, In GIF Form
Krysten Ritter Watches All the TV, and Has Lots of Opinions About Female Characters