The O.C.'s Most Iconic Fashion Moments, In GIF Form
A look at Marissa, Summer, and the rest of the gang's best style moments.
---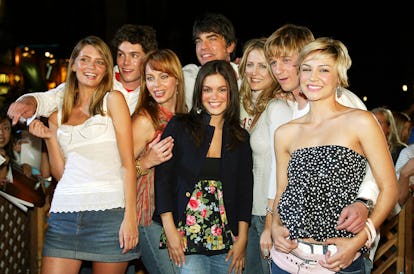 On August 5, 2003, television as we know it changed. That evening, we welcomed Seth Cohen, Ryan Atwood, Marissa Cooper, and Summer Roberts into our homes and hearts with the premiere of the then highly buzzed about new teen drama series The O.C.. Immediately, the show became an overnight phenomenon, turning its young actors—Adam Brody, Benjamin McKenzie, Mischa Barton, and Rachel Bilson—into tabloid regulars. Barton and Bilson, in particular, quickly became style icons of the early aughts; Barton became a spokesperson for brands including Keds and Chanel fine jewelry, while Bilson teamed with DNKY Jeans to co-design a new brand, called Edie Rose. On-screen, of course, their characters' style became just as important to the show as it's soap-y, melodramatic storylines—Oliver in the hotel suite, never forget—in all their denim mini-skirt, layered camisole glory (it was 2003, after all). As the show celebrates it's 14th anniversary, here's a look back at some of the most iconic fashion moments from the series, presented in GIF form.
The first time we meet Marissa Cooper, our troubled leading lady, she's dressed casually, cementing her status as the ultimate California beach babe: a loose white tank, baggy flared jeans, and some side-bangs. This is a pivotal moment in the pilot, as we first see our two romantic leads interact—and, perhaps more importantly, we get a full-length look at Ryan Atwood's uniform that we'll come to know extremely well: jeans, a white tank, and that hooded sweatshirt.
Later in the pilot, we are introduced to the spitfire that is Summer Roberts, as she and Coop take part in a charity fashion show. Keep in mind, this is what is considered high fashion in 2003: a techno-colored minidress, Snooki-esque poofed hair, and some liberally applied blue eyeshadow. On a 15 year-old, mind you.
Seth Cohen's signature look was graphic t-shirt, a Penguin short-sleeved button-down, and a messenger bag. But perhaps the most Seth Cohen-y of Seth Cohen's fashion choices? A sweater vest, worn over a short-sleeved t-shirt—a look that inspired at least one fashion editor to try the look for herself. What? Summer and Marissa weren't the only style icons.
Among the many gifts Seth Cohen inflected upon the world? The introduction of Chrismukkah, a super holiday celebrated by all. And what Chrismukkah is complete without a proper Chrismukkah sweater?
The holiday attire evolved over the years, welcoming the Yamaclaus, a festive piece of headwear crafted by Ryan's girlfriend-slash-adoptive aunt at the time (a character we have collectively vowed to never speak of again).
Another festive look, in a way. Apparently, the best way to show of your teen angst-slash-frustration at your mom for hooking up with your ex-boyfriend is to haul a lawn chair into the pool—while donning your best bikini, of course.
While fighting to win the affection of Seth, Summer found a worthy adversary in Anna Stern, the alternative Pittsburgh transplant. How did we know she was alternative? Lots of skinny scarves, wacky hats, and layered polo shirts. Luckily, the pair were able to put aside their differences and bond over the Golden Girls while attending a Rooney concert. 2003!
Of course, Summer ended up winning Seth's heart, thanks in large part to a certain Wonder Woman costume at Chrismukkah.
Seth returned the favor years later, as the pair reunited with a rainy, upside make-out tribute to Spiderman. Apparently the two really had their finger on the pulse of what superheroes would be dominating the cinema in the summer of 2017!
What, you didn't wear Chanel Haute Couture to your senior prom?
To graduate The Harbor School, the gang donned some flower leis over their traditional graduation gowns—this was California, lest you forget. It was a happy send-off just before Marissa met her untimely death (spoiler alert, but also, it's August and the whole series is on Hulu, so what else are you doing with your time?).
Because what tribute to the early 2000s fashion is complete without Paris Hilton?
Related: Paris Hilton Invented Everything You're Doing in 2017, and She Knows It