Emmy Nominations 2017: The Biggest Snubs and Surprises, from The Leftovers to RuPaul's Drag Race
The good news: Barb! RuPaul! Albert Einstein! The bad news: Nothing for The Leftovers, Insecure or Oprah.
---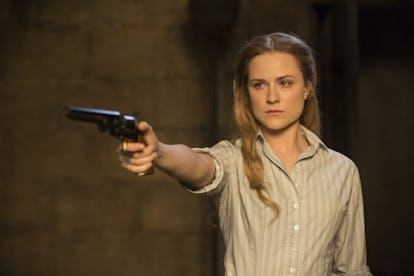 The 2017 Emmy nominations are out, and in, this, our age of peak television, there were, as to be expected there were lots of deserving nominees left off the list and more than a few wonderful surprises as well. So, with all apologies to Leftovers and Legion fans and much to the delight of Westworld and RuPaul's Drag Race fans, here's a run down of some of the more intriguing decisions made by the television academy this year:
Snubs
The Leftovers
After two seasons of being ignored by the Emmys, The Leftovers' fans really hoped that the lack of new Games of Thrones episodes during the eligibility period would open the gates to some recognition for the show. Nope. No such luck. Not only was it snubbed for Best Drama, but it didn't get a nominations in any other categories (despite the fact that creator Damon Lindelof promised the world a nude Justin Theroux if it had happened).
Insecure and Issa Rae
A lot of prognosticators had Issa Rae as a shoo in for the Best Actress in a Comedy Series, but HBO also struck out completely with their latest comedy.
Aubrey Plaza and all of Legion
Aubrey Plaza's divisive performance in Legion wowed some, and put others off. So it was slotted in a the weird prognosticating space of "likely dark horse." Yet, the show completely came up empty. Even in categories like production designs and effects. The academy clearly decided to continues its love affair with creator Noah Hawley's other FX drama Fargo instead.
The Young Pope
Likewise, The Young Pope was completely shut out everywhere. Not even national treasure Diane Keaton could get some love.
Andrea Martin, Jane Krakowski and Rita Moreno
Saturday Night Live took home three nominations in the Best Supporting Actress category, and while we won't quibble with that, it also meant a whole lot of great work in sitcoms went unrecognized. Andrea Martin—who, first of all, is Andrea Friggin' Martin—was not rewarded for being the best part of Good News (and while the mainstream media won't tell you this, she's also the best part of Hulu's Difficult People as well). Jane Krakowski was snubbed again for The Unbreakable Kimmy Schmidt, because apparently the Emmys have no shame about never giving her a trophy for 30 Rock. Rita Moreno, who is resplendent on Netflix's One Day at A Time, was also left out.
Oprah
It's not exactly like Oprah needs anymore Emmys, but just about everyone expected her to wind up nominated for her role in HBO's The Immortal Life of Henrietta Lacks.
Melina Matsoukas direction of the "Thanksgiving" episode of Masters of None
Music video director Melina Matsoukas (known best for her frequent work with Beyoncé and Solange) directed one of the most talked about comedy episodes of the year with the "Thanksgiving" episode of Aziz Ansari's Netflix show, but wasn't nominated for it (a shame, considering the actual nominees are all male).
Girls
Riz Ahmed and Matthew Rhys picked up Guest Actor noms for their work, and the show also got recognized for music supervision, but other than that there was no love lost for the Lena Dunham series' final season.
American Gods
The show might be divisive, but no love for Ian McShane or Gillian Anderson? It scored a single nod for title design, but otherwise struck out even in design and production categories as well.
The Americans
To quote Kimmy Schmidt, "You know you're in the golden age of television when a show like The Americans is taken for granted." The show's two leads got nominations, which makes its exclusion from Best Drama Series all the more jarring.
Winona!
No love for Winona Ryder on Stranger Things. Apparently there's no category for "Best Facial Expressions at an Awards Ceremony," either.
Surprises
Westworld's Total Domination
All years we've been reading things like, "Oh, Emmy voters won't even remember this show when its time to vote," and "Eh, it's not even that good." Turns out they were wrong. Westworld tied with Saturday Night Live for the most nominations overall.
RuPaul's Drag Race!
Last year RuPaul Charles won his first Emmy for hosting, but the show only received one other nomination in 2016. This year, after a move to VH1, the show finds itself with eight nominations total, including, finally, for Outstanding Reality – Competition Program, while its online after-show Untucked! is nominated for Outstanding Unstructured Reality Program. As a side note: former contestants David "Raven" Petruschin is nominated for doing Ru's makeup, while Gabriel "Delta Werk" Villarreal is nominated for hair.
Pamala Adlon
The biggest surprise in the Best Actress in a Comedy Series category? Better Thing's Pamala Adlon. While the show is already set for a second season, it didn't quite set the internet ablaze with interest, which is a shame, because it's a pretty great.
BARB!
Yes, folks, Shanon Purser who played Barb on Stranger Things is nominated for Guest Actress. Gone, but not forgotten.
Genius
The idea of the National Geographic channel doing a scripted drama might have been a risk, but the Emmys rewarded that risk with 10 nominations for the anthology's series first Albert Einstein-themed season.
Related: Emmys 2017: See All the Nominations Here
Emmy Awards 2017: Ladies and Gentlemen, Meet the Beautiful People of This Year's Emmys
Watch video interviews with Nicole Kidman, Millie Bobby Brown and more of this year's nominees here: