A Timeline of the 10 Best, Most Unexpected Musician Cameos on TV Who Are Not Ed Sheeran
Remember Death Cab For Cutie on The OC? Or Prince on New Girl?
---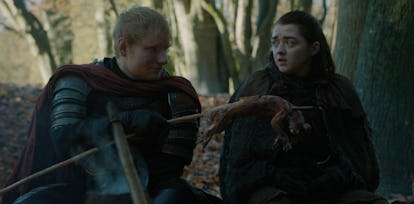 Courtesy HBO
During Sunday night's Game of Thrones season 7 premiere, there were a handful of moments that elicited a collective, unanimous reaction on Twitter: Euron Greyjoy's new high-fashion look; the vile montage reintroducing Samwell Tarley as the keeper of the chamberpots; and the unexpected cameo by IRL wandering troubadour Ed Sheeran, playing a musically gifted (depending on your perspective) Lannister soldier.
We hear Sheeran before we see him. Arya Stark wanders through a forest, having just poisoned a roomful of the men responsible for her mother and brother's brutal murders several seasons ago. She hears a voice wheedling through the trees and stumbles on a camp of Lannister soldiers. "That's a pretty song," Arya says. "It's a new one," Sheeran's character responds. (Perhaps an unsubtle plug for Sheeran's next single?) Other than that, the musician's appearance is pretty much limited to a studied attempt not to look at the camera, yet it was an impossible cameo to miss. Sheeran had hinted earlier this year he would appear on the show this season, though few anticipated it would come so swiftly (no pun intended).
And while Sheeran's cameo prompted the internet's collective raised eyebrows, he's not the first musician to put in an appearance on the show. (Nor is it his first screen appearance; he played a recurring part on the short-lived Bastard Executioner.) Members of Mastodon appeared as wildlings on season five; they met a tragic end at Hardhome, while drummer Brann Dailor reprised his role, reborn as a White Walker in a brief moment during Sunday night's premiere. The show, which is filmed in part at Iceland's Þingvellir National Park, has also featured cameos by Icelandic acts like Of Monsters and Men, who played a traveling band last season, and Sigur Rós, who performed at court in King's Landing. Their somber rendering of "The Rains of Castamere" presaged the infamous Red Wedding.
Musicians like Rihanna and Lady Gaga—who would like everyone to leave Ed Sheeran alone, please—have pivoted into screen work lately, positioning themselves as bona fide actors as well as singers. But there's a long, illustrious history of bands making cameos on television—either performing as themselves or as loosely adapted caricatures of themselves, à la Sheeran. Here, we look back on a few of the best—and the most unexpected—from your favorite early-'00s teen dramas to today.
April 21, 2005: Death Cab for Cutie on The OC
Adam Brody's character Seth Cohen was famously obsessed with Death Cab for Cutie—he mounts a defense of the band against Rachel Bilson's character Summer Roberts's claim that the band is "a guitar and a whole lot of complaining." So it's little surprise when the band finally shows up to play a set—but it's a bit more of a surprise when Seth fails to show. "I can't believe Seth is missing his favorite band," Summer says, as the band launches into "Title and Registration." "You know, it's one thing blowing me off, but blowing off Death Cab?"
January 15, 2007: David Bowie on Extras
Celebrity cameos were de rigueur on Extras, the original British series starring Ricky Gervais—but few made quite as much of a mark as David Bowie, who spontaneously composes an ode to the comedian, entitled "The Little Fat Man with the Pugnose Face," during a brief appearance. After Gervais's character, an actor named Andy Millman, confronts Bowie at a bar, the musician sits down at a piano and leads Millman's fellow patrons in a rousing singalong while Gervais fumes in a corner.
February 25, 2008: Crystal Castles on Skins
Shortly before the release of Crystal Castles's self-titled debut album, the band appeared in the second season of the British teen drama Skins. Earlier in the episode, Sid Jenkins's father died of an apparent heart attack; as "Alice Practice" blares overhead at a club and Alice Glass bounces across the stage, Sid, played by Mike Bailey, tries to tell Nicolas Hoult's character Tony Stonem before he breaks down in tears.
October 12, 2009: Sonic Youth on Gossip Girl
Not only does Sonic Youth appear on Gossip Girl's third season, playing an acoustic version of their song "Starpower" during Rufus Humphrey and Lily Van Der Woodsen's wedding, but frontwoman Kim Gordon even officiates the ceremony.
January 8, 2014: Stevie Nicks in American Horror Story: Coven
Fleetwood Mac frontwoman Stevie Nicks was a clear style inspiration for much of American Horror Story: Coven. Lily Rabe's boho witch character Misty Day is obsessed with Nicks, whom she calls a "white witch," in all her piano-shawled glory: "Stevie is her idol and the lyrics are her mantras that she lives by," Rabe told Vulture in 2014. "She's looking for someone to help her understand why she is the way she is, so in that way her soul is nourished by Stevie." We see her twirling alone to the tune of Fleetwood Mac's 1975 track "Rhiannon" early in the season; by the end, Nicks herself drops in (in an episode aptly titled "The Magical Delights of Stevie Nicks") to perform "Seven Wonders." The scene is also a sendup of an actual rumor that followed Nicks throughout the '80s, that she was a practicing witch.
February 2, 2014: Prince on New Girl
"We weren't cool enough for Prince—we did an entire episode about someone leaving a wet towel in the bathroom," New Girl creator Liz Meriweather wrote of the late musician's cameo on her show shortly after his death. She's not wrong, yet appear he did—in an episode, aptly entitled "Prince," in which he performs "Fallinlove2nite" alongside the show's star Zooey Deschaned, and also plays a match of table tennis with Hannah Simone's character Cece.
March 27, 2014: St Vincent on Portlandia
Musician Annie Clark actually makes no fewer than three appearances on Carrie Brownstein and Fred Armisen's IFC comedy: She models a contending design for Portland's new police uniform; she plays a set at a local club, after which Ghavin mansplains all her equipment; and she helps stage an intervention with Carrie Brownstein's new tax-lawyer boyfriend. In return, Brownstein and Armisen—alias Thunderant—also star in Clark's 2010 video for "Laughing with a Mouth of Blood," in which they play Toni and Candace, the owners of the feminist bookstore Women and Women First.
February 11, 2015: Courtney Love on Empire
Courtney Love nabbed a guest spot playing a musician on the Empire Records roster during the first season of the Taraji P. Henson-fronted drama Empire—by writing showrunner Lee Daniels a letter expressing her adoration. "I didn't pursue—more like stalk," she told Girls actress and artist Jemima Kirke at the time. "I wrote Lee Daniels and said: 'Hi, I'm a big fan. Love, Courtney Love,' and like two minutes later my phone rings and it was Lee Daniels and he said: 'I'm doing this little show; no one knows if it's going to be a hit or not, but will you take a part on it?'" Naturally, she said yes—once the part had been tweaked slightly, from being an R&B singer, which Love most definitely is not, to a "rock singer, more like Joplin or Stevie Nicks." That is, more like Love herself.
December 16, 2016: Sharon Van Etten on The OA
Since the release of her last EP, 2015's I Don't Want to Let You Down, Sharon Van Etten has increasingly focused on her screen career, which has thus far elided both acting and music. She played a recurring part in the Brit Marling-fronted Netflix series The OA, during which her character, also a musician, performs one of Van Etten's own songs, "I Wish I Knew," off her debut album Because I Was in Love, a cappella. More recently, Van Etten made a cameo on Twin Peaks: The Revival, performing "Tarifa" at the Bang Bang Bar at the close of the sixth episode.
June 24, 2017: Nine Inch Nails on Twin Peaks: The Revival
Of all the musician cameos on the new Twin Peaks, Nine Inch Nails's performance was the most meme-able. Midway through the nightmarish eighth episode of the season, the band plays "She's Gone Away," a suitably apocalyptic soundtrack and the latest in a series of collaborations with director and creator David Lynch. (Nine Inch Nails frontman Trent Reznor wrote the score for Lost Highway, Lynch's 1997 film, and Lynch directed the video for the band's track "Came Back Haunted" in 2013.)
Charlize Theron talks Atomic Blonde and James Bond: