Game of Thrones' Euron Greyjoy Reached New Fashion Icon Status in the Season 7 Premiere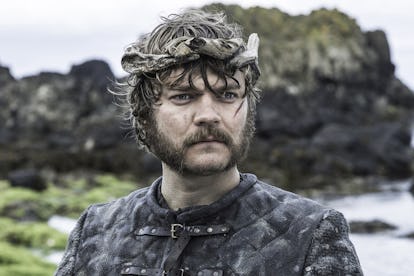 HBO
Game of Thrones fans had plenty to talk about after last night's season seven premiere, from Ed Sheeran's cameo to Daenerys Targaryen's arrival at Dragonstone. But on top of all the usual drama, there was one unlikely topic of conversation that fans became obsessed with: Euron Greyjoy's bold fashion choices.
We were first introduced to Euron last season, and so far in the series, his biggest achievement has been murdering his older brother Balon and seizing control from his niece, fan-fave Yara. His season six style involved scruffy facial hair paired with modest, nondescript clothing, but when he emerged onscreen in season seven, the internet couldn't help but notice that he's adopted a new chic look.
Instead of the tattered gray outfit he previously donned on the Iron Isles, Euron wore a sleek black leather jacket over a subtly striped V-neck for his King's Landing debut. When he came before the newly minted Queen Cersei to propose marriage, his hair was no longer falling in his eyes, but styled neatly and pulled away from his face. He also tidied up his facial hair, shedding the mutton chops for a more trimmed look. And while it may not be cool to say a murderer looks hot, it's safe to objectively say that the Game of Thrones hair, makeup, and costume teams clearly have a new vision for Euron.
Naturally, Twitter exploded at the sight of Euron's style transformation. "Since when are there V-necks in Westeros," pondered one fan. "Euron is wearing the Kanye line," joked another. And some fans noted that the new and improved Euron resembles everyone from Lenny Kravitz and Bono to Chris Martin and Bam Margera.
In an interview with Entertainment Weekly, Pilou Asbæk, the actor who plays Euron, confirmed that his character's transformation between the sixth and seventh seasons isn't just a style-centric one.
"Every scene he's a new guy," Asbæk said. "The guy you met on the bridge is not the guy at the Kingsmoot and is not the guy you see with Cersei and is not the guy you see on the ship. He's different with different people. This season he's more charming. He's much more f—ing enjoying himself. He's such a f—ing idiot douchebag, an impolite selfish child."
Game of Thrones' Dashing Men Always Bring Their A-Game to the Red Carpet
Kit Harington, who plays Jon Snow, at the premiere of Game of Thrones season three in Los Angeles, California, March 2013.

Jon Kopaloff/Getty Images
Kit Harington at the premiere of Game of Thrones season five in London, England, March 2015.

Mike Marsland/Getty Images
Kit Harington at the premiere of Game of Thrones season five in San Francisco, California, March 2015.

Jeff Kravitz/Getty Images
Kit Harington and Rose Leslie at the premiere of Game of Thrones season seven in Los Angeles, California, July 2017.

Frederick M. Brown/Getty Images
Nikolaj Coster-Waldau, who plays Jaime Lannister, at the premiere of Game of Thrones season three in San Francisco, California, March 2013.

C Flanigan/Getty Images
Nikolaj Coster-Waldau at the premiere of Game of Thrones season five in London, England, March 2015.

Franziska Krug/Getty Images
Nikolaj Coster-Waldau at the premiere of Game of Thrones season three in Seattle, Washington, March 2013.

Jeff Kravitz/Getty Images
Nikolaj Coster-Waldau at the premiere of Game of Thrones season five in San Francisco, California, March 2015.

C Flanigan/Getty Images
Nikolaj Coster-Waldau at the premiere of Game of Thrones season six in Hollywood, California, April 2016.

Jon Kopaloff/Getty Images
Nikolaj Coster-Waldau at the premiere of Game of Thrones season seven in Los Angeles, California, July 2017.

Barry King/Getty Images
Alfie Allen, who plays Theon Greyjoy, at the premiere of Game of Thrones season three in Hollywood, California, March 2013.

Steve Granitz/Getty Images
Alfie Allen at the premiere of Game of Thrones season five in London, England, March 2015.

Franziska Krug/Getty Images
Alfie Allen at the premiere of Game of Thrones season six in Hollywood, California, April 2016.

Alberto E. Rodriguez/Getty Images
Alfie Allen at the premiere of Game of Thrones season seven in Los Angeles, California, July 2017.

Steve Granitz/Getty Images
Isaac Hempstead Wright, who plays Bran Stark, at the launch party for the first season of Game of Thrones in London, England, February 2012.

Tim P. Whitby/Getty Images
Isaac Hempstead Wright at the premiere of Game of Thrones season three in Hollywood, California, March 2013.

Steve Granitz/Getty Images
Isaac Hempstead Wright at the premiere of Game of Thrones season six in Hollywood, California, April 2016.

Alberto E. Rodriguez/Getty Images
Isaac Hempstead Wright at the premiere of Game of Thrones season seven in Los Angeles, California, July 2017.

Steve Granitz/Getty Images
Jacob Anderson, who plays Greyworm, at the premiere of Game of Thrones season four in London, England, March 2014.

Ian Gavan/Getty Images
Jacob Anderson at the premiere of Game of Thrones season seven in Los Angeles, California, July 2017.

Jason LaVeris/Getty Images
Richard Madden, who played the late Robb Stark, at the premiere of Game of Thrones season three in Hollywood, California, March 2013.

Jason Merritt/Getty Images
Iwan Rheon, who plays the vile Ramsay Bolton, at the premiere of Game of Thrones season five in London, England, March 2015.

Franziska Krug/Getty Images
Iwan Rheon and Sophie Turner at the premiere of Game of Thrones season six in Hollywood, California, April 2016.

FilmMagic/Getty Images
Related: Game of Thrones Season 7 Premiere Recap: Daenerys Makes Her Return to Dragonstone
Kit Harington Auditioned for "Game of Thrones" With a Black Eye: