Game of Thrones Season 7 Premiere Recap: Daenerys Makes Her Return to Dragonstone
In the season premiere, the women ruled the Thrones.
---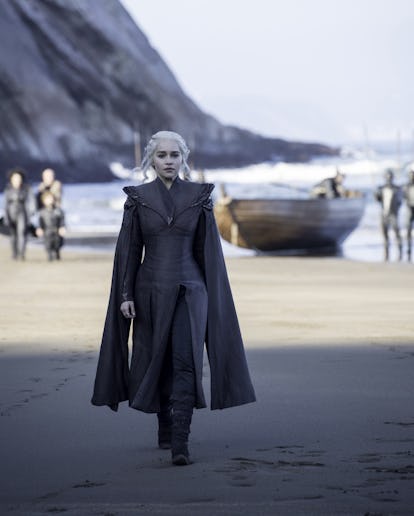 Macall B. Polay/Courtesy of HBO
The final scene in the season 7 premiere of Game of Thrones was not only the last one, but also the best one. Daenerys Targaryen arrives back at Dragonstone, her ancestral home, and walks around in an outfit that was giving Joan Crawford shoulder pads and Sean Connery's voice in Dragonheart all at the same time. She touches the sand, she ruins a perfectly good pair of boots by wearing them on the beach, and she resists the temptation to sit down on a throne that looks like the bathroom at one of L.A.'s more hippie inspired crystal stores. She runs her hand along the giant map where Stannis Baratheon and Melisandre copulated to make the smoke queef that killed Renley Baratheon back in season two and, instead of asking for some Purell, she asks Tyrion Lannister, "Shall we begin?"
Yes, this whole episode was pretty much setting us up for all the wars to come for this penultimate season of the show and the trip to Dragonstone, which gave the episode its name, was the most important part of that. The castle was given to Stannis by his brother Robert Baratheon after their rebellion destroyed nearly all of the Targaryens except Dany and her brother, who were secreted across the narrow sea to safety. After he went North he left the house unguarded so Dany, her fleet, and her army didn't even have to fight anyone for their foothold in Westeros.
We also learned some important facts about it from Samwell Tarley, who is at the Citadel learning how to be a maester. Apparently his training consists of collecting bedpans, serving food, putting books away, trying not to barf, and then collecting more bedpans and serving food that looks exactly like what will later be deposited in those bedpans.
Anyway, after being denied access to the restricted part of the library, Sam busts in and finds out that Dragonstone was built on a huge mountain of dragonglass, the only substance known to kill the White Walkers. Oh, we also learned that Jorah Mormont is living in the grayscale ward of the Citadel and is wondering if Dany has made her way to Westeros yet.
In the North
Jon Snow has a desperate need for dragonglass himself, because he knows its destructive properties, but he certainly doesn't have the wealth of it that Dany is sitting on almost literally. He tells his assembled bannermen that they need to start training to fight the war with the dead. Thanks to Lyanna Mormont, the youngest badass in the Seven Kingdoms who refuses to knit by the fire when there is a war going on, they're actually going to train all citizens, men, women, and children of both genders.
Both Jon and Dany are presenting a new world order, one where either gender is capable and all men are created equal. He's even willing to forgive the families that abandoned him and give them back their castles, especially since those are the first castles that are going to be attacked by the Night King. His dedication to equality does not seem to extend to his sister Sansa, who has a sudden penchant for dressing like a Hot Topic sales clerk and backtalk. When Jon tells her to stop undermining him, she says he needs to be smarter than Ned and Robb Stark, both of whom made stupid mistakes and were killed for it. He asks if that entails listening to her. "Would that be so bad?" she asks, maybe a little too softly. It seems like Littlefinger is ready to exploit her dissatisfaction for whatever it is he wants. Sansa thinks it's her hand in marriage, but it's probably oh so much more.
Jon dispenses his troops and the Wildlings to man all the castles along the wall, especially East Watch by the Sea, the station closest to Hardhome, the port where Jon had his epic battle with the Night King two seasons ago. Tormund—you know, that dude with the huge red beard and a yearning to be roughed up by Brienne of Tarth—is going to lead the forces there.
Even farther to the north, Brandon Stark and Meera Reed reach the wall and the Night's Watch take them in. Brandon will have plenty of info for Jon Snow once he knows his half brother is alive and Bran has seen the troops of the dead advancing in a great gray cloud across the tundras of the north. They even have the reanimated corpse of one of our old buddies the giants on their side.
In King's Landing
Jon Snow got a raven from the new queen Cersei Lannister telling him to come to King's Landing and pledge his allegiance to her or he will be declared an enemy. Sansa warns him not to make an enemy of her and he doesn't listen because Jon Snow knows nothing and this will decidedly be one of the biggest mistakes he makes. He decides the threat to the north is worse because, well, he knows nothing, but Sansa warns him that Cersei will murder him.
Cersei, meanwhile, is getting her HGTV on and redoing the Red Keep to suit her, which mostly consists of a giant map of her seven kingdoms on the ground. Her brother/lover Jaime warns her, however, that she probably only controls about three of those kingdoms. They both know that they are surrounded by their enemies, Dany to the East, the Tyrells to the West, the Dornish to the South, and Jon and Sansa to the North. It seems like their first direction to strike in will be the west, so that they can get the Tyrell's grain and livestock to feed their troops. This is a smart move and Jaime is a master tactician.
The gambit to enlist the help of Euron Greyjoy and the Iron Fleet seems a little bit more foolhardy. (It's interesting that in King's Landing we have a queen who is too stupid to listen to her wiser brother and in the north we have a king who is too stupid to listen to his wiser sister.) Euron proposes to Cersei to solidify their arrangement to destroy Dany and Tyrion. She shoots him down in the most shocking Rose Ceremony yet. Instead of crying in the limo home, Euron says he will show up with a priceless gift for her to prove he is a-courting her. I bet that it's the head of Tyrion or something of the sort. Jaime already surmised that Dany would be headed to Dragonstone, it wouldn't be shocking if Euron were headed in the same direction.
Across the Kingdom
Arya Stark was surely the MVP of the whole episode, mostly for not punching Ed Sheeran in his smug little face as he played an unnamed Lannister soldier leading a tune as his squad cooked up a rabbit. Also note the lyrics to the song: "The hands of gold are always cold, but a woman's hands are warm." Hmm. What incestuous brother/sister duo that these guys work for might that be about. This is the meanest song about a boss since "9 to 5."
Better yet, we got to watch her wear the face of Walder Frey and execute his entire clan with some poisoned wine. A girl may no longer have a name, but she sure picked up some amazing skills while studying in Bravos. "When people ask you what happened here tell them the north remembers," she told the only surviving Frey family members. "Tell them the winter came for House Frey." Three snaps up in a circle formation.
However, Arya's speech also said that if you don't kill all of the wolves, then the sheep are never safe. Do you think those Frey girls have it in them to come after Arya? Probably not. Regardless we learned from her little visit with the Lannisters that she's now on her way south to kill Cersei and complete her kill list. She's not messing around with The Hound and the Brotherhood Without Banners, who consist of the other names on her list.
The Hound seems to be headed north (or at least somewhere snowy) with Beric Dondarrion and Thoros of Myr—you know, the dude with one eye who comes back from the dead and his bald friend with the top knot. They happen upon a farm that he visited with Arya seasons ago where he killed the man who lived there and his daughter and stole their silver and ale. Now that the Hound has found God (or seven of them) he buries them and says his own made up prayer over their bodies.
But it was a different vision from the Lord of Light that we should really be paying attention to. When Thoros insists Gregor look into the fire, he sees a vision of The Wall. "Where The Wall meets the sea. There's a castle there. There's a mountain. It looks like an arrow head. The dead are marching past. There are thousands of them." It seems like that's where they're going to be heading to meet up with Jon Snow's friends to fight the dead. That's why the Lord of Light needs them after all. And, in the words of the Mother of Dragons, "Shall we begin?"
And a few stray thoughts …
Power Move of the Week
Goes to Cersei Lannister is once again using her bed to consolidate power, and turning down the man who is going to help her win the war is what made her famous. There's nothing like turning a guy down to keep him interested.
Foolhardy Move of the Week
Pretty sure that Jon Snow giving the castles back to the Umbers and the Karstarks is one of those things that will turn around and bite him in the ass like an unfed Direwolf, especially since he ignored Sanaa's council. This smacks of Robb ignoring Catelyn, which lead to both their dooms.
Fashion Moment of the Week
The throne room at Dragonstone is crying out for a spread in Architectural Digest.
Next week on Thrones…
Looks like Arya and her direwolf Nymeria will finally be reunited. At least one dog is still alive!
Game of Thrones' Emilia Clarke's Style Is More Fairytale Princess Than Mother of Dragons
Emilia Clarke arrives at the 12th Annual AFI Awards held at the Four Seasons Hotel Los Angeles at Beverly Hills on January 13, 2012 in Beverly Hills, California.

Kevin Winter
Emilia Clarke attends the Closing Ceremony and The Golden Nymph Awards at the Grimaldi Forum on June 10, 2011 in Monaco, Monaco.

Tony Barson
Emilia Clarke arrives at Entertainment Weekly's Comic-Con celebration at Float at Hard Rock Hotel San Diego on July 14, 2012 in San Diego, California.

Chelsea Lauren
Emilia Clarke attends the BAFTA Los Angeles TV Tea 2012 Presented By BBC America at The London Hotel on September 22, 2012 in West Hollywood, California.

JB Lacroix
Emilia Clarke arrives at the 64th Annual Primetime Emmy Awards at Nokia Theatre L.A. Live on September 23, 2012 in Los Angeles, California.

Frazer Harrison
Emilia Clarke arrives at the 18th Annual Screen Actors Guild Awards held at The Shrine Auditorium on January 29, 2012 in Los Angeles, California.

Dan MacMedan
Emilia Clarke attends the Altuzarra fall 2013 fashion show during Mercedes-Benz Fashion Week at Skylight Studio on February 9, 2013 in New York City.

Mike Coppola
Emilia Clarke attends the 2013 Actors Fund Gala at the Marriott Marquis Hotel on April 29, 2013 in New York City.

Gary Gershoff
Emilia Clarke attends the Costume Institute Gala for the "PUNK: Chaos to Couture" exhibition at the Metropolitan Museum of Art on May 6, 2013 in New York City.

Kevin Mazur
Emilia Clarke arrives to HBO's "Game Of Thrones" Los Angeles Premiere at TCL Chinese Theatre on March 18, 2013 in Hollywood, California.

Jeff Kravitz
Emilia Clarke arrives at the "Dom Hemingway" Premiere during the 2013 Toronto International Film Festival at Princess of Wales Theatre on September 8, 2013 in Toronto, Canada.

Jonathan Leibson
Emilia Clarke arrives at Louis Vuitton "Series 2" The Exhibition on February 5, 2015 in Hollywood, California.

Valerie Macon
Emilia Clarke attends the 71st Annual Golden Globe Awards held at The Beverly Hilton Hotel on January 12, 2014 in Beverly Hills, California.

Jason Merritt
Emilia Clarke attends HBO's "Game of Thrones" Season 5 Premiere and After Party at the San Francisco Opera House on March 23, 2015 in San Francisco, California.

Jeff Kravitz
Emilia Clarke attends the 21st Annual Screen Actors Guild Awards at The Shrine Auditorium on January 25, 2015 in Los Angeles, California.

Frazer Harrison
Emilia Clarke arrives at the 20th Annual Screen Actors Guild Awards at the Shrine Auditorium on January 18, 2014 in Los Angeles, California.

Dan MacMedan
Emilia Clarke attends the Chanel and Charles Finch Pre-Oscar Dinner at Madeo Restaurant on March 1, 2014 in Los Angeles, California.

Frazer Harrison
Emilia Clarke attends the 2014 Vanity Fair Oscar Party hosted by Graydon Carter on March 2, 2014 in West Hollywood, California.

David Livingston
Emilia Clarke attends the "Game Of Thrones" Season 4 New York premiere at Avery Fisher Hall, Lincoln Center on March 18, 2014 in New York City.

Jamie McCarthy
Emilia Clarke attends premiere of Paramount Pictures' "Terminator Genisys" at Dolby Theatre on June 28, 2015 in Hollywood, California.

Lester Cohen
Emilia Clarke attends the GQ Men of the Year Awards at The Royal Opera House on September 8, 2015 in London, England.

Mark Cuthbert
Emilia Clarke attends the European Premiere of 'Terminator: Genisys' at the CineStar Sony Center on June 21, 2015 in Berlin, Germany.

Franziska Krug
Emilia Clarke attends HBO's post 2016 Golden Globe Awards party at Circa 55 Restaurant on January 10, 2016 in Los Angeles, California.

C Flanigan
Emilia Clarke attends the Lancome BAFTA nominees party at Kensington Palace on February 13, 2016 in London, England.

Karwai Tang
Emilia Clarke attends the 73rd Annual Golden Globe Awards held at the Beverly Hilton Hotel on January 10, 2016 in Beverly Hills, California.

John Shearer
Emilia Clarke arrives at the 2016 Vanity Fair Oscar Party Hosted By Graydon Carter at Wallis Annenberg Center for the Performing Arts on February 28, 2016 in Beverly Hills, California.

Jon Kopaloff
Emilia Clarke attends the The 22nd Annual Screen Actors Guild Awards at The Shrine Auditorium on January 30, 2016 in Los Angeles, California.

Larry Busacca
Emilia Clarke attends "Me Before You" World Premiere at AMC Loews Lincoln Square 13 theater on May 23, 2016 in New York City.

Dimitrios Kambouris
Emilia Clarke attends the European film premiere "Me Before You" at The Curzon Mayfair on May 25, 2016 in London, England.

Jeff Spicer
Emilia Clarke arrives at the premiere of HBO's 'Game of Thrones' Season 6 at the TCL Chinese Theatre on April 10, 2016 in Hollywood, California.

Jeffrey Mayer
Related: Everything Essential to Know Before the Game of Thrones Season 7 Premiere
Kit Harington auditioned for Game of Thrones with a black eye: