WHEN LITTLE MONSTERS ATTACK
Lady Gaga Would Like You to Leave Ed Sheeran Alone, Please
The singer came to the Brit's defense after he quit Twitter.
---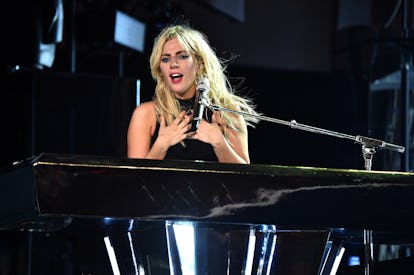 Kevin Mazur
While Taylor Swift is still busy keeping a low-profile (read: not throwing her annual Fourth of July bash), it seems as though Ed Sheeran has found a new pop star bestie: Lady Gaga.
This weekend, in an interview with British newspaper The Sun, Sheeran spoke about leaving Twitter due to some nasty comments he was receiving on the social media platform. "I've actually come off Twitter completely. I can't read it," the singer said. "I go on it and there's nothing but people saying mean things. Twitter's a platform for that. One comment ruins your day. But that's why I've come off it. The head-f— for me has been trying to work out why people dislike me so much."
Among those who apparently really don't like red-headed crooners from England? Lady Gaga fans. "Lady Gaga's fanbase read an interview in which they assumed I was talking about her and they all hate." Sheeran said. "And it wasn't anything to do with that at all…So I think Twitter gets on a massive steam roll of assuming things and then you get in the s—."
If you think Mother Monster was going to let that stand, well, think again. Gaga quickly took to her own social media, albeit Instagram, not Twitter, to put out a call to action to her Little Monsters. The message was clear: stand down.
"What an incredible talented artist I LOVE ED @teddysphotos deserves all our love and respect like all humans do. I wish all people on the internet would be positive and loving and apart of creating an online community that is kind and empowering, not hateful and mean. No reason to tear down an artist simply because they are on top. Work harder to be kinder everybody. That should be your first duty to humanity," Gaga wrote, alongside a selfie of the two singers.
Sheeran has yet to respond to Gaga's 21st century olive branch, at least in a public capacity, which, to be fair, can be hard when you quit Twitter and all.
See W's top videos, here:
Lady Gaga's Style Evolution, From a Meat Dress to Custom Versace
A brunette Gaga performing at Lollapalooza, in a homemade disco bra.That DIY aesthetic was only a small taste of what was to come.

Getty Images
One of the earliest incarnations of the Lady Gaga persona: snood, sunglasses, David Bowie makeup, and platinum blonde hair.

Getty Images
Lady Gaga and her "hair bow" debut on Good Day New York in 2008. Most of her costumes at this time where largely handmade.

Getty Images
Lady Gaga at a Fashion Week event in 2008, complete with towering shoulder pads and signature snood.

Getty Images
Gaga at a concert event in Germany, wearing one of her crystal stalagmite encrusted dresses.

Getty Images
Sporting rainbow colored locks, leopard briefs, and thigh-high boots at a Tokyo airport.

Getty Images
Gaga on the VMAs red carpet, wearing the first of one of many VMA looks that will go down in fashion history.

Getty Images
Meeting the Queen of England in Edwardian-themed red latex gown and crystal encrusted eye makeup.

Getty Images
At the 52nd Grammy Awards wearing custom Armani Prive and a matching, hand-held sculpture.

Getty Images
Leaving her concert at the O2 Arena in Germany at the height of "Bad Romance" fever.

Getty Images
Wearing her infamous meat dress at the MTV Video Music Awards.

Frederick M. Brown/Getty Images
At the VMAs in an Alexander McQueen look, wearing the infamous Armadillo platform heels.

Getty Images
Leaving dinner in Paris dedecked in diamonds and blush pink silk.

Getty Images
Accepting the Grammy award for best pop vocal album wearing archive Mugler at the beginning of her "Born This Way" era.

Getty Images
A chic, fully monochromatic look ("teal blonde" hair included) at Narita Airport in Tokyo.

Getty Images
At the CFDA awards sporting a teal bob. She won the Fashion Icon Award that evening.

Getty Images
A radiant brunette Lady Gaga at Harrods for the launch of her fragrance, Fame.

Getty Images
Lady Gaga wearing archive Versace with the designer in Milan.

Getty Images
Fairytale princess Gaga in an Alexander McQueen gown.

Getty Images
Channeling a rave-disco incarnation of Botticelli's Venus at the VMAs.

Getty Images
Lady "Godiva" Gaga arriving on the American Music Awards red carpet atop a mechanical horse and wearing Atelier Versace.

Getty Images
At an event in Japan in promotion of her album Artpop.

Getty Images
A street style moment in London complete with "Botticelli babe" waves and prismatic eyeglasses.

Getty Images
Sporting ultra long white-blond locks and a pink fur coat leaving her apartment in New York.

Getty Images
Wearing a lavender Atelier Versace gown at the 86th Annual Academy Awards.

Getty Images
Wearing a star-spangled, custom white Valentino gown with diamante eyebrows to match at the Kennedy Center Honors.

Getty Images
Entering the era of polished, elegant, and jazz Gaga for her collaboration album with Tony Bennett.

Getty Images
Wearing a custom, glittering Azzedine Alaia gown to the 87th Annual Academy Awards.

Getty Images
Lady Gaga at the Songwriter's Hall of Fame induction, channeling John Lennon by way of Alexander Wang.

Getty Images
Full Bowie-glam in a custom Marc Jacobs look for the 58th Grammy Awards, where Gaga performed a tribute to the late performer.

Getty Images