Rihanna DMs a Fan Breakup Advice on Twitter
Rihanna is our spirit guide.
---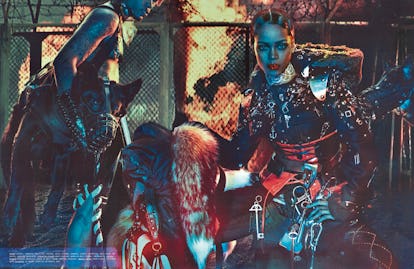 Photographs by Steven Klein, Styled by Edward Enninful
One huge Rihanna fan just found love advice in a hopeless place—namely, his Twitter DMs.
Twitter user @WaladShami just went through a rough breakup, and so he turned to his favorite musician Rihanna for some sage advice on how to move on. He told Buzzfeed, "It was my first relationship ever and they ended it with me in January, but it's been really hard for a multitude of reasons. I reached out to Rihanna because she's given me advice many times — she's wise 'n sh*t. Lol."
"How did you get over your first heartbreak? I've been struggling," he wrote in a direct message to the iconic singer.
And before you assume that this musical superstar doesn't have time for a stranger's problems, think again. The benevolent Bad Gal herself replied to @WaladShami's DM with some very wise words of wisdom about losing love and finding it again. She wrote, "Just believe that the heartbreak was a gift in itself! Cry if you have to, but it won't be forever! You will find love again, and it will be even more beautiful! In the meantime enjoy all that YOU are!!!!"
If you can't trust Rihanna to help you through a heartbreak, who can you trust? After all, she and Drake remain ex goals to this day.
Of course, after @WaladShami shared a screenshot of his private messages with Ri in a tweet, he wasn't the only one ready to "cry if you have to." The singer's loyal fan base was so deeply moved by both Rihanna's advice to her fan and @WaladShami's story that many reached out to say that they were also dealing with heartbreak, while others felt compelled to reiterate that Rihanna is a gift to this world.
Related: Rihanna's Final Manolo Blahnik Collaboration Comes Complete With A Weed Reference
Rihanna Courtside at a Basketball Game Is Rihanna At Her Best
With Matt Kemp at a Cleveland Caveliers and Los Angeles Clippers game in 2010, keeping it casual in jeans and sneakers.

Getty
Arriving to the Portland Trailblazers vs. New York Knicks game at Madison Square Garden in 2009 in a leather newsboy cap and staggering heels.

Getty
Making friends with Justin Bieber at the 2011 NBA All-Star game at the Staples Center.

Getty
Rihanna attends a game between the Miami Heat and the Los Angeles Clippers in 2012, opting for a camo hat and hooded sweatshirt.

Getty
All dressed up in heels and a crop top for a 2012 game between the New York Knicks and the Los Angeles Lakers.

Getty
Rihanna walks off the court following the NBA game between the Los Angeles Lakers and the Los Angeles Clippers at Staples Center in 2013.

Christian Petersen
Legs for days at the the 2014 Summer Classic Charity Basketball Game at Barclays Center.

Getty
With Cara Delevingne at a game between the Brooklyn Nets and the Atlanta Hawks at the Barclays Center on January 6, 2014.

Getty
Making a new friend—while enjoying some cotton candy, no less—at a basketball game between the Golden State Warriors and the Los Angeles Lakers.

Getty
A sibling outing, seen here with brother Rajad Fenty, in 2013.

Getty
Deep in thought at a game between the Brooklyn Nets and the Miami Heat at Barclays Center in 2014.

Getty
All smiles with a popcorn snack for a 2015 game between the Cleveland Cavaliers and the Los Angeles Lakers.

Getty
Apparently schooling Ethan Hawke in matters of the game at the 64th NBA All-Star Game 2015.

Getty
Rihanna attends the Toronto Raptors vs Brooklyn Nets playoff game at Barclays Center in 2014, keeping it simple in jeans and a white tank.

Getty
Quality time with best friend Melissa Forde, her frequent basketball date, at a 2014 game between the Oklahoma City Thunder and the Los Angeles Clippers.

Getty
Pulling faces at the Toronto Raptors vs Brooklyn Nets playoff game at Barclays Center on April 27, 2014.

Getty
Posing with Los Angeles Police Commission President Steve Soboroff at an NBA playoff game in 2014.

Getty
Sizing up some cheerleader moves at a game between the Oklahoma City Thunder and the Los Angeles Clippers.

Getty
Rocking a crop-top and baseball cap at another playoff game between the Oklahoma City Thunder and the Los Angeles Clippers.

Getty
Putting her diamonds in the sky, replete with a baby pink wig, at a playoff game between the Oklahoma City Thunder and the Los Angeles Clippers.

Getty
Enjoying some cotton candy in an all-white ensemble at a game between the Golden State Warriors and the Los Angeles Lakers.

Getty
See What's Trending in W Video: