Rihanna's Final Manolo Blahnik Collaboration Comes With A Weed Reference
"So Stoned" will be in stores beginning July 6th.
---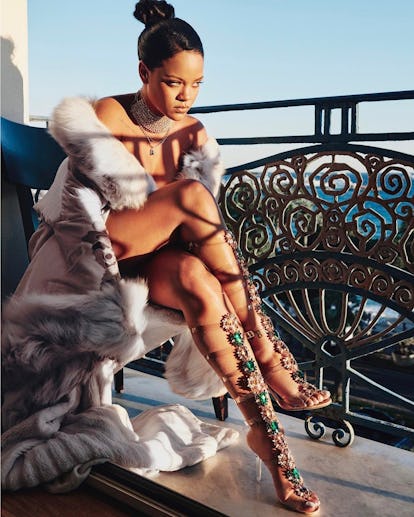 In case you have been living under a rock for the past decade or so, Rihanna is very, very weed-friendly. So much so that she named her latest collaboration with Manolo Blahnik—wait for it—"So Stoned." That's our bad gal.
Surprisingly, or perhaps not that surprising when you consider the other end of the collaboration—the shoes are not emblazoned with pot leaf motifs, but rather, large gemstones. Get it?
Rihanna announced the latest collection on Instagram today, posting a photo of herself draped in a fur coat paired with a pair of knee-high gladiator sandals from the line, captioning the photo: "JULY 6… the 'SO STONED' collection is dropping! My hands down favorite collaboration with @manoloblahnikhqPictured above: 'Poison Ivy'"
The shoes made their official debut, however, last week, when the singer donned the same pair in the very sartorially-charged video for DJ Khaled's "Wild Thoughts," which she is featured on, pairing the shoes with turquoise Alberta Ferretti minidress and bright red lips.
The collection marks Rihanna's third and final collaboration for the footwear brand. The singer released her first designs for the house back in March 2016 with a collection named "Denim Desserts," which included the instantly Internet famous thigh-high boots-meet-chaps, which Jennifer Lopez wore in the video for "Ain't Your Mama."
"So Stoned" consists of four styles: Poison Ivy, a gladiator stiletto; Bajan Princess, a high-heeled mule; Spice, a mid-heeled mule; and Purple Chalice, a strappy high-heel. Each style is done in clear PVC, decorated with multi-colored Swarovski crystals and finished with a Persplex heel. The collection, which ranges in price from $1,325 to $2,325, will be available in stores and online beginning on July 6th, so unfortunately, you'll have to find something else to wear to your Fourth of July barbecue.
Petra Collins Dreams of Sleeping in a Room That Is One Giant Bed, With Rihanna If Possible
Rihanna Courtside at a Basketball Game Is Rihanna At Her Best
With Matt Kemp at a Cleveland Caveliers and Los Angeles Clippers game in 2010, keeping it casual in jeans and sneakers.

Getty
Arriving to the Portland Trailblazers vs. New York Knicks game at Madison Square Garden in 2009 in a leather newsboy cap and staggering heels.

Getty
Making friends with Justin Bieber at the 2011 NBA All-Star game at the Staples Center.

Getty
Rihanna attends a game between the Miami Heat and the Los Angeles Clippers in 2012, opting for a camo hat and hooded sweatshirt.

Getty
All dressed up in heels and a crop top for a 2012 game between the New York Knicks and the Los Angeles Lakers.

Getty
Rihanna walks off the court following the NBA game between the Los Angeles Lakers and the Los Angeles Clippers at Staples Center in 2013.

Christian Petersen
Legs for days at the the 2014 Summer Classic Charity Basketball Game at Barclays Center.

Getty
With Cara Delevingne at a game between the Brooklyn Nets and the Atlanta Hawks at the Barclays Center on January 6, 2014.

Getty
Making a new friend—while enjoying some cotton candy, no less—at a basketball game between the Golden State Warriors and the Los Angeles Lakers.

Getty
A sibling outing, seen here with brother Rajad Fenty, in 2013.

Getty
Deep in thought at a game between the Brooklyn Nets and the Miami Heat at Barclays Center in 2014.

Getty
All smiles with a popcorn snack for a 2015 game between the Cleveland Cavaliers and the Los Angeles Lakers.

Getty
Apparently schooling Ethan Hawke in matters of the game at the 64th NBA All-Star Game 2015.

Getty
Rihanna attends the Toronto Raptors vs Brooklyn Nets playoff game at Barclays Center in 2014, keeping it simple in jeans and a white tank.

Getty
Quality time with best friend Melissa Forde, her frequent basketball date, at a 2014 game between the Oklahoma City Thunder and the Los Angeles Clippers.

Getty
Pulling faces at the Toronto Raptors vs Brooklyn Nets playoff game at Barclays Center on April 27, 2014.

Getty
Posing with Los Angeles Police Commission President Steve Soboroff at an NBA playoff game in 2014.

Getty
Sizing up some cheerleader moves at a game between the Oklahoma City Thunder and the Los Angeles Clippers.

Getty
Rocking a crop-top and baseball cap at another playoff game between the Oklahoma City Thunder and the Los Angeles Clippers.

Getty
Putting her diamonds in the sky, replete with a baby pink wig, at a playoff game between the Oklahoma City Thunder and the Los Angeles Clippers.

Getty
Enjoying some cotton candy in an all-white ensemble at a game between the Golden State Warriors and the Los Angeles Lakers.

Getty