Rihanna Turns DJ Khaled's "Wild Thoughts" Video into a Fashion Spread
Rihanna steals the show in DJ Khaled's latest video and styles Balenciaga perfectly for a Miami block party.
---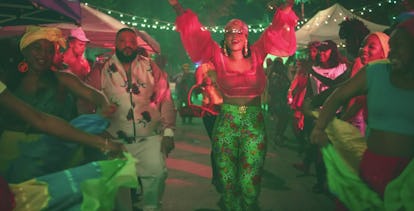 Leave it to Rihanna to take a piece from Balenciaga's 80's inspired avant-garde spring collection and style it so it looks perfect for a sizzling summer block party in Miami's Little Haiti neighborhood. She pulls off the feat in the video for DJ Khaled's "Wild Thoughts". While she shares featured status with singer Bryson Tiller, make no mistake that it's Rihanna who owns both the song and the video.
The singer is certainly in a lighter mood than the last time she visited Miami in a music video (that would be the Harmony Korine-directed "Needed Me" clip, where she plays strip club assassin). The humidity has clearly gotten to her, and she's got steamy thought on the brain and a wardrobe to match.
She pairs those Balenciaga Brazilian-cut pants and shoes with a green vintage Versace belt (because its Miami, it's basically law you have to have one piece of vintage Versace on you at all times), and, as per keen-eyed Rihanna fan Instagram account @HausOfRihanna, some Karen Walker sunglasses, a vintage Betsy Johnson top, and epic door knocker earrings from statement jewelry designer Lynn Ban.
Later in the video she appears in a turquoise Alberta Ferretti dress with Manolo Blahnik gladiator sandals, and, for her third look, a baggy yellow look from Matthew Adams Dolan, a recent favorite of both Rihanna's and ours.
As for the song, well, yes, that guitar part is a sample from Santana's 1999 summer jam "Maria, Maria."
It's also a realization of a dream for Khaled. He recently told Entertainment Weekly that he's been trying to collaborate with Rihanna for years. "Seven, eight years I've been trying to do this. I always put the kites out there that I wanted to work with her," he said. "But at the same time, while I was putting the kites out there, I was always getting the right record ready. You've gotta start with the right energy to see if something comes back that's possible."
Not that his upcoming album Grateful is hurting for guest star power. He's also got Beyoncé, Jay-Z, Justin Bieber, Drake, Nicki Minaj, Calvin Harris and Alicia Keys on other cuts on the collection. Will any of them look as good as Rihanna in the video though? Probably not.
Related: Rihanna Maybe Heckled Kevin Durant During the NBA Finals
Rihanna Is the Ultimate Fashion Icon
The rising star arrived at the Baby Phat Spring 2006 fashion show in a baby doll-style sundress with lots of eyeliner and nude-pink glossed lips.

Getty Images
Wearing baggy jeans and a crop halter top, Rihanna was cute and sporty at Z100's Jingle Ball.

Getty Images
Rihanna went for the glamorous, diva look at the Conde Nast 3rd Annual Fashion Rocks Concert in a metallic Zac Posen gown.

FilmMagic
Rihanna sparkled in a white, Marilyn Monroe-inspired dress after winning Best Female Artist of the Year at the 2006 Billboard Music Awards.

Getty Images
Rihanna donned a daring new asymmetrical bob and a neon pink, mermaid-style gown at the MTV Video Music Awards.

FilmMagic
Rihanna visited TRL at MTV's Studios in Times Square in a strapless bustier top, flared jeans and a knit beanie.

WireImage
Rihanna was edgy and fun at the Nickelodeon's 2008 Kids' Choice Awards thanks to a new pixie cut and pink polka dot bustier top.

Getty Images
The singer played with color at the 2008 BET awards in a neon yellow Giambattista Valli gown and a playful purple lip.

Getty Images
Rihanna's short, cropped hairstyle gave a little edge to her Jasmine di Millo ruffled dress at the RIAA and Feeding America's Inauguration Charity Ball.

Getty Images
Rihanna went for the men's wear look in a Dolce & Gabbana tux with '80s-inspired shoulders to the 'The Model as Muse: Embodying Fashion' Costume Institute Gala at The Metropolitan Museum of Art.

WireImage
Newly blonde, Rihanna arrived at the 52nd Annual GRAMMY Awards in a ruffled Victorian-inspired Elie Saab Haute Couture gown.

Getty Images
Rihanna attended the Echo Award 2010 in a geometric high-fashion Alexander Vautiher bat-cap jumpsuit with serious shoulder pads.

Getty Images
Rihanna switched up her hairstyle–yet again. This time opting for a cherry red, voluminous curls.

FilmMagic
Continuing her love affair with scarlet, Rihanna attended the 'Alexander McQueen: Savage Beauty' Costume Institute Gala at The Metropolitan Museum of Art rocking a long, red French braid, rimmed eye make-up and maroon lip that perfectly coordinated with her sheer, embellished gown.

WireImage
The singer looked effortlessly chic at the Stella McCartney presentation during London Fashion Week in a green silk slip dress, courtesy of the designer, with sun-kissed blonde shoulder-length hair.

Getty Images
Rihanna arrived to the 2012 MTV Video Music Awards in a backless white Adam Selman dress debuting, of course, a new cropped hairstyle.

Getty Images
The singer turned heads at the 55th Annual Grammy Awards in a gorgeous sheer gown by Azzedine Alaia.

Getty Images
In a sexy Jean Paul Gaultier couture two-piece and coordinating head wrap, Rihanna was completely seductive at the 2013 American Music Awards.

Getty Images
Rihanna attended the 'Charles James: Beyond Fashion' Costume Institute Gala at the Metropolitan Museum of Art in a Stella McCartney two-piece dress that showed off her perfectly toned stomach.

WireImage
Rihanna in custom Adam Selman at the CFDA awards.

Getty Images
Rihanna showed some skin in a Tom Ford gown at the 2014 amfAR LA Inspiration Gala. Her ponytail, long lashes and bright orange lip upped the overall glam factor of the look.

Getty Images for amfAR
Pretty in pink. The singer filmed an episode of 'Good Morning America' in a Pascal Millet jumpsuit, blazer and faux fur stole.

GC Images
Rihanna attends the 'China: Through The Looking Glass' Costume Institute Benefit Gala at the Metropolitan Museum of Art in a yellow couture gown from Chinese designer Guo Pei.

Getty Images
Rihanna looked gothic chic in a look of her own design during the FENTY PUMA by Rihanna Fall 2016 show at New York Fashion Week.

Getty Images for FENTY PUMA
Showing off her killer body yet again, the singer attended the 2016 MusiCares Person of the Year event in a sheer, embellished gown and pointy-toed converse-inspired sneakers, both by Marc Jacobs.

WireImage
Rihanna in Kiko Mizuhara for Opening Ceremony.

Getty Images
Rihanna in Giambattista Valli couture.

Getty Images
Rihanna in Vivienne Westwood Red Label.

Getty Images
See What's Trending in W Video: