A Day with Donna Karan, the Wonderfully Zany and Decidedly Charitable Fashion Designer, Started with Meditation and Ended with Hillary Clinton
On the eve of her Apple Awards ceremony honoring Hillary Clinton, we tried to keep up with the legendary designer and all her various philanthropic projects.
---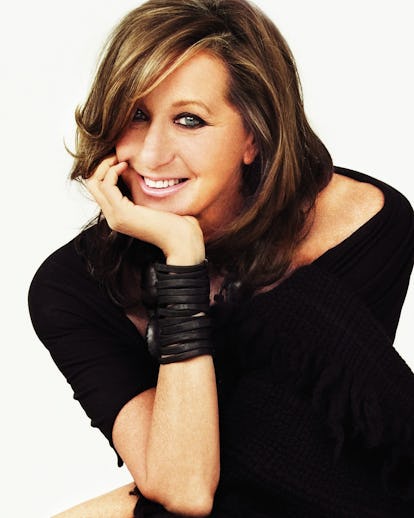 It's 5:00 p.m. and I'm lying on a carpet with my eyes closed smack in the middle of Donna Karan's Urban Zen space in New York City, which was previously the studio of Karan's late husband, the artist Stephan Weiss.
Ms. Karan, herself, is supposed to be lying next to me, meditating under the guidance of one of her Urban Zen Integrative Therapy (U.Z.I.T) program graduates, smelling essential oils, and feeling her body "melt into the floor," like mine. (Or as her husband used to call it, a "woo woo" trip.) But instead, she's off in a corner with her team, her hair in a high, tight ponytail, whispering edits for her Apple Awards speech, which she'll deliver the following night to none other than Hillary Clinton.
"Oh my god, I need this so badly," said Karan, who is now 68, of the in-studio meditation session with a half-wail, half-laugh. "But if I do, I know I'll fall asleep."
The evening before, Karan was out late at the CFDA Awards. She hadn't slept in days, and was agonizing over every little detail of the Apple Awards, which she started in 2011 in Weiss's memory (he often sculpted apples) on the tenth anniversary of his death.
At the end of May, Karan also hosted an event announcing a partnership with Rihanna and the Parsons School of Design on a collection benefiting Haiti and the Clara Lionel Foundation.
"And then there's fashion!" she exclaimed.
In the midst of all her philanthropic pursuits, Karan has been entertaining editors and buyers in her studio, to present Urban Zen's Summer 2017 collection, while simultaneously making approvals for the Fall 2017 collection, which will actually be available this fall in her store, downstairs.
"I'm all about dressing and addressing," says Karan—one of her many catchy mantras that you'll hear at least thrice if you spend upwards of 15 minutes with her, maybe even less. (Others include: "Find calm in the chaos," "Put the care back in healthcare," and "Feel how light this is.")
If there's one thing that Donna Karan is fixated on though, it's "connecting the dots," which is how her husband used to first approach all his pieces, and how Karan now approaches her own life path. For Karan, nothing follows a straight line, whether it's her own train of thought or the fashion calendar. She can't even remember the year that Hillary Clinton wore her now famous "Cold Shoulder" dress. And it's understandable—she's in a million different places at once, doing a million different things, with a million different people. But when you connect the dots, her mission is completely clear.
"When I connected the dots, for me it was about preservation of culture, healthcare, and education," said Karan in a moment of clarity that day. "Or past, present, future. People think they're different things, but it's all the same."
Weiss's studio really tells the story. On the ground level, you enter Urban Zen through the storefront first—the most tangible element of the socially-conscious lifestyle brand Karan founded back in 2007. It exists as a curation of all of Karan's interests—fashion, art, and philanthropy—and in addition to various findings from her own travels to Haiti, Bali, and beyond, also hosts the work of artisans from around the world. Her global foundation takes a percentage of the sales, but all of the proceeds from the Haiti project go directly back to the country, and she's raised over $1 million for its inhabitants thus far.
Karan can recall the origin of every single piece in the space, and wants you to know it, too. "This is from Haiti," she says, picking up a necklace and placing it in your hands. "Feel how light it is."
"This is from Bali…This is from Israel… This is from South America…These are Tevas! This is from Somalia…"
Now we're curled up on an enormous beanbag together in the middle of the store. It was made in Bali. She tells me she wants to move there one day. "The way things are going around here it may be sooner rather than later," she says. "But first, I have to live in L.A."
Wait, Donna Karan of Donna Karan New York wants to move to Los Angeles? But, alas, she didn't get into specifics. Instead, Ms. Karan began to explain why she originally added "New York" to her brand name. And like most of her stories, it goes interrupted.
"Oh my god! You look so comfortable!" Karan exclaims as one of her employees comes downstairs in a full cashmere jumpsuit. "Are you the most comfortable person in the entire world?" She was.
I try to bring her back to the subject of Los Angeles. She can't move there; she's the New Yorker. But she shakes her head. "People think I'm this other person, and then they meet me and go, 'You're Donna Karan?' and I go, 'Sorry to disappoint you, but yes.'" She pauses. "I felt the same way when I met Barbra Streisand."
So, now we're talking about Barbara Streisand, still on the beanbag, and how they first met. Streisand desperately wanted to buy a recalled chenille Anne Klein sweater, which caught fire when Karan herself lit a cigarette too close to it. The answer was a hard no, even when Streisand offered to sign a release form. "Can you imagine the headline?" said Karan with an eye roll. "'Barbara Streisand Goes Up In Flames Wearing Donna Karan's Sweater."
It was Streisand who first introduced Karan not only to alternative healing in 1990, but also to Bill Clinton back in 1993, when he needed a suit for his first inauguration. And it was Bill Clinton who first brought Karan to Haiti through the Clinton Global Initiative, which is why he was the first recipient of the Apple Award back in 2011.
With this, Karan begins the "funniest story" about how President Clinton wanted a 54" long suit, when she thought he needed 54" extra-long, but stops after the first sentence, putting her head down on the bean bag. "I'm so tired," she says. I can read all about it in her book.
"[Donna Karan] is the most scattered, disorganized human being you'll ever meet," writes Barbara Streisand on the first page of Donna Karan's book, My Journey, which came out in 2015. "Her attention is fleeting, and she's always changing her mind. She can't remember anything… including plans you've just made with her. Chaos is her middle name. So, I'm constantly astonished by all that she accomplishes: the fabulous clothes—Donna Karan, DKNY, Urban Zen—the art exhibits, the fundraisers, the Urban Zen Foundation."
Currently, there are so many initiatives under the Urban Zen umbrella that Streisand could fill a whole other book with them, which isn't an unlikely idea. One day, Karan hopes to open an Urban Zen living facility. But in the meantime, she continues to orbit around her three founding pillars of philanthropy: Preservation of culture with the Haiti Artisan Project and the Design Organization Training center (D.O.T); healthcare and wellness with the Urban Zen Integrative Therapy Program (U.Z.I.T), which was inspired by her husband's holistic cancer treatments and dying wish to "take care of the nurses"; and education with various programs and partnerships such as Sow a Seed, a non-profit that works with orphanages in the Caribbean region, teaching kids things like yoga, too.
"Right now, the world is nuts, and I think it is our personal responsibility to do something," said Karan at the end of a long day. "Certainly in my lifetime, I've never seen anything like this, on any level, whether it be in fashion or the chaos of what's going on in the world today. You never know what's happening. You never know who's got what… who's running… who got hit… where's the money? This way? Where? I mean, it's 24-7…" She throws her hands in the air and ceases to use real words. "The only way to stay sane is to create communities. This is not about me; it's about we. Create, collaborate, and communicate."
As I emerged from my meditative state that day, I was greeted immediately by Ms. Karan, as she re-emerged in the opposite state, eating a bowl of spicy peas, and ready to answer more questions. The floor beneath us shook as a team drilled and hammered away at the Apple Awards event space below, just hours before guests and honorees including Hillary Clinton, Nadja Swarovski, and Hugh Jackman were set to arrive. Karan hadn't finished writing her speech, but said she would probably ad-lib it anyway, because, if you hadn't noticed, she's pretty good at that.
In this moment though, the dichotomy of Urban Zen was at its clearest: Upstairs was calm, while downstairs was chaos. And there was Ms. Karan in the middle, trying not to fall asleep in the process of waking up the world.
In the Mood For…Donna Karan
Barbra Streisand's Biggest Crush of All Time Was on Marlon Brando