Blake Lively and Ryan Reynolds Celebrated Their 6th Anniversary by Doing "Nothing"
Their preferred way to spend down time.
---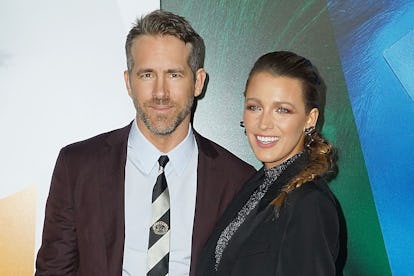 Jimi Celeste/Getty Images
Blake Lively and Ryan Reynolds are no strangers to glamor. Their off-time, however, is spent in a decidedly more low-key manner. In an interview with Good Morning America on Wednesday, Lively described the notably chill way in which she and her husband celebrated their sixth wedding anniversary this past Sunday: by doing nothing. You know, in a romantic sort of way.
Though Lively admitted that she spent much of the milestone working—she's been on a whirlwind press tour ahead of the release of her upcoming film, A Simple Favor—she still found time for a little R&R with Reynolds and their two young daughters, James and Inez. "I mean, honestly, the best vacation we can have is to be able to do nothing with our family, so that's what we did," she said. "I had to explain to my daughter what an anniversary is. She's like, 'What is it? Does it mean you're having another baby today?' And I was like, 'Dear God, no! It doesn't, it means it's our wedding's birthday.'"
The 31-year-old also gave some insight into her and Reynolds's parenting style, which was put on display earlier this year, when fans caught the pair jumping up and down at a Taylor Swift concert when James's cameo at the beginning of the song "Gorgeous" played over the loudspeakers. "We were very embarrassing," Lively told GMA of the proud moment. "That is the true, unfiltered version of our terrible stage-parent pride," she said, but added that their daughters have "very normal lives, as much as that's possible."
Over the weekend, just in time for their anniversary, Lively left a sweet and possibly NSFW comment on a photo Reynolds posted on Instagram, showing a huge photo of himself on the side of a delivery truck for the alcohol company he co-owns, Aviation Gin. "Who needs a mini van?! I'm driving this from now on. Subtle, gorgeous, and OHMYGAWDYOUREHUGE," read the comment section dispatch.
Related: Blake Lively Wore Five Over-the-Top Suits in One Day
Blonde Bombshell Blake Lively Has Epic Hair, and She Knows It
At the 2005 Nickelodeon's 18th Annual Kids Choice Awards, a young Blake Lively wore her golden blonde curls with a turquoise blue eyeliner.

Getty.
Wearing her long natural waves with a tinted coral lip, Lively looked like a California babe at the CW Network Upfront.

Getty.
Wearing her long mermaid waves with a hint of blush on her cheeks, Lively attended the VIVA LA CURE Benefiting for EIF's Women's Cancer Research Fund in 2007.

Getty.
Wild, tousled curls with a soft shimmery, smoky eye was the look at the US Weekly's Hot Hollywood Issue Celebration.

Getty.
Attending the premiere of Sherlock Holmes, Lively wore her hair in voluminous curls with a satin nude lip.

Getty.
Wearing a simple, elegant up do with glossy, natural lip, Lively attended the The Private Lives Of Pippa Lee premiere.

Getty.
Sporting a sleek, braid high pony with luminous skin, Lively tried out a new look at the 61st Primetime Emmy Awards.

Getty.
Wearing a sleek low bun with a taupe smoky eye, Lively attended the Spike TV's "Scream 2010" event.

Getty.
With red mermaid waves and a natural lip, Lively went glam at the TIME 100 Gala in 2011.

Getty.
Channeling old Hollywood glamour with voluminous waves, a sleek cat eye and a red lip, Lively hit the red carpet at the Los Angeles premiere of Savages.

Getty.
At the 2013 Costume Institute Gala, Lively wore her hair in a sleek, high pony with a subtle smoky eye and a light pink lip.

Getty.
Wearing her golden blonde curls softly tousled with a silk headband, Lively looked retro at the 2014 CFDA Fashion Awards.

Getty.
At the 2014 Costume Institute Gala, Lively paired her polished curls with a berry pink lip.

Getty.
At the 2016 Costume Institute Gala, Lively wore her hair in a voluminous up do with a bold, satin red lip.

Getty.
Radiating at the 74th Annual Golden Globe Awards, Lively opts for a sleek, knotted up do with a copper smokey eye and pale pink lip.

Getty.
Wearing her signature bombshell waves in a tousled half up do with loose curls framing her face, Lively attends the Michael Kors Collection Fall 2017 runway show.

Getty.
Wearing a sleek, high pony and sun-kissed skin with a nude lip, Lively hit the red carpet at the 2017 Costume Institute Gala.

Getty.
Debuting her latest do yet, Lively steps out at the All I See Is You L.A. screening in a pinned up faux bob that she effortlessly paired with a matte red lip.

Invision/AP/Shutterstock
Blake Lively attends the 'Final Portrait' New York screening at Guggenheim Museum on March 22, 2018 in New York City. Photo courtesy of Getty Images.

ANGELA WEISS
Blake Lively attends the premiere for "A Quiet Place" at AMC Lincoln Square Theater on April 2, 2018 in New York City. Photo courtesy of Getty Images.

Jamie McCarthy
Actress Blake Lively poses for a picture during the "Deadpool 2" New York Screening at AMC Loews Lincoln Square on May 14, 2018 in New York City. Photo courtesy of Getty Images.

Bennett Raglin
Blake Lively poses outside the Crosby Hotel on August 18, 2018 in New York City. Photo courtesy of Getty Images.

James Devaney