Blake Lively Wore Five Over-the-Top Suits in One Day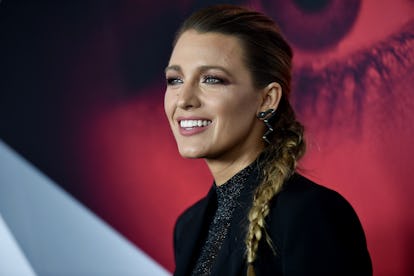 Steven Ferdman/Getty Images
Since kicking off her press tour for A Simple Favor earlier this year, Blake Lively has adhered religiously to a uniform of nothing but perfectly tailored, statement-making pantsuits, presumably a homage to her onscreen character, who wears three menswear-inspired ensembles of her own in the film's trailer. After months of dazzling the world with suit after suit, the style star stepped her game up even further on Monday by undergoing a grand total of five outfit changes in a single day. Naturally, all five outfits were impeccably styled and, without a doubt, secured Lively some sort of record for rapid-fire premiere week outfit changes.
Let's break down Live's 24 hours of style. She kicked off the big day with a purple fit from Gucci that would've made Violet Beauregarde proud. The outfit comprised a white collared shirt secured with a purple scarf; an indigo blazer and matching cropped pants, both dotted with delicate bouquets of flowers; a purple suede duster coat with a punchy plaid lining; and lavender ankle boots.
Next up was an equally bright ensemble, featuring a mauve turtleneck tucked into lime-green pants. Lively topped it off with a white blazer that had a navy and lime-green collar, navy stripes down the arms, and a green panel on the back; she completed the look with shiny white brogues with black laces and a literal cane.
Third, the actor continued to work her way through the rainbow, this time opting for a more monochrome look, this time from Bottega Veneta. She wore a bright orange jacket and matching pants that she rolled at the ankle, and had a lemon-yellow vest peeking out from under the coat. To accessorize, Lively hooked a silver pocket watch to her right hip and slipped into a pair of black-and-white loafers.
For her second-to-last ensemble went for denim: She wore a cropped denim blazer decorated with artsy white dashes over a collared button-up jumpsuit of the same material from Wolk Morais. Once again, she rolled the ankles of her pants, this time to show off her lace-up burgundy high-heeled boots.
On Monday, the 31-year-old wrapped up her whirlwind day of fashion at the NYC premiere of A Simple Favor. She walked the red carpet at the event in a sheer black glittery turtleneck tucked into classic black pants and topped with a broad-shouldered black blazer with dramatically long and sparkly tails from Givenchy. She completed the look with glittery black heels, and wore her hair in a sleek side braid.
All in a day's work for the woman who once (probably jokingly) professed, "I only do movies to excuse absurd amounts of outfit changes per day."
Related: Blake Lively Has Some Fun with Clapback at Instagram Critic of Her Fashion