Blake Lively Steps Out in a Shockingly Bright Green Suit
Normal humans can't pull this look off. But Lively is not a normal human.
---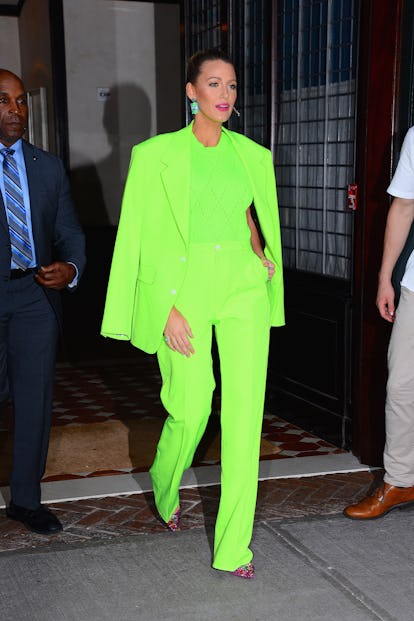 Robert Kamau
Proving once again that she is a Barbie doll come to life, Blake Lively wore a lime green suit in New York while on a press tour for her upcoming film with Anna Kendrick, A Simple Favor. More specifically, a neon-bright lime green sweater, pants, and jacket. Even more specifically, a slime green suit that's brighter than the sun, greener than Ireland itself, and louder than Kim Kardashian's neon Miami wig. See, no normal, regular, carbon-based non-lizard-person human being should touch this suit, let alone buy it, let alone wear it, let alone look really good in it, which Lively does. Because when it comes to fashion, Blake Lively is not of this realm. Since she first hit the scene she's been a fashion icon, regularly eschewing safe choices for highly glamorous, ultra-feminine looks that have less to do with trends and more to do with…how to put this…whimsical elegance? Basically, she does whatever she wants, because she famously doesn't even employ a stylist.
Hmm, maybe Lively was subtly giving her husband a shout-out. The two met on the set of The Green Lantern. This is green and bright…like a lantern?
By the next day, though, Lively was totally over the green thing and stepped out in head-to-toe blue. If you thought lime green was becoming a trend, well, maybe think again?
In all semi-seriousness, the key to both of these outfits is in the contrasting details, which play up the bold choices instead of toning them down. The magenta accessories in Blake's green outfit say, "This is a bold look because I am a bold woman; deal with it," while her lack of a shirt beneath the velour vest tells us that she's Blake Lively and she'll wear velour in 90 degree heat if she damn well wants to. And yes, we are counting the lack of a shirt as an accessory, because it's complementing the outfit. There are no rules anymore. Welcome to Blake Lively's fashion thunderdome.
The best news of all? A Simple Favor doesn't come until September 14th, so we have almost an entire month left of Lively's press tour looks.
Related: Blake Lively Stepped Out in New York City Summer Heat in Two (!) Velvet Blazers
Here's Your July 4th Fashion Inspiration From Tessa Thompson, Reese Witherspoon, and More
Photograph by Tim Walker for W Magazine, February 2015.

Tim Walker
Photograph by Steven Klein for W Magazine, March 2007.

Steven Klein
Selena Gomez photographed by Steven Klein for W Magazine, March 2016.

Steven Klein
Blake Lively photographed by Inez Van Lamsweerde and Vinoodh Matadin for W Magazine, December 2008.

Inez Van Lamsweerde and Vinoodh Matadin
Photograph by Steven Klein for W Magazine, March 2007.

Steven Klein
Photograph by Inez Van Lamsweerde and Vinoodh Matadin for W Magazine, March 2016.

Inez Van Lamsweerde and Vinoodh Matadin
Photograph by Willy Vanderperre for W Magazine, January 2013.

Willy Vanderperre
Photograph by Craig McDean for W Magazine, December 2007.

Craig McDean
Photograph by Mert Alas and Marcus Piggott for W Magazine, March 2017.

Mert Alas and Marcus Piggott
Photograph by Roe Ethridge for W Magazine, Spring Fashion 2018.

Roe Ethridge
Photograph by Alasdair McLellan for W Magazine, September 2015.

Alasdair McLellan
Photograph by Inez Van Lamsweerde and Vinoodh Matadin for W Magazine, December 2008.

Inez Van Lamsweerde and Vinoodh Matadin
Photograph by Sharif Hamza for W Magazine, November 2011.

Sharif Hamza
Photograph by Katja Rahlwes for W Magazine, December 2011.

Rahlwes Katja
Photograph by Mert and Marcus for W Magazine, March 2008.

Mert Alas and Marcus Piggott
Photograph by Mario Sorrenti for W Magazine, September 2015.

Mario Sorrenti
Justin Timberlake photographed by Michael Thompson for W Magazine, October 2011.

Michael Thompson
Julianne Moore photographed by Michael Thompson for W Magazine, September 2004.

Michael Thompson
Karen Elson photographed by Mert Alas and Marcus Piggott for W Magazine, October 2005.

Mert Alas and Marcus Piggott
Reese Witherspoon photographed by Michael Thompson for W Magazine, February 2006.

Michael Thompson
Amanda Seyfried photographed by Craig McDean for W Magazine, April 2014.

Craig McDean
Ruth Bell photographed by Mario Sorrenti for W Magazine, March 2016.

Mario Sorrenti
Ashleigh Good and Lindsey Wixon photographed by Emma Summerton for W Magazine, November 2013.

Emma Summerton
Jessica Stam photographed by Mert Alas and Marcus Piggott for W Magazine, August 2006.

Mert Alas and Marcus Piggott
Photograph by Inez Van Lamsweerde and Vinoodh Matadin for W Magazine, December 2008.

Inez Van Lamsweerde and Vinoodh Matadin