Blake Lively Has Some Fun with Clapback at Instagram Critic of Her Fashion
Sorry, she can't "fire" her stylist—she is her stylist.
---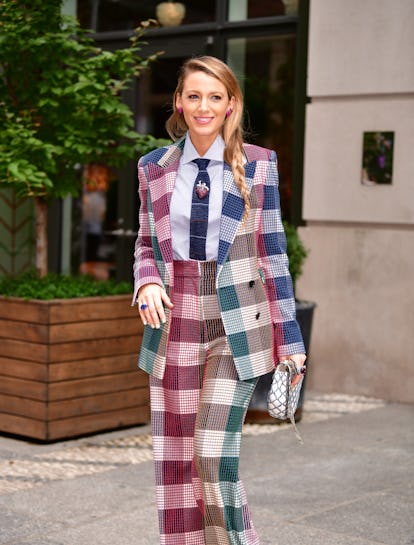 James Devaney
While her husband Ryan Reynolds is more likely to issue a sassy tweet or a clapback on social media, Blake Lively just proved that she too can play the droll commenter—especially when it comes to her famously daring fashion game. Last weekend, the A Simple Favor star stepped out in a number of eye-catching outfits, including a multicolored plaid pantsuit. Apparently not everyone is as big a fan of her looks as we are, because one Instagram user commented on a picture of the ensemble, "I say this with so much love and respect for you babe, please hire a stylist or fire the one you're currently with." Per a screenshot on Elle, Lively responded, ""Thank you for the tips, sir. Alas, I've tried to fire @blakelively so many times. But that b—- just keeps coming back. She won't leave me alone."
Apart from the eye-roll-inducing idea of some random commenter giving Blake Lively fashion advice, said commenter was obviously not even a big fan of hers to begin with. Anyone who follows Lively's career knows that she doesn't have a stylist. It's possible that she's collaborated with some, but by and large she does her own styling. What you see on her is just her taste, for better or for worse. But honestly, for better, because her style is really fun.
It's also worth noting that this look seems to be a favorite of Lively's. She cross-posted the Roland Mouret suit to Twitter, writing, "Pattern porn."
Some of us are horny for bold details, it's fine.
And the silliest part? The comment was left on a post in which Lively is already making fun of herself. Perhaps in an attempt to pre-empt the haters, she Instagrammed pictures of the outfit with the caption, "Picnic anyone? I'll bring the tablecloth…"
Safe to say Lively got the last sartorial laugh. Especially since the post was liked over a million times in under 24 hours.
Related: Blake Lively Steps Out in a Shockingly Bright Green Suit
Blonde Bombshell Blake Lively Has Epic Hair, and She Knows It
At the 2005 Nickelodeon's 18th Annual Kids Choice Awards, a young Blake Lively wore her golden blonde curls with a turquoise blue eyeliner.

Getty.
Wearing her long natural waves with a tinted coral lip, Lively looked like a California babe at the CW Network Upfront.

Getty.
Wearing her long mermaid waves with a hint of blush on her cheeks, Lively attended the VIVA LA CURE Benefiting for EIF's Women's Cancer Research Fund in 2007.

Getty.
Wild, tousled curls with a soft shimmery, smoky eye was the look at the US Weekly's Hot Hollywood Issue Celebration.

Getty.
Attending the premiere of Sherlock Holmes, Lively wore her hair in voluminous curls with a satin nude lip.

Getty.
Wearing a simple, elegant up do with glossy, natural lip, Lively attended the The Private Lives Of Pippa Lee premiere.

Getty.
Sporting a sleek, braid high pony with luminous skin, Lively tried out a new look at the 61st Primetime Emmy Awards.

Getty.
Wearing a sleek low bun with a taupe smoky eye, Lively attended the Spike TV's "Scream 2010" event.

Getty.
With red mermaid waves and a natural lip, Lively went glam at the TIME 100 Gala in 2011.

Getty.
Channeling old Hollywood glamour with voluminous waves, a sleek cat eye and a red lip, Lively hit the red carpet at the Los Angeles premiere of Savages.

Getty.
At the 2013 Costume Institute Gala, Lively wore her hair in a sleek, high pony with a subtle smoky eye and a light pink lip.

Getty.
Wearing her golden blonde curls softly tousled with a silk headband, Lively looked retro at the 2014 CFDA Fashion Awards.

Getty.
At the 2014 Costume Institute Gala, Lively paired her polished curls with a berry pink lip.

Getty.
At the 2016 Costume Institute Gala, Lively wore her hair in a voluminous up do with a bold, satin red lip.

Getty.
Radiating at the 74th Annual Golden Globe Awards, Lively opts for a sleek, knotted up do with a copper smokey eye and pale pink lip.

Getty.
Wearing her signature bombshell waves in a tousled half up do with loose curls framing her face, Lively attends the Michael Kors Collection Fall 2017 runway show.

Getty.
Wearing a sleek, high pony and sun-kissed skin with a nude lip, Lively hit the red carpet at the 2017 Costume Institute Gala.

Getty.
Debuting her latest do yet, Lively steps out at the All I See Is You L.A. screening in a pinned up faux bob that she effortlessly paired with a matte red lip.

Invision/AP/Shutterstock
Blake Lively attends the 'Final Portrait' New York screening at Guggenheim Museum on March 22, 2018 in New York City. Photo courtesy of Getty Images.

ANGELA WEISS
Blake Lively attends the premiere for "A Quiet Place" at AMC Lincoln Square Theater on April 2, 2018 in New York City. Photo courtesy of Getty Images.

Jamie McCarthy
Actress Blake Lively poses for a picture during the "Deadpool 2" New York Screening at AMC Loews Lincoln Square on May 14, 2018 in New York City. Photo courtesy of Getty Images.

Bennett Raglin
Blake Lively poses outside the Crosby Hotel on August 18, 2018 in New York City. Photo courtesy of Getty Images.

James Devaney