Blake Lively Wore a Fantastic Pantsuit to Meet Up With Anna Kendrick In N.Y.C.
This press tour continues to dominate our fashion radar.
---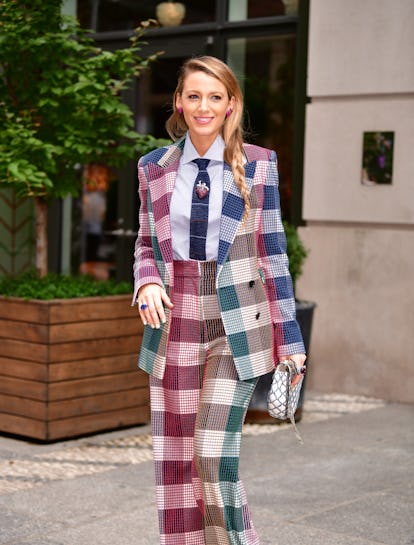 James Devaney
The press junket for A Simple Favor—a mystery thriller starring Blake Lively and Anna Kendrick, directed by Paul Feig—is shaping up to be an unofficial addition to New York Fashion Week. While promoting the film, Lively has already sported a number of eye-catching looks, like double blazers, a velour blue suit, and an almost impossibly green ensemble that nearly reminds one of CGI. And remember, she does all this sans stylist. Now, Lively has turned on the special effects again, wearing an optical-illusion-y Roland Mouret pantsuit to meet up with Kendrick outside the Crosby Hotel in Manhattan's SoHo.
Unlike the monotone ensembles of earlier this weekend, Lively's latest outfit encompasses every shade and hue, using a plaid-check pattern to go from red to yellow to blue to green in a way that's more preppy quilt than big ol' rainbow. She added a menswear-inspired tie but topped off the outfit with pink earrings and a heart-shaped (like, an actual heart, not a valentine) brooch, because she's Blake Lively, not Diane Keaton.
The petite Kendrick was cute as always in a wrap dress and platform heels. She knows she can't out-fashion Lively, and she doesn't want to or even try. She keeps it simple and it works. Perhaps this difference in their outlooks, if not their personalities, led to the casting? From the trailer, it seems like Lively's character, Emily, is much more mysterious and daring (even, let's just say it, colorful), than Anna Kendrick's everymom Stephanie.
The trailer also features a lot of fun outfits and ladies drinking wine and Gone Girl-esque clues, so get your tickets (and your canned wine) now. In the meantime, the only mystery we have to solve is what are these two going to wear next?
Related: Blake Lively Explains Why Her Upcoming Movie Characters Are Her Biggest Style Inspiration
Blake Lively and Her Bouncy, Curly Hair Were Everywhere This Week
Blake Lively attends Lorraine Schwartz Launches the Eye Bangle on March 13, 2018, in West Hollywood, California. (Photo by Stefanie Keenan/Getty Images for Lorraine Schwartz )

Stefanie Keenan
Heidi Klum and Kim Kardashian West attend Lorraine Schwartz Launches the Eye Bangle at Delilah on March 13, 2018, in West Hollywood, California. (Photo by Stefanie Keenan/Getty Images for Lorraine Schwartz )

Stefanie Keenan
Usher, Winnie Harlow, and Rita Ora attend Lorraine Schwartz Launches the Eye Bangle at Delilah on March 13, 2018, in West Hollywood, California. (Photo by Stefanie Keenan/Getty Images for Lorraine Schwartz )

Stefanie Keenan
Sofa Vergara, Lorraine Schwartz, and Sarah Hyland attend Lorraine Schwartz Launches the Eye Bangle at Delilah on March 13, 2018, in West Hollywood, California. (Photo by Stefanie Keenan/Getty Images for Lorraine Schwartz )

Stefanie Keenan
Eiza Gonzalez and Julianne Hough attend Lorraine Schwartz Launches the Eye Bangle at Delilah on March 13, 2018, in West Hollywood, California. (Photo by Stefanie Keenan/Getty Images for Lorraine Schwartz )

Stefanie Keenan
Marc Jacobs and Char Defrancesco attend Diptyque Hosts Fragrance Pop-up in SoHo. (Photo courtesy of Madison Voelkel/BFA.com)

Madison Voelkel/BFA.com
Jenny Lewis and Tennessee Thomas attend Superga and ALEXACHUNG Host a Cocktail Party at the Butcher's Daughter in Venice, California. (Photo courtesy of Marc Patrick)

Marc Patrick
Alexa Chung attends Superga and ALEXACHUNG Host a Cocktail Party at the Butcher's Daughter in Venice, California. (Photo courtesy of Marc Patrick)

Marc Patrick
Bambi Northwood-Blyth, Winnie Harlow, and Selah Marley attend the Dior Addict Lacquer Plump Launch With Bella Hadid and Peter Philips. (Photo courtesy of BFA)

Billy Farrell/John Salangsang/BF
Bella Hadid attends the Dior Addict Lacquer Plump Launch With Bella Hadid and Peter Philips. (Photo courtesy of BFA)

Billy Farrell/John Salangsang/BF
Paris Jackson attends the Dior Addict Lacquer Plump Launch With Bella Hadid and Peter Philips. (Photo courtesy of BFA)

Billy Farrell/John Salangsang/BF
Alexandra Daddario attends the Dior Addict Lacquer Plump Launch With Bella Hadid and Peter Philips. (Photo courtesy of BFA)

Billy Farrell/John Salangsang/BF
Natalia Dyer and Charlie Heaton attend the Dior Addict Lacquer Plump Launch With Bella Hadid and Peter Philips. (Photo courtesy of BFA)

Billy Farrell/John Salangsang/BF
Iris Apfel attends Bergdorf Goodman Celebrates All Things Iris Apfel. (Photo courtesy of BFA)

Tiffany Sage/BFA.com
Christie Brinkley attends Bergdorf Goodman Celebrates All Things Iris Apfel. (Photo courtesy of BFA)

Tiffany Sage/BFA.com
Dree Hemingway attends the Holi Saloni Celebrations in the RAAS Devigarh on March 9, 2018, in Udaipur, India. (Photo courtesy of Dave Benett)

Dave Benett
Maria Borges attends the Art Production Fund Gala Honoring Jeff Koons and Jeanne Greenberg Rohatyn. (Photo courtesy of BFA)

Yvonne Tnt/BFA.com
Athena Calderone attends the Art Production Fund Gala Honoring Jeff Koons and Jeanne Greenberg Rohatyn. (Photo courtesy of BFA)

Yvonne Tnt/BFA.com
Annelise Winter, Nicky Hilton Rothschild, Stacey Bendet, Amirah Kassem, and Heba Abedin attend the Art Production Fund Gala Honoring Jeff Koons and Jeanne Greenberg Rohatyn. (Photo courtesy of BFA)

Yvonne Tnt/BFA.com
Sarah Flint attends the Frick Collection Young Fellows Ball 2018. (Photo courtesy of Christine Butler)

Christine Butler
Molly Ringwald and Tracee Ellis Ross attend Chico's #HowBoldAreYou NYC Event at Joe's Pub on March 12, 2018, in New York City. (Photo by Dimitrios Kambouris/Getty Images for Chico's)

Dimitrios Kambouris
Lazaro Hernandez, Kate Mara, and Jack McCollough attend the launch of Proenza Schouler's debut fragrance, Arizona, at Saks Fifth Avenue.

Samantha Nandez/BFA.com
Blake Lively celebrating Tod's exclusive capsule collection for Barneys New York. (Photo courtesy of BFA)

Joe Schildhorn/BFA.com