Blake Lively Explains Why Her Upcoming Movie Characters Are Her Biggest Style Inspiration
The actress riffed on early-aughts nostalgia, her recent take on an '80s-inspired perm hairstyle, and why she often incorporates the unique styles of the characters she portrays into her personal wardrobe.
---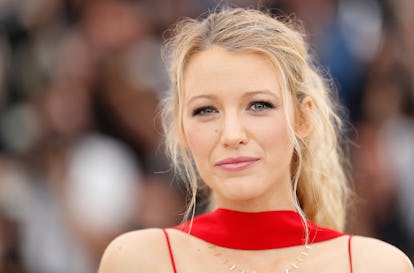 Getty Images
"I think I'm going through an '80s moment right now," Blake Lively said on Thursday night. She was at the celebration of Tod's new capsule collection for Barneys New York, and her hairstyle for the occasion—a voluminous, teased high ponytail—only punctuated her point.
The actress has been known to switch up her look, whether she is giving off a vibe that is cozy and casual—as it was that evening, hosting the pop-up in a velour sweatsuit paired with combat boot heels—or stepping out on the red carpet as the contemporary embodiment of old Hollywood glamour. With two films on the horizon—The Rhythm Section, a spy thriller directed by Reed Morano; and A Simple Favor, a noir mystery directed by Paul Feig, out later this year—never-ending hair transformations in process, and trips to live out her childhood fantasies with Mickey Mouse and Princess Elsa in Disneyland, Lively's plate is fuller than ever, and she constantly evolves her style to match her obsession of the moment.
At the party, Lively talked about early-aughts nostalgia, her recent take on an '80s-inspired perm hairstyle, and why she often incorporates the unique styles of the characters she portrays into her personal wardrobe.
What's your favorite piece from Tod's capsule collection?
This bag [I'm wearing]. It's super fun. Look at my nails! That's how inspired I am by that bag. I need suede croc nails! I put too much stuff in it though, and I made it too heavy. They usually give you these clutches that are totally impractical, and you can't even fit an iPhone in it! It's like they're prepared for the Razr, and we don't have that anymore!
I wish we did though, wouldn't you love to go back to those flip phones?
I know, right? When they had the hot pink one! It wasn't a great tone of pink, but it was still exciting that they released a pink one. And then the gold Dolce & Gabbana one, do you remember that? It was so expensive. I didn't have it, I couldn't afford it. But, anyway, I like [this bag] and I like [this outfit] because it's comfortable.
Speaking of going back in time, do you have any nostalgic memories of shopping at Barneys in the past?
I mean, I probably shouldn't tell this story, but my first experience with Barneys: I was graduating the eighth grade. I wanted a great dress, and my brother surprised me and took me to Barneys and bought me this beautiful beaded dress. It was insane. And these heels! When I went to leave, I was like, 'Why is there duct tape on the bottom of these shoes?' He was like, 'Don't worry about it, it's fine!' I wore the graduation dress, then he told me we had to take it back because he couldn't afford it either! He kept the tags. And if you put duct tape on the bottom of shoes and wear them, it doesn't scratch the soles. It's a terrible hack, right? I don't advise that! But I was able to wear a beautiful dress from Barneys even though I couldn't afford it, so there you go everybody at home! See what I mean? I probably shouldn't tell that story. [Laughs] A story I could tell is that when I first moved to New York, I was doing Gossip Girl and I just wanted to feel like I belonged, even though I really didn't. I put on I think about six or seven layers of pants and tights, because it was 40 degrees outside and I'd never experienced anything like that in my life, and then I drove up to Barneys and tried to hail a cab on Madison for an hour, but I didn't know about the light thing, that it depends on when the cab's lights are on or off, and it was in the changeover time. I was hailing a cab, and I couldn't afford anything at Barneys, but I was just shopping in there. Stories like that.
You look so cozy in this sweatsuit. What else is inspiring your personal style lately?
I am so cozy right now! For some reason I've been really into boots. I think because I'm doing a movie where I play an assassin, and I was wearing a lot of military boots, and I start to get a little Single White Female with my characters. I start to take on their style and fashion a little bit, so I started wearing combat boots a lot. I did a press tour in October where I tucked my suit—my very proper tweed suit—I wore combat boots and tucked the suit into them. And this, I wore combat boots because, I don't know, I'm just into it.
It's so funny you bring up that exact suit because I remember that three-piece look in October, and I was wondering why you've started to incorporate more men's wear looks into your wardrobe ever since?
That was a convergence of two movies. I finished one movie called A Simple Favor, where I was wearing all men's wear. I was looking for an iconic look for the character, and I was trying to think of, you know, you can dress up a cat like Karl Lagerfeld or Anna Wintour and you know that it's them because they have created such an iconic image. They have their thing. Anna has her hair and her necklaces, and Karl has a look. I thought, what for this character would be really iconic? And I looked to the director, and he wears the most beautiful—Paul Feig, you have to google him. His fashion is insane! His fashion is amazing. I was like, Look no further! This guy! I dressed just like him. And what was interesting was that in the process we started doing the women's version, like wearing a men's shirt but with no shirt, and I thought, 'Why? Let's do it like a man would wear it.' So I started wearing Oxfords buttoned all the way up, and a bowtie, and a pocket square. I just loved it so much! I finished that movie and was about to start the movie where I play the assassin, so the men's suit was a carryover from A Simple Favor, and the army boots were from The Rhythm Section. I just do that! Like when I did The Age of Adaline I started dressing very retro all the time.
Your curls look very '80s lately. What inspired the perm?
I think I'm going through an '80s moment right now. Hoops and curls, I don't know! I was around my sister, and we're doing this show based on the '80s, so maybe that's what it is.
Has there ever been anything that you wanted to wear out or on the carpet but were advised not to?
Well, I don't have a stylist, so no. [Laughs] But it probably would've benefited me if somebody had said, 'That's probably not a great idea!' There are things I look back on that are really pretty in person or photograph well on my iPhone in my house, and then on the red carpet they're not. The other night for example, my curls were fabulous and then it was drizzling so by the time I got to the red carpet it was a very sad version of what my hair looked like before I left.
I have curly hair, so I totally understand the issue of the rain ruining everything.
And I don't have curly hair, but I curled it, and it was beautiful. But then I saw the pictures from that night, and I was like, 'What happened?!' It was a little bit of a sadder version of what I left looking like.
I also saw that you were at Disneyland recently. What made you take the trip out there?
I mean, I honestly would move to Disneyland. It's not normal, my obsession with Disneyland. My best friend is writing a book on an adult's guide to Disney because she's amazing.
Related: Blonde Bombshell Blake Lively Has Epic Hair, and She Knows It