The Secret to Blake Lively's Hair Is Getting Haircuts As Frequent As Manicures
He demystifies hair care myths, and predicts the biggest hair trend of 2018.
---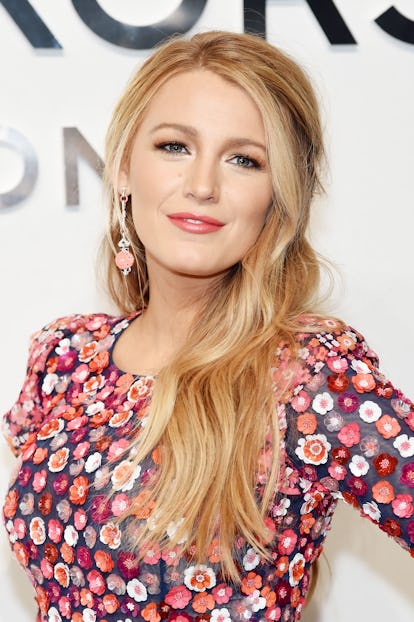 Getty.
With her blonde bombshell waves, Blake Lively may be one of the greatest hair icons of this era. This past year, however, has been one of reinvention for the actress. She's tried everything from a Kris Jenner-esque black pixie cut to brunette layers in All I See Is You and, even, a blonde bob while promoting the film. The latter was achieved with pins by hair stylist Rod Ortega, who started working with Lively 12 years ago as she was preparing to become TV's most enviable blonde, Serena van der Woodsen on the beloved CW show Gossip Girl. Since then, Ortega has worked with everyone from Amal Clooney (he was responsible for her electric '70s-indebted perm on Halloween) to Eva Mendes, Debra Messing, and Aubrey Plaza who donned blonde waves just like Lively for Ingrid Goes West. How exactly does one get "The Blake Wave," as Ortega calls it? It comes down to a good cut and trims as frequent as manicures. It also helps to have the right tools. Below, Ortega breaks down what those are, demystifies hair care myths, and predicts the biggest hair trend of 2018.
How much did you have to do with Blake to transform her into Serena? It was really just maintaining her haircut and the shape. It's a long, layered haircut. Having the right amount of layers around the face makes a cut versatile to go from a ponytail to a bun to down and wavy. It all starts with a really great cut. We always talk and she has pictures and I have pictures. We have so many pictures. The collaboration is amazing working with her and you can see the beauty that comes out of it.
How did Blake's brunette moment at The Green Lantern premiere come about? In the comic book, her character Carol Ferris had brownish, golden hair. We had a lot of camera tests for that film because we wanted to make sure we got the right color brown that wasn't flat—it had a little bit of warm variation of different browns. We really played with different shades of light brown, medium brown, golden brown wigs.
If someone wants to go brunette to blonde, what's the best approach for finding the right shade? It's a process of steps rather than choosing a specific shade. To save your hair and achieve the right color, you have to get a little highlights at a time, maybe do a balayage, lifting it little by little and preserving your hair, rather than just going from brown to blonde.
Which is your favorite look you've collaborated with on Blake so far? I don't know if I have a favorite. To me it's like a yearbook, like, 'Oh, we did this that year.' As far as texture-wise, I think we've really established the Blake Wave. Waves work really well with her hair. A lot of people know her as having those waves.
Would Blake's waves work for any hairstyle? Definitely. It's a classic look and it's a nice go-to for holiday, summer, the red carpet. You can wear it down, brush it up, or put up the sides.
Have people started requesting Blake Waves the way they might have 20 years ago with The Rachel? Yeah, I believe they do. I've gotten a few DMs with feedback from young women who request Blake Waves. She's known for that. We've done it at The Age of Adaline premiere, the Met Ball.
What's the best way to get her waves? I give her a great blowout, use a T-3 Trio curling iron, the Ibiza 7 hairbrush, and some great serum. I don't use too much product. Then it's about brushing it out so it falls nicely.
Which hair products do you use the most? I love Christophe Robin. His shampoos and conditioners are amazing, as well as the rosewater spray and hair mask. The prickly pear balm is amazing for sleek and shiny. To be honest, I don't use a lot products because without them hair is more versatile and can be changed more easily. I don't like sticky; I like fresh, shiny healthy hair. I like the hair to flow when you move. Sometimes I use oil at the ends or L'Oreal Nutri-Gloss High Shine Glossing Mist. I concentrate more on keeping the hair conditioned and cut and great shampoo and conditioner and having really great tools: the T3 featherweight, the T3 Trio, stuff that is very gentle and easy to use in styling.
How did you achieve the pinned bob look for her All I See Is You press tour? I made a braid in the nape of the neck and bobby pinned it in a circle to create a pin cushion. So I took the hair, set it, and tucked it underneath into the pin cushion. Anybody can do it. I've been watching a lot of Greta Garbo movies and I was so inspired by her style and hair. She was an amazing beauty icon. She probably wouldn't have said that she was but I think she is.
What else inspires you? Paris, the French Riviera, Rome, New York, Morocco. I'm like a sponge. I find beauty in all the different places and women all over the world. Everyone has their own flair.
What's the best way to keep hair shiny and healthy during the winter? What I would recommend is great shampoo, conditioner, a mask, and a haircut every six to seven weeks for dusting and shaping. You also need great hair tools: a blowdryer and straightening iron, those are the basics.
That's a pretty frequent haircut. You can go two months if you want but three months and your hair starts to become brittle. Go in there and have your stylist do a mask and get it shaped. It's maintenance like doing your manicure, pedicure or eyebrows.
How often does hair actually need to be shampooed? I would say every other day but it depends on your body chemistry. If you produce a lot of oil, then it would be more frequent. But second-day hair is always the best. You could also go three days and put dry shampoo at the roots. It's always good to switch off shampoos every once in awhile. You could do a volumizing shampoo in the winter because you might be wearing a lot of hats, or a nice moisturizing, hydrating shampoo during the summer because there's more sun.
How bad is it really to wash your hair when it's wet? I recommend these wonderful bone combs with wide teeth that they sell at Nigel's Beauty Emporium in North Hollywood. It's very nice for anti-snap, so if you are going to comb it when it's wet you should use that in the shower right after you rinse off your conditioner.
What's the biggest hair trend for 2018? It's all about healthy, glow-y, movable hair, whether it's a short pixie or down to your bob. This is the year to breakout and just have fun.
The Most Radical Blonde Transformations of 2017, From Cara Delevingne to Selena Gomez
Big Little Lies actress Zoë Kravitz paired her newly blonde pixie with a bare pink lip.

@zoeisabellakravitz
Ditching her famous red locks, Game of Thrones actress Sophie Turner went to the platinum side.

@cwoodhair
Actress Kristen Stewart stepped out in her platinum blonde buzz cut at her Personal Shopper movie premiere.

Getty.
Although Lily Collins' blonde locks were a temporary gig, the actress proved that she can rock any shade.

@lilyjcollins
With Kim Kardashian unveiling her platinum blonde locks during New York Fashion Week, mother Kris Jenner quickly followed with a platinum do of her own.

@kimkardashian
Singer Solange Knowles traded in her long, brunette braids for a platinum blonde afro.

@saintrecords
Katy Perry unveiled her platinum locks during Paris Haute Couture Week in a fresh pixie cut.

@katyperry
Supermodel Karlie Kloss pairs her shoulder length platinum locks with radiant skin and a mauve lip.

@karliekloss
In the latest to join the platinum blonde movement, singer Selena Gomez unveils her new do at the American Music Awards.

@hungvanngo
Although her platinum transformation was just for the night, singer and actress Zendaya makes the case for a blonde pixie cut and dewy skin.

Photo via Getty Images
As the ultimate hair chameleon, model and actress Cara Delevingne proves that side swept bangs and a sleek cat eye are the ultimate duo.

@caradelevingne
La La Land actress Emma Stone ditched her signature auburn red locks for shoulder length platinum blonde waves.

Getty.