This Is What Kim Kardashian Looks Like Naked And Completely Covered In Glitter
Kim Kardashian strips down in her latest KKW Beauty campaign.
---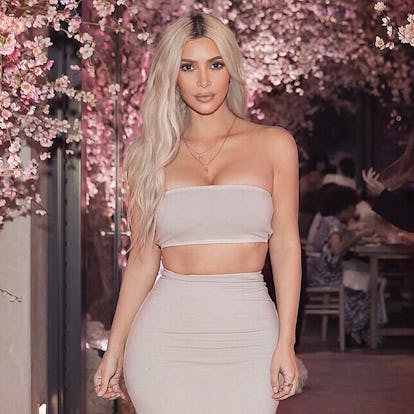 @kimkardashian
After Nicki Minaj did her best to break the internet with her "Minaj A Trois" Paper cover, Kim Kardashian has returned to reclaim her throne– but this time, covered in glitter. And since nobody has better timing than Kardashian herself, leave it to the beauty guru to cause a social media frenzy, even in the height of a royal engagement.
Unveiling her latest campaign for her upcoming Ultralight Beams (get it?) highlighters and lip glosses to her 104 million Instagram fanbase, Kardashian posted a picture of herself wearing nothing more than some very heavy glitter, proving herself once more as a very worthy spokeswoman of the KKW Beauty brand. Case in point: instead of talking her about upcoming beauty products, she wore them.
Stripping down in a ultra glamorous photo, Kardashian flaunts her killer curves doused in enough glitter that would put even the Kira Kira app to shame. And while Kardashian is no stranger to baring it all in front of the camera, having posed nude for fashion houses, acclaimed fashion photographers, editorial spreads—including her W 2011 cover—Kardashian knows how to perfect the ultimate artistic nude.
Pairing her frosted silver grey locks styled in a sleek, high pony with an intense golden glitter eye and a shimmering nude lip, Kardashian's eye-catching campaign is definitely doing its job in building anticipation for the December 1st launch that will feature five neutral glittered lip gloss shades with coordinating loose shimmer body powders. While no further details have surfaced yet of the highly anticipated body shimmer and lip kit, in this case, a picture is worth a thousand words. And if selling $10 million dollars worth of beauty products in a single day is any indication of where Kardashian is heading, it's safe to say the KKW Beauty entrepreneur's new endeavor, unique marketing approach and all, will be a similarly instant success.
[#article: /articles/59f0d38b4a97960610881fd3]||||||