Blake Lively Is A "Beautiful Ghost" In A Simple Favor Trailer
Anna Kendrick can't figure her out.
---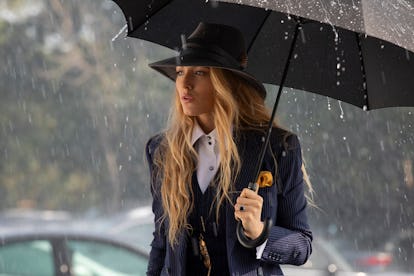 Courtesy of Lionsgate
In the grand tradition of women, fictional and otherwise, purposely and dramatically blowing up their seemingly perfect lives, Blake Lively's character Emily in the upcoming film A Simple Favor suddenly disappears, leaving her husband, son, and new friend Stephanie (Anna Kendrick) reeling. As seen in the film's first full trailer, which arrived Friday morning, it's difficult to tell whether Emily was more indecipherable before or after her disappearance. All that's certain is that she's always been a "beautiful ghost," per her husband Sean (played by Crazy Rich Asians's Henry Golding), and that she owned at least three impeccably chic menswear-inspired suits, including one perfectly tailored tux that she pairs with wrist-length red leather gloves.
Before Emily Gone Girls herself, she befriends Stephanie, a mommy vlogger with a child in Emily's son's class. Though Emily invites Stephanie to her gorgeous home to sip on midday martinis and "trade confessions," she continues to keep her earnest new sidekick at arm's length, demanding that Stephanie delete a photo she took of Emily and advising her, "You do not wanna be friends with me. Trust me."
Not long after that ominous warning, Emily calls Stephanie to ask her for the titular simple favor, at which point Stephanie and Sean discover that Emily is nowhere to be found. The search to figure out what happened to Emily leads Stephanie to cover the town in "Have You Seen Me?" posters, discover that Sean may have taken out a $4 million life insurance policy on his wife before she vanished, and travel to a "Bible Camp" to meet with an artist (Linda Cardellini) who once painted a portrait of Emily in a Jessica Rabbit-esque red wig and matching red leather boots. "She is not a normal person like you or me. I've never seen such a beautiful girl wanna be so invisible," Cardellini's character intones. So, yeah: a beautiful ghost.
A Simple Favor hits theaters September 14. Watch the full trailer below.
Related: Blonde Bombshell Blake Lively Has Epic Hair, and She Knows It
Blonde Bombshell Blake Lively Has Epic Hair, and She Knows It
At the 2005 Nickelodeon's 18th Annual Kids Choice Awards, a young Blake Lively wore her golden blonde curls with a turquoise blue eyeliner.

Getty.
Wearing her long natural waves with a tinted coral lip, Lively looked like a California babe at the CW Network Upfront.

Getty.
Wearing her long mermaid waves with a hint of blush on her cheeks, Lively attended the VIVA LA CURE Benefiting for EIF's Women's Cancer Research Fund in 2007.

Getty.
Wild, tousled curls with a soft shimmery, smoky eye was the look at the US Weekly's Hot Hollywood Issue Celebration.

Getty.
Attending the premiere of Sherlock Holmes, Lively wore her hair in voluminous curls with a satin nude lip.

Getty.
Wearing a simple, elegant up do with glossy, natural lip, Lively attended the The Private Lives Of Pippa Lee premiere.

Getty.
Sporting a sleek, braid high pony with luminous skin, Lively tried out a new look at the 61st Primetime Emmy Awards.

Getty.
Wearing a sleek low bun with a taupe smoky eye, Lively attended the Spike TV's "Scream 2010" event.

Getty.
With red mermaid waves and a natural lip, Lively went glam at the TIME 100 Gala in 2011.

Getty.
Channeling old Hollywood glamour with voluminous waves, a sleek cat eye and a red lip, Lively hit the red carpet at the Los Angeles premiere of Savages.

Getty.
At the 2013 Costume Institute Gala, Lively wore her hair in a sleek, high pony with a subtle smoky eye and a light pink lip.

Getty.
Wearing her golden blonde curls softly tousled with a silk headband, Lively looked retro at the 2014 CFDA Fashion Awards.

Getty.
At the 2014 Costume Institute Gala, Lively paired her polished curls with a berry pink lip.

Getty.
At the 2016 Costume Institute Gala, Lively wore her hair in a voluminous up do with a bold, satin red lip.

Getty.
Radiating at the 74th Annual Golden Globe Awards, Lively opts for a sleek, knotted up do with a copper smokey eye and pale pink lip.

Getty.
Wearing her signature bombshell waves in a tousled half up do with loose curls framing her face, Lively attends the Michael Kors Collection Fall 2017 runway show.

Getty.
Wearing a sleek, high pony and sun-kissed skin with a nude lip, Lively hit the red carpet at the 2017 Costume Institute Gala.

Getty.
Debuting her latest do yet, Lively steps out at the All I See Is You L.A. screening in a pinned up faux bob that she effortlessly paired with a matte red lip.

Invision/AP/Shutterstock
Blake Lively attends the 'Final Portrait' New York screening at Guggenheim Museum on March 22, 2018 in New York City. Photo courtesy of Getty Images.

ANGELA WEISS
Blake Lively attends the premiere for "A Quiet Place" at AMC Lincoln Square Theater on April 2, 2018 in New York City. Photo courtesy of Getty Images.

Jamie McCarthy
Actress Blake Lively poses for a picture during the "Deadpool 2" New York Screening at AMC Loews Lincoln Square on May 14, 2018 in New York City. Photo courtesy of Getty Images.

Bennett Raglin
Blake Lively poses outside the Crosby Hotel on August 18, 2018 in New York City. Photo courtesy of Getty Images.

James Devaney