Blake Lively Is a Mysterious Woman of Leisure in A Simple Favor Trailer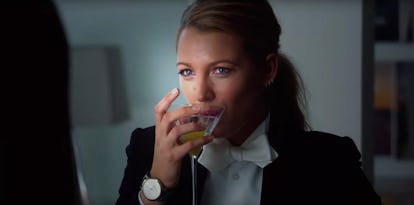 Lionsgate/Youtube
It's a parallel-universe Serena van der Woodsen, causing trouble for everyone once again.
Following Blake Lively's not so thinly veiled attempt at deleting her Instagram history to garner press for her new movie, A Simple Favor, exactly what we thought would happen, well, happened. She posted the first — albeit short — trailer for the film on Instagram, revealing a deliciously sinister narrative.
Co-starring Anna Kendrick, A Simple Favor tells the story of a small-town mom blogger named Stephanie (Kendrick) who manages to buddy up to Lively's glamorous businesswoman character, Emily, and soon enough the duo are best friends. (Well, at least that's what the mom blogger thinks.) There are martini parties, walk-in closet escapades, and all the fun stuff you can imagine from the new friends' bonding sessions at a mansion. But then a mystery kicks into overdrive: Who is Emily, really? And why does she go missing under such bizarre circumstances? Or, is she really missing at all? "Everybody has a dark side," Kendrick's character narrates. "Some of us are better at hiding it than others. I'm realizing I don't know her as well as I thought I did."
The film, which follows Emily's disappearance after she asks Stephanie to pick up her son from school, is based on the best-selling novel of the same name by Darcey Bell. So if you want to spoil the movie's ending before it comes to theaters, head to your nearest bookseller.
Also starring Linda Cardellini and Henry Golding, A Simple Favor will be out September 14.
Blake Lively and Her Bouncy, Curly Hair Were Everywhere This Week
Blake Lively attends Lorraine Schwartz Launches the Eye Bangle on March 13, 2018, in West Hollywood, California. (Photo by Stefanie Keenan/Getty Images for Lorraine Schwartz )

Stefanie Keenan
Heidi Klum and Kim Kardashian West attend Lorraine Schwartz Launches the Eye Bangle at Delilah on March 13, 2018, in West Hollywood, California. (Photo by Stefanie Keenan/Getty Images for Lorraine Schwartz )

Stefanie Keenan
Usher, Winnie Harlow, and Rita Ora attend Lorraine Schwartz Launches the Eye Bangle at Delilah on March 13, 2018, in West Hollywood, California. (Photo by Stefanie Keenan/Getty Images for Lorraine Schwartz )

Stefanie Keenan
Sofa Vergara, Lorraine Schwartz, and Sarah Hyland attend Lorraine Schwartz Launches the Eye Bangle at Delilah on March 13, 2018, in West Hollywood, California. (Photo by Stefanie Keenan/Getty Images for Lorraine Schwartz )

Stefanie Keenan
Eiza Gonzalez and Julianne Hough attend Lorraine Schwartz Launches the Eye Bangle at Delilah on March 13, 2018, in West Hollywood, California. (Photo by Stefanie Keenan/Getty Images for Lorraine Schwartz )

Stefanie Keenan
Marc Jacobs and Char Defrancesco attend Diptyque Hosts Fragrance Pop-up in SoHo. (Photo courtesy of Madison Voelkel/BFA.com)

Madison Voelkel/BFA.com
Jenny Lewis and Tennessee Thomas attend Superga and ALEXACHUNG Host a Cocktail Party at the Butcher's Daughter in Venice, California. (Photo courtesy of Marc Patrick)

Marc Patrick
Alexa Chung attends Superga and ALEXACHUNG Host a Cocktail Party at the Butcher's Daughter in Venice, California. (Photo courtesy of Marc Patrick)

Marc Patrick
Bambi Northwood-Blyth, Winnie Harlow, and Selah Marley attend the Dior Addict Lacquer Plump Launch With Bella Hadid and Peter Philips. (Photo courtesy of BFA)

Billy Farrell/John Salangsang/BF
Bella Hadid attends the Dior Addict Lacquer Plump Launch With Bella Hadid and Peter Philips. (Photo courtesy of BFA)

Billy Farrell/John Salangsang/BF
Paris Jackson attends the Dior Addict Lacquer Plump Launch With Bella Hadid and Peter Philips. (Photo courtesy of BFA)

Billy Farrell/John Salangsang/BF
Alexandra Daddario attends the Dior Addict Lacquer Plump Launch With Bella Hadid and Peter Philips. (Photo courtesy of BFA)

Billy Farrell/John Salangsang/BF
Natalia Dyer and Charlie Heaton attend the Dior Addict Lacquer Plump Launch With Bella Hadid and Peter Philips. (Photo courtesy of BFA)

Billy Farrell/John Salangsang/BF
Iris Apfel attends Bergdorf Goodman Celebrates All Things Iris Apfel. (Photo courtesy of BFA)

Tiffany Sage/BFA.com
Christie Brinkley attends Bergdorf Goodman Celebrates All Things Iris Apfel. (Photo courtesy of BFA)

Tiffany Sage/BFA.com
Dree Hemingway attends the Holi Saloni Celebrations in the RAAS Devigarh on March 9, 2018, in Udaipur, India. (Photo courtesy of Dave Benett)

Dave Benett
Maria Borges attends the Art Production Fund Gala Honoring Jeff Koons and Jeanne Greenberg Rohatyn. (Photo courtesy of BFA)

Yvonne Tnt/BFA.com
Athena Calderone attends the Art Production Fund Gala Honoring Jeff Koons and Jeanne Greenberg Rohatyn. (Photo courtesy of BFA)

Yvonne Tnt/BFA.com
Annelise Winter, Nicky Hilton Rothschild, Stacey Bendet, Amirah Kassem, and Heba Abedin attend the Art Production Fund Gala Honoring Jeff Koons and Jeanne Greenberg Rohatyn. (Photo courtesy of BFA)

Yvonne Tnt/BFA.com
Sarah Flint attends the Frick Collection Young Fellows Ball 2018. (Photo courtesy of Christine Butler)

Christine Butler
Molly Ringwald and Tracee Ellis Ross attend Chico's #HowBoldAreYou NYC Event at Joe's Pub on March 12, 2018, in New York City. (Photo by Dimitrios Kambouris/Getty Images for Chico's)

Dimitrios Kambouris
Lazaro Hernandez, Kate Mara, and Jack McCollough attend the launch of Proenza Schouler's debut fragrance, Arizona, at Saks Fifth Avenue.

Samantha Nandez/BFA.com
Blake Lively celebrating Tod's exclusive capsule collection for Barneys New York. (Photo courtesy of BFA)

Joe Schildhorn/BFA.com