Blake Lively Appears in Multiple Outfits, Which Means She's Promoting a New Movie
The reviews for her upcoming film The Rhythm Section are in—and they're lukewarm.
---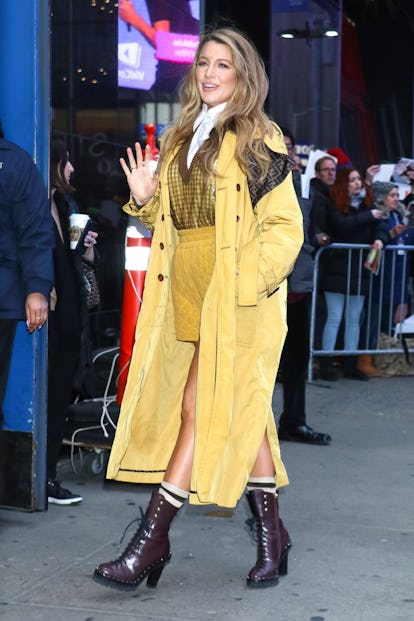 Courtesy of Getty
It's nearly become a tradition at this point: every time Blake Lively has a starring role in a film that's about to hit theaters, she takes her press tour as an opportunity to participate in a fashion marathon. She did it during the publicity run for A Simple Favour in 2018, when she wore in one day not only four—count them, four!—different looks, but four looks paired with a different pair of Christian Louboutins each time. She did it back in 2016—at that time, she topped her own record with seven looks in one day, while promoting All I See Is You.
And now, she's rolling out the fit parade for The Rhythm Section, a revenge thriller in which she plays the character Stephanie Patrick, a drug-addicted sex worker who seeks to avenge the deaths of her family members. The movie comes to theaters on January 31, but the reviews are already in—and they are lukewarm. Film critics concede that Lively does a fine job in the film, but that, as the AV Club puts it, "This movie—with the deadly woman who is plucked from the gutter and empowered by putting on wigs and pretending to be manipulated by men—has been made many times before, and usually by Luc Besson."
Lively, however, is not one to let these comments get her down, and her outfits transmit this message. She won't wear just one, not two, nor three, but six looks in a day (which, it's worth noting, doesn't beat her personal best of seven, but we'll ignore this for now).
She wore a blush (Jay-Z might even say mauve)-colored trench dress with brown leather gloves one moment, then yellow quilted shorts (in this weather?!) the next. A printed dress with more gloves; a black floor-length skirt and white collared shirt look. Finally, she put on a black velvet dress with still more black leather gloves to the red carpet for The Rhythm Section's premiere.
The sheer number of costume changes puts some fashion editors—who attend multiple New York Fashion Week shows each day—to shame. To hell what the critics have to say about Blake Lively's movie . Her outfits will not accept defeat!