Block B's P.O—Singer, Rapper, Actor, Photographer—Is K-Pop's Busiest Star
The musician, born Ji-hoon Pyo, still makes time for fashion presentations by his closest friends.
---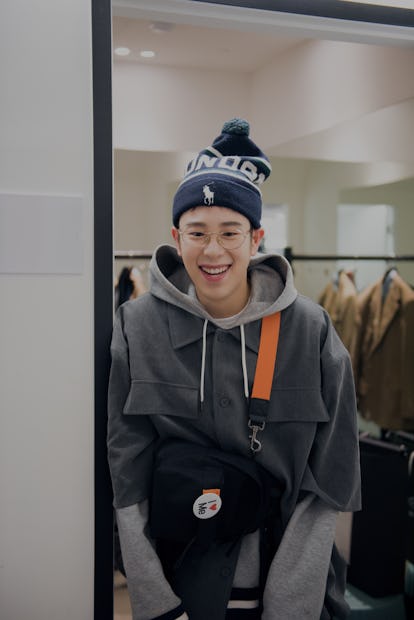 LeeYeongMo
Last year, the South Korean television station MBC debuted a new reality-television series. The title has been translated alternately as Living Together in an Empty Room, Insolent Housemates, and My Unexpected Roommate, but the concept remains the same: A Korean celebrity installs him or herself in the home of another celebrity, who lays out the terms of their cohabitation; hijinks ensue. At the end of their short lease, the roommates vote on whether they would opt to live together again.
Around the fourth episode, P.O—born Ji-hoon Pyo—a rapper and musician who was one of the founding members of the boy band Block B, takes up residence in the home of designers Steve J. and Yoni P., who was, at the time, pregnant. The experiment lasts about four episodes before Pyo moves in with actress Eun-jung Han, but it is, apparently, a success, as Pyo and his roommate, the comedian Se-ho Jo, both vote yes on Steve J. and Yoni P.
Several months later, the designers reached out to Pyo, asking him to attend their fall 2018 presentation, an off-site, off-the-calendar show at the Studio Concrete exhibition space in central Seoul that featured a performance by choreographer Lia Kim. Pyo hadn't attended a fashion show in several seasons—it was never quite his scene, he said—but he would make an exception for former roommates. Which is how we ended up sitting across from each other at Soonsoo, a salon in ritzy Gangnam, Seoul, on a recent March afternoon.
Soonsoo is known for its celebrity clientele, with patrons including members of the boy band Winner and Eun-ji Jung of the K-pop group Apink. Still, it's rare that K-pop stars offer outsiders a glimpse at how they prepare for public appearances. So I asked Pyo: What's his normal getting-ready process like?
"[I'm] a very positive person," he told me, through a translator. "[I] want to prepare my mindset and want to be in a good mood—and give good vibes to people." He grabbed my hand and started dancing in his chair. "Yeah!" he cheered.
In spite of the burgeoning design community in Seoul—with designers like 99%IS–, Kye, and Blindness rising to international success—Pyo told me that he's not especially concerned with labels. "Whatever [I] wear, I want to look like a boy—a young boy, a funny boy," he said. (When I arrived, he was wearing a houndstooth blazer with a chambray shirt; by the time we sat down to talk, he had changed into a Ralph Lauren sweatsuit with an oversize gray button-down layered over the top.)
There are Tumblr blogs dedicated to documenting the style of Block B's seven members, entire posts devoted to tracking down their specific looks. Scrolling through them, it quickly becomes apparent this is P.O's brand: He's the group's boy next door, the playful, youthful one. Pyo has also cultivated a distinct voice of his own, independent of Block B: He released his first single as a solo artist last fall; there's the reality show thing; and three years ago, he established a theater company—the aptly named "Company Boy"—with a group of five other friends.
In fact, just a couple of hours after the SJYP fall 2018 presentation, Pyo underwent yet another transformation—into a young food-truck operator, performing the lead role in his play Superman.com. Inspired by a night spent drinking and eating street food with friends, he wrote the play with the rest of Company Boy; it opened in February. When the subject came up, Pyo bounded up from his chair to track down his phone in the next room, looking for images from the production. No luck. "Sorry, I don't have my phone," he apologized. "Lost it." But just a moment later, a member of the salon staff peered in, holding out Pyo's phone. He grabbed it and began to scroll through his photos, showing me the Superman.com poster.
In addition to the play, Pyo is working toward his debut solo album, slated for release online later this year. As a member of Block B, he primarily raps; as a solo artist, he can do a bit of everything, eschewing the hip-hop sound for something with a little more funk. "It's very exciting and very sexy," he told me, citing James Brown, Bruno Mars, and the Korean hip-hop group Dynamic Duo as inspirations.
To him, this synthesis of theater, music, and fashion is also what sets Korea's pop landscape apart from that of other countries: "The Korean music scene is all about the performance—the dance, the music, and the lights," he told me. "Everything comes together."
Related: Former Wonder Girls Star Park Ye-eun Opens Up About Love, Gender, and Embarking on a Solo Career as Ha:tfelt
Who's Who: Meet the Beautiful People of Seoul Fashion Week