Former Wonder Girls Star Park Ye-eun Opens Up About Love, Gender, and Embarking on a Solo Career as Ha:tfelt
"At some point, you have to go your own way," says the k-pop superstar.
---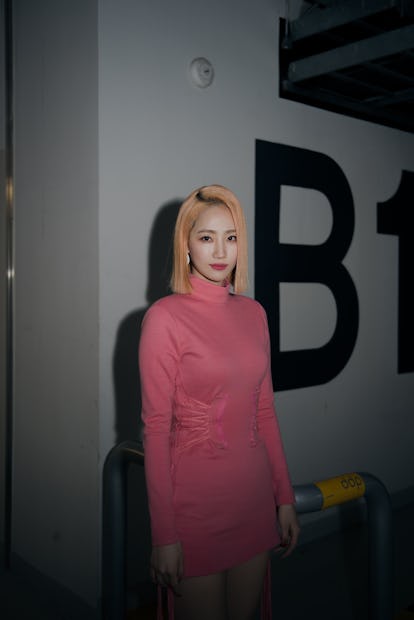 LeeYeongMo
When Park Ye-eun was 16 years old, she landed an audition with the Korean producer Park Jin-Young, the mastermind behind the über-management company JYP Entertainment. She failed the audition. But when she returned home, she sat down at her piano to practice—and started composing a melody, the first song she had ever written.
More than a decade later, Park, now 28 (30 in South Korea, where everyone is one year old from the moment they're born), has established herself among the upper echelons of k-pop celebrity. Shortly after that failed audition with JYP, she became a member of the girl group Wonder Girls, one of the select k-pop groups to achieve stardom in their home country as well as international mainstream success; they toured with the Jonas Brothers in 2009 and charted on the Billboard Hot 100 that same year. (They were also the first k-pop act to earn a spot on the Billboard chart.)
But since Wonder Girls disbanded last year, a decade after it was established in 2007, Park has started to pursue her solo career in earnest, under the name Ha:tfelt—styled in block capitals, pronounced like a British person saying "heartfelt," as she explained to be on a recent evening in Seoul. She issued her first release under this stage name in 2014, but it wasn't until last year that she signed with a new label and put out a new split single album, MEiNE.
"As a group, you have your allies—we're together, we decide everything together," she said of her time with Wonder Girls recently in Seoul. "As a solo artist, I have to decide everything, and then I have to be responsible." It was a Friday evening, and we sat in the back of an SUV driving circles around the downtown Dongdaemun Design Plaza, a Zaha Hadid-designed amoeba of a building that is the nucleus of Seoul Fashion Week. Park had just emerged from the Kye Fall 2018 show, one of the week's most coveted, celebrity-studded events, and she wore one of the brand's newest designs, a corseted, salmon-pink minidress that complemented her chin-length hair, a grayish blonde highlighted in orange and pink. (She figured she'd been attending the brand's shows for four seasons now—a fitting match, considering the penchant for elevated streetwear she shares with designer Kathleen Kye.) The next day, she'd make her way to the front row for Fleamadonna, a Korean label beloved by Soo Joo Park and whose runway featured models like Irene Kim and Yoon Young Bae. "Doing it by myself is hard," she continued, "but at some point, you have to go your own way."
There's also creative freedom inherent in striking out on your own: Park is writing and producing her music on her own, opting for a silky R&B texture that also "has a little bit of bossa nova rhythm—and trap," as she explained, describing an upcoming single. (She cited Niia and SZA as two artists she's especially into right now.) The sound is a sharp contrast to the glimmering retro pop of Wonder Girls. It's also more personal. MEiNE's narrative begins with Ha:tfelt, circa age six, and is "basically about my entire life"; her upcoming single, slated for release next month, is about an unrequited love.
Had she felt that way recently? I asked. "Yeah," she said with a small sigh.
"When you love someone and it's just one-way love, you give everything, you are so committed," she said, "but then, the person is not—so on one side, you're very happy, because you find someone that is your dream. But then, on the other side, you feel, 'No, that person isn't in love with me.'"
Together, MEiNE and the upcoming single encapsulate this duality. But for her debut solo album, which she plans to release later this year, she zooms out to survey not only her own professional, familial, and romantic exploits, but also the emotional experiences of women of her generation more broadly. "It's one of the biggest issues in Korea," she said. "It's very hard for a girl to pursue her dreams." Yet, at the same time, "it's too ordinary," she said. "We are so used to it, so we don't really talk about it." She wants to change that. She cited Born in '82: Ji-Young Kim, a novel about a woman of roughly her own age who encounters the "prejudices and the glass ceiling" that inhibit women's aspirations in contemporary South Korea, as a work with a similar goal—shedding light on the challenges that still confront young women at work and in their personal lives. The novel was an instant bestseller when it came out in October 2016, part of a recent wave of feminist-leaning titles that also includes the 2017 novels The Age of Gentle Violence, by Yi-hyun Jung, and Shoko's Smile, by Eun-young Choi.
In her afterlife as a solo artist, Park is tackling themes and sounds that previously fell outside the mission of Wonder Girls, with single-minded ferocity. These are broad cultural ideas that she's filtering through her new voice. "I try to pull the best from myself," she said. "I want to talk about, basically, everything."