Bonnie Tyler Is Going to Sing 'Total Eclipse of the Heart' During the Solar Eclipse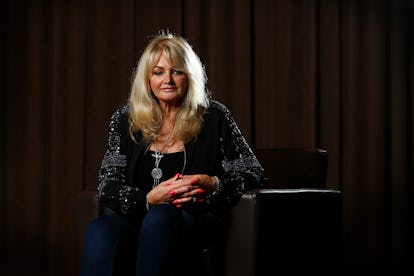 Adam Head/Newspix/Getty Images
As the 2017 eclipse descends upon us, people are getting ready, staking out their viewing spots and making plans. One of them is Bonnie Tyler, the Welsh singer best known for the 1983 hit "Total Eclipse of the Heart." In the spirit of that ballad, the cover art, and the fact that our culture is a nostalgia-driven one, Tyler has announced her plans to serenade eclipse viewers with a special live rendition of her famed song.
When the solar eclipse hits on August 21, Tyler will be performing "Total Eclipse of the Heart" aboard a Royal Caribbean cruise ship, Oasis of the Seas, TIME reports. The performance also has another selling point — as if watching the eclipse while listening to THE song about the eclipse isn't memorable enough — as Tyler will be backed by Joe Jonas' pop band DNCE. "The eclipse of the sun lasts 2 minutes and 40 seconds, I'm told. Unlike my song," Tyler told TIME. "It had to be chopped about because it was so long. I never thought it would be played on the radio in the beginning."
Thanks to the solar eclipse — the first one in 38 years for the continental U.S. — Tyler's song will receive a whole new wave of plays. As the unofficial eclipse artist, Tyler's iconic track has developed somewhat of a pattern of making a comeback during eclipses. Apparently, it received a whopping 75 percent boost in streaming on Spotify after 2016's solar eclipse, TIME reports, and the music video continues to draw new viewers, the tally of which is currently over 300 million.
Bonnie Tyler has some thoughts on why the track has become such a classic, namely because it's "beautiful.""It made me cry, because I loved it so much," Tyler told TIME of her first experience hearing it. As for why it's in the cannon? "God knows why, because it's not an easy song to sing. But it's a beautiful song. It's a massive song, an evergreen song that you hear on the radio all the time, whether it's an eclipse or not. And you know, you can bet your life on all these talent shows — X Factor, Britain's Got Talent — [it] pops up so often with the contestants."
The eclipse cruise departs August 20 but, for most of us who will be watching from home, there's always the video on YouTube.
And, as a bonus, there is Kiki & Herb's iconic cover.
Related: From Poof to Pixie: The Most Iconic '80s Hairstyles of All Time
Emma Stone, Natalie Portman, Amy Adams, and More Stars of the Year's Best Films Get Really, Really Into "I Will Survive" by Gloria Gaynor:
Halston brings his posse of Halstonettes to the Great Wall of China.
First Lady to-be Nancy Reagan discusses her plans for life in the White House, including afternoon naps for her husband.
1981 | AUGUST (above) Gianni Versace shows off his newly restored villa on Lake Como, Italy.
1982 | MAY A feature titled "Rich, Rich, Rich" investigates the ballooning personal fortunes of fashion designers. Perry Ellis, when asked about the cost of the seaplane he bought for his hops to Fire Island, says he isn't quite sure: "Six figures. Something like that."
A dispatch from spring weekend at Brown, starring a bare-chested JFK Jr.
Socialite Pat Buckley, photographed with dozens of pieces of luggage and three Cavalier King Charles spaniels, says she's not big on traveling light: "My advice is to always take more than you're going to need."
In L.A., W pays visits to Betsy Bloomingdale (who is worried about weevils in her zinnia bed) and Hollywood's new hot producer, 33-year-old Brian Grazer.
On the cover: "Fashion Victims 1985," featuring Diana, Princess of Wales.
In: Raisa Gorbachev, pecan trees, keeping a journal. Out: Japan, cats, Don Johnson.
During their honeymoon at Lake Como, happy newlyweds Kelly and Calvin Klein squeeze in the time for a W interview and portrait.
Anna Wintour, 37, the new editor of British Vogue, brushes off the rumor that she has her sights set on the top job at American Vogue. "Grace Mirabella is a terrific editor," Wintour says. "They would be absolutely mad to replace her."
W coins the term Nouvelle Society in a report on the new megarich—the ruling clique of Kravises, Trumps, and Steinbergs, who like "big rocks, big furs, and big deals."
On the cover: Oscar de la Renta and Linda Evangelista, in one of the designer's very voluminous fall opera gowns.
1987 | JULY (above) Christian Lacroix, 36, opens his couture house on Rue du Faubourg St.-Honore.
1988 | MARCH Giorgio Armani shares his favorite tortellini recipe.
Fall '88 is all about pants for cover boy Isaac Mizrahi.
Murphy Brown star Candice Bergen is one of W's first Hollywood cover girls.
"Mercedes Hooks Her Bass" is the headline for a story on New York's richest newlyweds, Mr. and Mrs. Sid Bass.
On the cover: Karl Lagerfeld shows one of his Chanel couture creations: a short black dress with mousseline wings.