For August, Our Astrologers Have a Vacation Destination for Every Sign
The Astro Poets, Twitter's favorite astrologers and W columnists, look to the stars to suggest the perfect exotic vacations for each and every sign.
---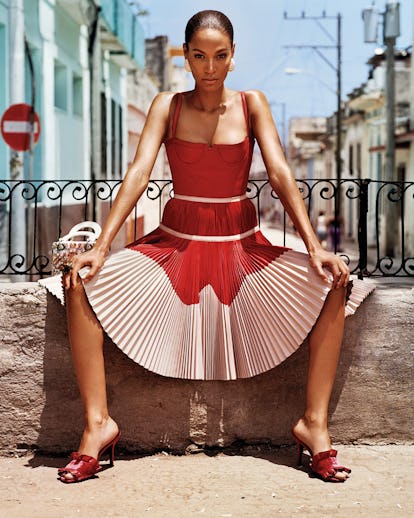 Photographer: Alasdair McLellan Stylist: Edward Enninful
August is here, with all its indulgent laziness and aspirations for escape. This one is going to rock us all pretty hard. August 7 is the full moon lunar eclipse in Aquarius and August 21 is the new moon solar eclipse in Leo. The past may arrive, if not at your door, then at the high and vulnerable gates of the mind. And because reality may be a lot to handle this month, we have some fantasy vacation suggestions for you. But don't worry, though. It's alright if you can't get to some of the places we see you in. The symbolic elements behind our suggestions can be adapted to wherever you can or need to go.
Yours in the stars and on earth,
Aries The slowness of late summer drives you wild, Aries. As will any love interest this month, so we urge you to take your foot off the gas and actually get on a plane. Not with a lover, no. With one knowing friend who's seen you through all your delusional, impulsive Aries maneuvers, and someone who has the patience to put up with your ever changing mind when it comes to who to kiss or what to have for breakfast. Look, a trip to Barcelona is ideal. There's palm trees and beaches, there's a city full of history and great architecture—all of which you need to keep you from doing anything crazy in the love department this month. Some say distraction solves nothing, we say distraction's distraction. It works! And if you can't make it to Spain, let that one friend throw you in their car without telling you where you're going. It will cure your restlessness and desire to start unnecessary drama, which you should avoid everywhere in August—at work, at home, and especially online.
Taurus Several agents of change will enter your life this month although you may not notice. These may be people or opportunities that will seem fairly common on the surface. If you're in a relationship, we're sorry to say this, but it's not where you'll feel fireworks this August. If you're looking for love, it's looking for you but not where you're standing. Toss a coin and make one side Buenos Aires and the other Mexico City. Both will reinvigorate you and remind you of how much you love to show off. We know—you haven't been feeling it lately, which is why a change of scenery will do your spirit good. You're a sign that loves to nest up and do everything at home. It does work for you but you also love being spontaneous on your terms. So even if it's not Mexico City or Buenos Aires, pick two places you've always wanted to go to but have kept in the back of your mind. Even though you're stubborn and love routine, take a chance. Take yourself out of here for a while.
Escape the Ordinary with W's Most Fabulous Jet Set Destinations
Selena Gomez took us on vacation for a chic American summer in 2015. Photo by Steven Klein, styled by Patti Wilson. W Magazine, March 2016.
British beauty Jean Campbell hopped across the pond for an American holiday in 2016. Photographed and styled by Venetia Scott. W Magazine, June/July 2016.
More Brits abroad: Edie Campbell dazzles in Burma. Photo by Tim Walker, styled by Jacob K. W Magazine, May 2014.
We travelled to the Argentinean salt flats for an ethereal summer vacation in 2012. Photo by Patrick Demarchelier, styled by Edward Enninful. W Magazine, August 2012.
Dripping in gold, we took to the beach for a much needed vacation. Photo by Emma Summerton, styled by Edward Enninful. W Magazine, April 2012.

Photograph by Emma Summerton
Before it was in, Joan Smalls in Cuba. Photo by Alasdair McLellan, styled by Edward Enninful.
Naomi Campbell voyaged to Ghana in 2013. Photo by Willy Vanderperre, styled by Edward Enninful. W Magazine, November 2013.
Mahalo! Natalie Westling in Hawaii. Photo by Alasdair McLellan, styled by Edward Enninful. W Magazine, June 2016.
When in Rome: Edie Campbell dazzles us once more. Inez Van Lamsweerde and Vinoodh Matadin, styled by Edward Enninful. W Magazine, October 2015.
That time we went "camping." Photo by Roe Ethridge, styled by Giovanna Battaglia. W Magazine, June 2015.

Roe Ethridge
Gemini Luck isn't a scientific thing. Who can say what it is? This month, it's coming your way. If you're thinking of taking a risk in your finances or career, go for it. The August gods are opening the gates for Geminis. What you'll have trouble with (as usual) is your focus on completing one thing while starting ten others. This isn't a month to start new things but to close out deals, to finish projects. And at the end of it, you should reward yourself by going somewhere remote like St. Barts in the Caribbean, or Patmos in Greece. And since you're always scheming, we know you'll use your time away to plot new collaborations, new ways to flirt with your old exes, and new ways to make money. Some people may call you "crazy" for the perceived "trouble" you get into, but don't ever change, Gemini—that's exactly where you manifest your creative powers: in how unpredictable and overwhelming you are. This month, take a minute to enjoy the person who is at the center of all that genius—you.
Cancer You've distanced yourself from certain people who you've seen as "toxic" romantically or friendship-wise. That's all fine and good but we're a little worried about how anti-social you've been feeling. You're a sign of deep introspection, one who couldn't avoid their feelings even if they tried. But that shouldn't mean isolating yourself with those feelings. We're recommending you go on a trip with a few old friends and a few yet to be friends. The vibe we're feeling for you is Italian. A seaside town like Positano or Capri. What you'll need this month is a lot of warmth around you. And we don't mean the weather. Surrounding yourself with as many people who will show you they know you and with new people who will show you they want to know you—it will surprise you how good this feels. You'll be tempted to try and find answers in the past, to find ways to punish those who have wronged you. The past is an interesting place, but we don't see it working for you this month. Don't even stay where you are. Go toward the future you've always wanted. Yes, the one where everyone needs you. But for that, you'll have to get out of your comfort zone and face the crowd.
Leo Your ruling planet, the Sun, is truly shining on you as you make another trip around it. The solar eclipse and new moon on August 21 will open up new ways of connecting to your current relationships, both romantic and platonic. You'll find that stating things as bluntly and clearly as possible, and without a lot of flare and high drama (we know this is hard for you), will work particularly well at work and in the house of love this month. You're a sign that uses drama to mask your vulnerability; it's not really to start conflict. But this is the time to be vulnerable, especially around that new moon. And around then is also a good time to plan a vacation, something grand and ambitious—like the pyramids at Giza or making a pilgrimage to the Taj Mahal. If you can't make either, make sure your August getaway is full of ritual and grandeur. That's the part of your spirit that needs to be filled up most this month, and that's also what will allow you to appear more naked and vulnerable in private, because we all know you need both the show and the after party to get to the real truth-telling after hours.
How To Match Your Fragrance to Your Next Summer Vacation Destination
Virgo There aren't many ways to say this so we'll just get to it—this is going to be a difficult month. The lunar and solar eclipses will really test your confidence at work and what you perceive as the loyalty of your friends. Romantically, if you've been looking for love, you know you've let a few worthwhile opportunities go this year. And you're still beating yourself up over it. There is a chance to recover one of them, and you'll be thinking a lot about that around August's eclipses. The best place to get your head together is somewhere in the mountains, so let's hope you have those around you. Whether it's the Adirondack Mountains in upstate New York, or taking a trip to Ruidoso, New Mexico to be near the Sierra Blanca—you need a vast sky. There are home projects you're planning and a few other creative projects, but our advice is to wait until September or even October. Certainty and vision are not what you'll get out of August. Immense mental shifts and breakthroughs are what you're in for. Give yourself as much personal space as possible.
Libra Although you strike an air of peace and harmony in most everything you do, within this peaceful demeanor lies a chaotic streak that is always threatening to pop up when you least want it to. We like to think of it as a great tornado of emotions that can be incited at a moment's notice and can tear down everything in its path. This tornado, although basically outwardly dormant this past month, has been bearing down its weight on your spirit and causing you to not fully enjoy the summer. Perhaps it could be cathartic to start skipping all those glamorous parties for now and spend some time sprawled out on a blanket near a lot of greenery, like the glacial valleys of Glendalough, Ireland. That is, if you can get there. If you can't, a park or botanical garden with plenty of open space will do. We can see you with many old-fashioned paperbacks, looking classy in an outfit with gold accents, a hot and nerdy Gemini by your side, pontificating the day away and working out these underlying torrents. After some time, we think you'll be ready to face the changing of the seasons with your distinctive gorgeous pizzazz.
Scorpio The past month has brought much creative energy your way, as you've begun to juggle what is now many new projects. This work you're doing feels fulfilling and you've begun to feel you may be on your way to your true purpose. August makes most people itch to travel, before the reality crush of the fall sets in. We think that your fantasy respite may actually be a staycation. And we don't mean in the traditional sense, where you take the time to explore all the culture outings in your city. Instead, you might just spend some quality time in bed—alone for once—catching up on your long terms plans for your creative endeavors. We see many chances coming your way to build on the work you've been doing and it would be good to use this time of year to plan. Instead of local attractions, maybe switch up the restaurants you frequent or the take out you have down like a ritual. Basically, stay put and let yourself dream of the good things to come. Fall is your season.
At Iceland Airwaves, It's Acceptable to Wear a Fair Isle Sweater to the Club
Photo by Magnús Elvar Jónsson.
Photo by Magnús Elvar Jónsson.
Photo by Magnús Elvar Jónsson.
Photo by Magnús Elvar Jónsson.
Photo by Magnús Elvar Jónsson.
Photo by Magnús Elvar Jónsson.
Photo by Magnús Elvar Jónsson.
Photo by Magnús Elvar Jónsson.
Photo by Magnús Elvar Jónsson.
Photo by Magnús Elvar Jónsson.
Photo by Magnús Elvar Jónsson.
Photo by Magnús Elvar Jónsson.
Photo by Magnús Elvar Jónsson.
Photo by Magnús Elvar Jónsson.
Photo by Magnús Elvar Jónsson.
Photo by Magnús Elvar Jónsson.
Photo by Magnús Elvar Jónsson.
Photo by Magnús Elvar Jónsson.
Photo by Magnús Elvar Jónsson.
Photo by Magnús Elvar Jónsson.
Photo by Magnús Elvar Jónsson.
Photo by Magnús Elvar Jónsson.
Photo by Magnús Elvar Jónsson.
Photo by Magnús Elvar Jónsson.
Photo by Magnús Elvar Jónsson.
Photo by Magnús Elvar Jónsson.
Photo by Magnús Elvar Jónsson.
Photo by Magnús Elvar Jónsson.
Photo by Magnús Elvar Jónsson.
Photo by Magnús Elvar Jónsson.
Sagittarius The last few months have been quite busy for you. If you were any other sign, we might give the sage advice to slow down a bit. But we wouldn't make this mistake with you (and you wouldn't listen to us anyway). It's happy news for you that this August will bring more movement, more new things, and more positive change your way. Whether you travel is up to you, although we couldn't see you turning down those kind of opportunities. Maybe instead of actually going there, dream of the solid, open skies of Akureyri, Iceland, which we see as a source of inspiration for you. It really could be an ideal vacation spot now or later. All this to say, we know that what you really care about is love. You should ask yourself: is love what you really want? It's ok to say for the answers to be no, and that what you really want is companionship (which of course you can find many ways). All wanderers need a travel partner and you have been searching for this person lately (or did you ever really stop searching). Harness the positive change and dynamic energies in your sphere to find this person. Because we promise you—they are there waiting for you, almost anxiously.
Capricorn We hate to be a broken record but all aspects of your life seem to be a bit on hold this month as more work rears its ahead and consumes your attention. Maybe this is, in some way, your eternal horoscope. Because being productive is just one of the things you do best. It's not so much that professional goals are of great importance to you right now, but more so, your inner drive (that quite literally has moved many mountains) is back and beating its wild heartbeat, ready to fight. The question is: what do you want to fight for? What you put your drive toward is your choice. You should alleviate some pressure on yourself not to make it be solely about career advancement. Instead, you should pursue a project that connects you back to your heart, and the heart of why you do what you do. Through all this, don't lose your ability to fantasize about the places you might want to go next. Because you have a strong attraction to all things lush, think about visiting a place like Tangier in Morocco sometime in the future. The energy there will blow lucky winds your way for the next steps along your path.
Aquarius You may not completely know this about yourself, but you are truly a people person. You are also a people pleaser (even if not everyone can tell this about you) and many of the decisions in your life revolve around making sure others are happy and safe. Even though these are great qualities that most of the time serve you well, this month you might try your best to avoid putting anything ahead of your freedom. Connect back to your eighth grade self and ask that person what makes them happy. If you can hear their honest answer, then you will find what makes you happy now. It might be good for you to schedule a trip to a place like Santa Rosa in California, and ask the sun in its holy axis what the next few months will bring for you. In terms of love, chances are there is a person who is dominating your thoughts already, whether this is a long-term partner or a new lover. And if it's neither, if it's someone you're just dying to bring into your life, you should make a move and know the stars are in your favor. Perhaps connecting to that younger self will let you know if you do.
These Pictures Could Only Have Been Taken at the Darkest Time of Night
Courtesy of Maxime Ballesteros
Family affairs. Tokyo, 2014.

Courtesy of Maxime Ballesteros
Lily in the U-Bahn. Berlin, 2015.

Courtesy of Maxime Ballesteros
First date. Berlin-west, 2013.

Courtesy of Maxime Ballesteros
Dialogue de sourds. Miami, 2015.

Courtesy of Maxime Ballesteros
Courtesy of Maxime Ballesteros
Golden ratio. Marseille, 2015.

Courtesy of Maxime Ballesteros
Courtesy of Maxime Ballesteros
Les absents. Berlin, 2014.

Courtesy of Maxime Ballesteros
Courtesy of Maxime Ballesteros
Lonely nights. Prades, 2016.

Courtesy of Maxime Ballesteros
Mornings. St. Etienne, 2008.

Courtesy of Maxime Ballesteros
Nylon gradient. Berlin, 2012.

Courtesy of Maxime Ballesteros
Courtesy of Maxime Ballesteros
Courtesy of Maxime Ballesteros
Soft journey. Provence, 2009.

Courtesy of Maxime Ballesteros
Courtesy of Maxime Ballesteros
Courtesy of Maxime Ballesteros
Courtesy of Maxime Ballesteros
Twerk. Haute-Provence, 2013.

Courtesy of Maxime Ballesteros
Courtesy of Maxime Ballesteros
Winter ghosts. Berlin-Weissensee, 2017.

Courtesy of Maxime Ballesteros
Velvet loop. Berlin, 2017.

Courtesy of Maxime Ballesteros
Pisces We have some good news for you. Whereas the spring brought you some unfortunate loss and the early summer has brought you healing, August will bring you strength and growth as you begin to pick up the pieces. Maybe traveling would be a good thing for you, somewhere like Berlin where the art will draw you toward yourself again and you'll begin to breathe more easily. Art is the answer this month (and maybe often for you). Whether it sounds crazy or not, we really think you should spend a lot of time drawing this month. Even if you aren't a visual artist, the act of drawing will connect you to your earliest instincts and to the feelings of agency (ones you may not be familiar with always in your day to day life). It will also be a place where you can put your feelings about your love interest into something other than words. Show yourself how you feel and what you see will give you a way to go into the future.
Related: For July, Your Summer Self-Care Horoscope
Related: For June, Your Hot and Heavy Summer Love Horoscope
Related: Twitter's Favorite Astrologers Predict What Your 2017 Will Look Like
How to Travel in Style, like Elle Fanning and Bella Hadid
Watch: Butterflies of Paris: How Street Style Stars Do Paris Fashion Week
Butterflies of Paris: How Street Style Stars Do Paris Fashion Week