For July, Twitter's Favorite Astrologers Have Your Summer Self-Care Horoscope
Twitter's favorite astrologers, the Astro Poets, are here to guide you through the dog days of summer.
---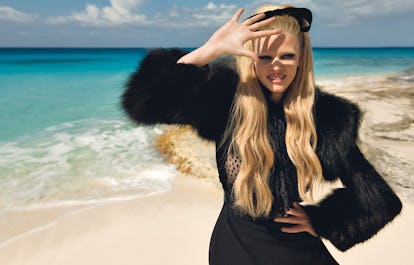 July, which was named after Julius Caesar, who was a Cancer, feels at once like the month we've all been waiting for and the beginning of those dog days of summer when sadness creeps in. To combat that existential dread, how you spend time with yourself this month and attend to your own needs will be especially important. And while summer is, of course, a time to be and feel free, the ideas and projects that may come out of that freedom are vast. With a full moon in Capricorn on July 9 and a new moon in Leo on July 23, this month will feel like one of extremes—between pushing yourself toward something you're working on and impatiently wanting to go out and be seen and praised.
So, to help you honor your own independence while simultaneously maintaining a sense of balance, here are your July self-care horoscopes.
Yours in the stars and on earth,
Aries
Since you carry with you a kind of happy-go-lucky spirit wherever you go, many people don't realize how obsessive you are until they get to know you. This obsessiveness can be positive when it helps you finish something that may not be interesting to you, but it can also eat away at you and your sense of peace. This is especially the case when you decide to put your focus on someone in particular, say a love interest who you're chasing after (and you must admit to yourself that it's those you haven't "won" who are mostly of interest to you, anyway). This July, it's time to start over and put your focus elsewhere. Rather than try to dream up ways to manipulate that potential lifetime lover into going out with you, give into your desire for newness and take a class on some strange topic that you've been thinking about all year. We know that outer space, with its endless strangeness, fascinates you—how about enrolling for an astrophysics course at the nearest college? Then by August, you have a new knowledge and not an empty hole of spiraling thoughts that no person can actually fill. Hopefully, you will just have a lot of thoughts about black holes!
Taurus
You're an earth sign with the ability to take care of others in addition to yourself. In fact, you excel at this when you're in a good place in your life, which makes you a powerful and dependable friend. When things are more up and down, (and when are they not?), you tend to go into the mode of taking care of others, thinking that by doing that you're also taking care of yourself because you need them. You're not. Taurus, this month is a good month to empty everything out. Physically around the house, but also mentally. When you go for a walk or to the gym, focus on thinking of nothing. That's right—emptiness. All that is void of you and others. This will be difficult and you will have to start over many times. But by the end of the month you will be able to go longer stretches without any one thought directing your mood and sense of being. It may also be a good time to read some poetry, like Emily Dickinson who thought of everything. It will be part of a new balance for you. Silence is the key to better communication this summer.
Gemini
You have many talents, but if there's one thing you're very good at doing, it's getting people to fall madly in love with you. Who could resist your endless knowledge? Sometimes it can be hard for you to choose who to pay attention to, as your many admirers overwhelm your time and focus. Thankfully, you have your own internal self-limiting mechanism to deal with this—you keep yourself from getting too emotionally wrapped up with anyone and can be—how do we put this—a bit cold. Well, take the searing heat of this July as a source of inspiration for how you might combat this coldness. Instead of holding nearly everyone at arm's length, try to focus on one person who really captivates you. Give them the attention they deserve and you will find that you in turn feel attended to as well. And while you're at it, engage this person in some sort of creative collaboration—like painting together—which will ignite your mental passions, the quickest way to connect to your carnal passions. You'll slowly learn how much energy you get from the deep love of one person versus the superficial love of many.
Cancer
You're likely making one more trip around the sun this month. You're also the kind of person to really reflect on what that means, though not always the kind of person to even believe in your own self-awareness. It's important to change that, and by that we mean: take your own advice for once. You have plenty of ways to make your friends feel like they matter. One thing that may be helpful is not to self-sabotage your own dating life. You do feel a sense of relief when something or someone doesn't work out, in addition to your usual existential sadness. Cancer, it's time to go on a first date where you reveal the most important things from the beginning and not worry about whether or not that reveal will hurt your chances with someone. That's the opposite of self-sabotage, though it is a risk. For your character, it's a good risk. Because the type of person who responds well to this is someone who'll benefit from your deep, considered ways of caring and approaching the world.
Leo
Everyone knows what a performer a Leo can be. Take any quick look at a list of famous Leos and you will see how much the Lion loves the stage and the glare of eyes on them. You get so much energy from having an audience, because without this crowd of people, what's the sake in doing anything at all? In fact, nothing depresses you more than walking alone without an entourage who are ready to sit and attend to your ever-changing thoughts and moods. But what most people don't realize is how this instinct has a flip side and how you long to not have to perform in order to keep people's interest. Since everyone sees you tap dancing through life, it's hard for them to fathom how much you need to unwind alone. This month it will be a good thing for you to give some TLC to your introverted side, with its deep insecurities. Instead of arranging some wild nights out, organize a sleepover with three of your closest friends. Really do it up—like everyone in footie pajamas-style. Most importantly, use the time to tell secrets and feel bonded to your group. This sort of recharge will be just what you need for the next time you find yourself as the center of attention. Which, knowing you, will be much sooner than you think.
Virgo
There's a time for ritual and habit and there's a time for breaking through routine. You know this, as you're a very analytical and methodical sign. The way you're going to take the best care of yourself this month is if you let your friends know what you need—things they may not know about because you hide certain obsessive patterns and behaviors from them. Even if you're not going through something major, practice letting your friends (who you must remember, have chosen to be your friend) to hold you up even in the most minor ways. Like taking you to an appointment or staying in with them on a Saturday night without any real plans. Virgo, this month is going to be a bit of a free fall. When you least expect it, you'll need to be caught. None of your personal preparations will save you. And you'll try, as usual, to take on the fight alone. Remind yourself that the only way care works is in reciprocity. You are the master of keeping things alive—plants, pets, systems—you name it. This month, be the plant.
Libra
As fun and vivacious as you can be, less is known about your dark and moody emotions that bog you down day to day. The people who know you well see them, but many people who think they know you well do not. This moodiness is part of your philosophical nature. Little prompting can make you go deep down into the existential nature of things and this line of thinking is enough to make nearly anyone a bit depressed. How might you combat this? We suggest parties and more parties. We suggest trying the 10 variations of a frosé, dancing, and definitely much flirting. If you have fun while dating—great. Do that too. If you're in a stable relationship, no worries—and let's hope you're in relationship with a Gemini or Sagittarius or some other like-minded sign who is equipped to do all that existential living alongside you. Hopefully you won't spend too much time wondering why we're all here. But if you do, do it among people, do it while going out.
Scorpio
The summer months are not easy ones for you. Although you like the warm weather, its slowness drives you a bit wild and you crave the pace of autumn. Where you benefit the most from slowness is in your creative habits, which are often sidetracked by more physical obsessions (you know, like love and money). What is the creative project you've been waiting to start or finish? Don't just "dive into it"—really savor arranging your imagination. Whether it's a collage of photos, or a book you're writing, or a wardrobe you're reimagining, a room you're painting—anything to do with your inventive capacities. To stay on task we suggest that you make a weekly commitment to a friend—a Friday dinner or a Tuesday lunch every week—and allow for the conversation to be partially about how your project is going. This won't work with your therapist. We don't want you to feel like there's anything to "figure out"—we just want you to enjoy the actual pursuit of it. Pursuing people comes naturally to you. This month pursue your creativity.
Sagittarius
Sagittarians know this one truth about themselves—they don't like to be pinned down. This is where the instinct for travel comes in. Because when a person is on the open road, all is possible and anything can happen. If you want to capture a Sagittarian heart, you had better give them a lot of room to go out and have an adventure. If you don't give them this space, you can forget about them ever coming back from any trip they go on. Still, as a Sagittarius, you know the flip-side of this truth—it can be so lonely to be free. It's isolating being open to anything happening. Because in a world full of no obligations, you can forget how duty reminds you that you need people. This July, give into your wanderlust and plan a trip to another country that you've never been to. But instead of booking your own ticket in the next 30 seconds, think about someone who might want to go with you. Maybe it's a long-term love or better yet, someone you just met. A Sagittarius loves a stranger. Whatever the case, remember that just because you are capable of being totally alone doesn't mean you always should be.
Capricorn
Something's in the air and you're thinking past the summer already in trying to achieve some personal and career goals. A Capricorn is always working. Scheming. It's in your nature. This is why you accomplish so much. Your focus is one of your best assets. To take care of that focus create a new space in your house—maybe a corner of a room, an entire room, or some reworking of old space. Fill it with new plants, new furniture, new books, maybe do some painting. The idea is to designate a space within the old that represents the future. Not necessarily an abandoning of the old. You do know how to do that (that's why you don't tolerate toxic lovers, jobs, or friendships for long). Another thing we want you to do is actually go to all the summer events you're invited to without worrying who will be there. We know about how you curate your appearances based on that. It will relieve you to worry about perception less, which you're always so concerned about since you want to make sure everyone knows how committed and purposeful you are in. We get it. We'd like to see more of you when you're not working away.
Aquarius
Maybe lately you've been mired in some jealous feelings in an ongoing relationship or maybe you're remembering those feelings from some past affair and driving yourself crazy. Whatever the case, it would be good to stop these possessive instincts. To combat them or any of your usual obsessive thoughts about how you connect with others, go on a personal retreat. The kind where you rent a cabin and spend long hours alone in the real darkness of the woods. Or perhaps you'd prefer a cold, moody beach? Once you're there, think of everything as a creative act. From what you cook for yourself to the paths you walk up and down every day while you're there. What we want you to do is reconnect to what makes you feel alive, which is your rare genius, your ability to approach every situation with a sense of discovery. The worst thing for your character is to feel jealousy or a sense of false obligation to someone. Spending some time alone or away from your relationships will do you good this month.
Pisces
It may surprise you, but yes, your life can be drama free and still exciting for long stretches of time. You're getting a little taste of that as your friendships and other relationships are beginning to click into place in ways you've been waiting for. Don't let that terrify you! It seems illogical that it would, but we know how you always need to feel needed in the most intense, dramatic ways. The people around you do need you, they may have more balanced ways of showing that this month. This may not satisfy your need to take care of something in that most intense way, so we recommend buying the most difficult, impossible plant. You need this challenge. You love when anything puts up a fight that has to do with affection even though you lament it. We also recommend a brooding, difficult novel. Forget that beach read. That's never been you. In any case, to avoid real drama, create drama in your plant and reading life this month. You'll thank us.
Dior's wool jacket and skirt, at Dior, 800.929.DIOR; select Saks Fifth Avenue stores, 877.551.SAKS. Mokuba ribbon (worn in hair); Wolford hosiery; Chanel shoes.

Photographer: Inez Van Lamsweerde and Vinoodh Matadin Stylist: Alex White
Giambattista Valli's silk and silk velvet dress, at Neiman Marcus, Los Angeles and San Francisco.

Beauty Note: Color stays strong, even in harsh climates, with Redken Color Extend Rich Recovery Protective Treatment for Color-Treated Hair.

Photographer: Inez Van Lamsweerde and Vinoodh Matadin Stylist: Alex White
Alexis Mabille's viscose jersey dress with cotton lace collar, alexismabille.com.

Beauty Note: Protect a delicate complexion with Chanel UV Essentiel Protective UV Care SPF 30.

Photographer: Inez Van Lamsweerde and Vinoodh Matadin Stylist: Alex White
Louis Vuitton's polyamide and cashmere cardigan, silk blouse and wool skirt, louisvuitton.com. David Yurman necklace; Lanvin earring (worn as brooch); Louis Vuitton hosiery.

Photographer: Inez Van Lamsweerde and Vinoodh Matadin Stylist: Alex White
Prada's fox and muskrat fur shrug, at select Prada stores, 888.977.1900; Dior's silk chiffon and velvet dress, at Dior, 800.929.DIOR; Bergdorf Goodman, New York.

Photographer: Inez Van Lamsweerde and Vinoodh Matadin Stylist: Alex White
Gaultier Paris's cotton lace dress with horsehair and silk chiffon embroidery, to order, at Jean Paul Gaultier couture atelier, 33.1.72.75.83.00. Wolford hosiery.

Photographer: Inez Van Lamsweerde and Vinoodh Matadin Stylist: Alex White
Photographer: Inez Van Lamsweerde and Vinoodh Matadin Stylist: Alex White
Armani Prive's embroidered silk tulle jacket and silk satin skirt, to order, 212.209.4111. M&S Schmalberg silk flower (worn as pin).

Photographer: Inez Van Lamsweerde and Vinoodh Matadin Stylist: Alex White
Valentino's wool crepe dress, at Valentino, 800.997.0140; Bergdorf Goodman, New York; Neiman Marcus, 888.888.4757; Saks Fifth Avenue, 877.551.SAKS; Stanley Korshak, Dallas.

Photographer: Inez Van Lamsweerde and Vinoodh Matadin Stylist: Alex White
Dolce & Gabbana's silk dress, dolcegabbana.it.

Beauty Note: Eyes look super-sultry with Dolce & Gabbana The Eyeshadow in Stromboli.

Hair by Luigi Murenu/John Frieda; makeup by Peter Philips/Chanel. Model: Lara Stone/IMG. Local production by Cindi Blair/Blair-Schmidt Productions; lighting technician: Jodokus Driessen; digital technician: Manoodh Matadin. Photography assistant: Marc Kroop. Fashion assistants: Kathryn Typaldos and Beitressa Mandelbaum.

Photographed on location at Amanyara in Turks and Caicos.

Photographer: Inez Van Lamsweerde and Vinoodh Matadin Stylist: Alex White
Related: Your Hot and Heavy Summer Love Horoscope From Twitter's Favorite Astrologers
India Salvor Menuez's Version of Botticelli's The Birth of Venus Is Still Naked, but Much Snarkier