Gabriel Jagger, Fledgling Teen Model and Mick's Son, Writes Poetry About His Girlfriend's Ex-Boyfriend
The 18-year old son of Mick Jagger and Jerry Hall gives us an impromptu reading.
Photographs by David Urbanke
---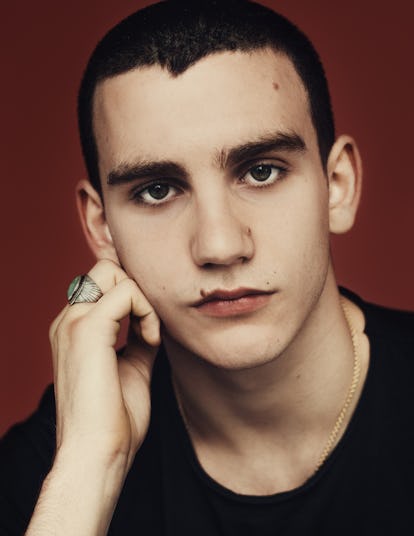 Photo by David Urbanke. Produced by Biel Parklee.
By now, there is sufficient evidence to suggest that if your last name is Jagger, there is a very high likelihood you will spend some portion of your life modeling. Jade, Elizabeth, James, and Georgia May have all delved into the modeling life with varying degrees of commitment.
Laws of probability being what they are, it's no surprise that the baby of Mick Jagger's brood, 18-year-old Gabriel Jagger, is the latest to enter the fold, however reluctantly. The youngest Jagger began his budding career with a cover of Another Man earlier this year (sister Georgia May shot her own for the same month) and has followed things up with a recent story in L'Uomo Vogue. The future may bring a fragrance campaign, for which he is currently in talks.
On a break from building his portfolio, Jagger, a budding poet, chatted about his intense fitness regimen, his mother Jerry Hall's modeling advice, and why you won't find him on Instagram.
You walked in wearing a Dogpound sweatshirt — do you actually work out there? Yeah, I love it. My family have a house here. I've been two times a day for two weeks now. I've befriended all of them. They're such nice dudes. And girls.
You flip tires? I hate that. I literally can't [holds arms up and out]… this hurts right now. We did half an hour of tire flipping and hitting a tire with a sledgehammer, and pushups, lats and plank for another half hour. I'm doing it once after this and then in the evening.
How do you survive twice a day? I like pain.
Are you a fitness fiend? Quite a lot. I literally do everything. My favorite thing is planking. This summer I got to twenty minutes. And then I stopped exercising for a month and started up again.
Do you plank in silence? I listen to whatever makes me the most angry and then say "F–k you, Time!" Just keep saying, "F–k you, Time. F–k you, Time. I'm gonna win!"
How did modeling happen for you? Don't know. My sister Jade [Jagger] convinced me to do something. Her friend [Alister Mackie] was doing something for Another Man and she convinced me.
The Another Man cover was your first job and Jade convinced you? Yeah, she said it was cool. And I was like, "Okay, fine."
Had you ever thought about modeling before? No.
Did you immediately agree? It took her convincing me it was cool to do it. She was like, "Your sister is doing it as well," and I was like, "Okay, cool." My sister [Georgia May Jagger] was there with me, too.
What was the experience like? I really liked the people. I get along quite well with them, I think. But I don't really like the lights very much. Too hot and too bright. I think my eyes are photo-sensitive. But I can deal with it.
Were you nervous? Yeah, it was nerve-wracking. I like the one after that more because they were really funny [L'Uomo Vogue]. They were some crazy outfits. I like the suits. There were some plain ones that were good. I'm also not really a leather pants kind of guy.
You're not? Given your dad is a rock star and your mom is a supermodel… I can't fit into any of his clothes. I'm much bigger than him. I have more of a chance with my mom's [clothes].
What was the mood on the L'Uomo Vogue set like? It was quite relaxed. They let me smoke. My girlfriend liked it, so it's fine.
Is your girlfriend your barometer for how things went? Pretty much. On one side, I have all my mates taking the piss out of me. And then I've got my girlfriend who's like, "I love it!"
So girls before bros. Yeah. This girl before bros. I don't really believe in "bros before hoes" too much. I think I was raised by too many women.
Have you gotten modeling advice from any of those women? My mom says really funny stuff, which I love, because she's super Texan about stuff. She says hilarious stuff. She says if you're wearing clothes, think over and over in your head, "I look good in these clothes." She said that's what she always did: "I look damn good in these clothes."
Did you have much exposure to fashion growing up? Definitely. I always saw my mom and my sisters doing stuff. And also my dad's ex-girlfriend [L'Wren Scott] who died, she was a designer and so I went to all of her shows and backstage and stuff. I really like that, actually. I really get along with people who design clothes and all of those backstage people.
You're 18. Are you in school? Taking a gap year? Yeah… a gap year. A gap life… I'm a poet.
Do you want to be a poet as a career? As a career.
How long have you been writing poetry for? Two years, but last year I was focused much more on it.
Who are your favorite poets? Emily Dickinson. Edgar Allen Poe. I really like epic poetry. Dante's Inferno is my favorite book.
What kind of poetry do you write? Dark poetry. It's just about feeling. It's a really hard question because it's not about nature. Some of them are.
How did you get into poetry in the first place? I think it's because I'm dyslexic so I don't work well when someone tells me how to structure what I think. So my own way of doing it appeals to me. I didn't study it.
Can you read me a poem? This is my favorite one. It's about my girlfriend's ex-boyfriend who is a psychopath.
We Forget our promised Fantasia And come back instead to saviour As Dreary Bones that littered sand Form what we see and where we stand
My Curdled veins that grip each fear Cause now hardened fists to riot against her tear Bounce back knuckle to tree To break the dead I lament the sea A call, a shout to brother's rage Dig to tear from him his coffins cage
May a buried dog hear my curse in sleep As worms devour your casket deep Blissful hatred be done for her Replace the pain with pleasures purr If Shepard's judge made it so My love to condemn God shall only grow Foul fate I dream to forget Yet foolishly I pray each of us pays our debt
What does your girlfriend think of it? She loves it. He was maybe the biggest asshole that ever lived.
You don't have an Instagram account. I literally don't have social media. I just have Snapchat for my friends. I'm one of the only people I know.
Was that a very conscious choice? When I was little I just resented technology. I didn't have a phone until I was 14. And then I hated it and never used it. And then I really got into it, like, two and a half years ago. All my friends were so pissed at me. But I resent it so much.
Why do you hate technology? Because I like people. And also I'm a body language kind of person. If I talk to you in text, everyone misunderstands me. I sound really angry, but I actually just don't like texting. So I have short replies and people get annoyed. But when I'm with someone, they understand that I'm just laid back. It's so frustrating. Especially if you love someone, it's even worse. They can flip out and you're like "Oh, I didn't even see how that could happen!"
Kendall Jenner and Gigi Hadid Dramatically Reading "Baby" By Justin Bieber Will Blow You Away