Twitter's Favorite Astrologers Predict What Your 2017 Will Look Like
The minds behind @AstroPoets know exactly what you need next year. Capricorns, for example, should invest in leopard print.
---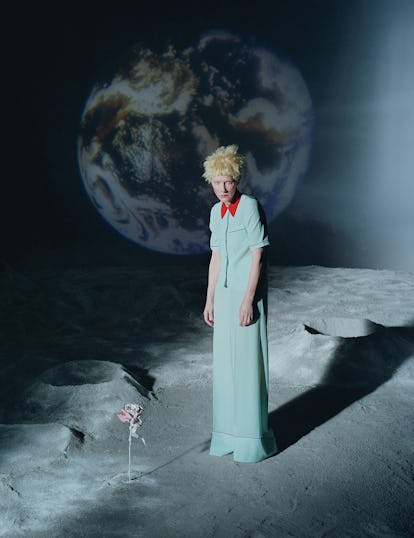 Do yourself a favor: stop looking back at 2016. It's time to look ahead, and Twitter's favorite astrologers — Alex Dimitrov and Dorothea Lasky of @PoetAstrologers — are here to guide you once more with their 2017 horoscope predictions.
"2017 will be a year where restraint is needed," said Dimitrov.
Lasky, however, looked far, far, into the future. "I am an Aries, so I'm a blind optimist," she said. "So I think 2017 itself will be a good year. But I also think 2017 isn't what we have to worry about; I'd look out for 2018 and 2019. In my mind now, these years could be very bad."
Celebrity Geminis almost certainly ruined this year, and they might next year too, but at least now the rest of us know how to prepare. Read each sign's 2017 horoscope predictions below.
Aquarius
Alex: There may be opportunities for a big career change and deepening already long-term and serious relationships.
Dorothea: 2017 is the year of the eye for you. The eye of knowing but also the eye of seeing, and also the eye of being seen by others. You can sometimes avoid the spotlight because usually you are just so damn good at it. Put yourself in it and see what you feel. You will meet someone new in August there, under the glare. Wear a silver tie at least once a week.
Best match for the year: Libra and Pisces.
Your color for the year: Alexandrite.
Pisces
Alex: A lot of creative energy is always swirling around Pisces, this will be a year when they can really take advantage of it if they are more disciplined and focused. 2016 was the opposite for them: chaotic.
Dorothea: You have been feeling so much pain in 2016, but now is the time to set what is not your burdens to carry aside. 2017 is your year to recuperate. To remember who you are and who you can and will be. You have someone who loves you who will always be there for you. Many people actually. They don't want you to feel their pain. They just want you to live. Consider getting a new friend in September.
Best match for the year: Cancer and Gemini.
Your color for the year: Tiger's eye.
Aries
Alex: A lot of new people will enter into the life of an Aries this year. From relationships to friendships to children, etc. It's an expansive year for them. A real lucky one.
Dorothea: 2017 will start sluggish and hard, but by May, you will be gracefully learn to deal with it. Whatever awkward things come your way, know you are you and you can handle everything. By July, work on being less obsessive about what you don't have and appreciate what you do. New love opportunities come your way in June.
Best match for 2017: Taurus and Leo.
Your color for the year: Emeralds.
Taurus
Alex: 2018 and 2019 will be big years for Taurus but they have to set it up with 2017. So this year will feel like they are preparing for something big and lining up moves. They are good at this, but also will get impatient.
Dorothea: You will meet a very good person with almost iridescent wings in early February, but you will have to deny that meeting until October, when they will come into focus again. This isn't about love, but it one day could be. In 2017, try to keep your anger in check until your opponent is worthy. Then fight for what's right (i.e., what's yours). You might get offered a new job or promotion in September.
Best match for the year: Pisces and Cancer.
Your color for the year: Jasper.
Gemini
Alex: 2017 will be a test for Geminis. Their personal and professional relationships will be tested in terms of loyalty and strength. Geminis adapt well to situations because they are chameleons. They will prosper.
Dorothea: If you let yourself see, you can see how the past year has taken its toil. 2017 will give you a break and by mid-March, another wind will turn your way again. Work on understanding that happiness is when everyone is happy–you will meet someone in May who will teach you that. You will have luck in April.
Best match for the year: Aries and Cancer.
Your color for the year: Lapis lazuli.
Cancer
Alex: Many good things will be contingent on how well Cancers reconcile the past three years and some of the mistakes that have occurred there. 2017 is really their year to decide whether or not to forgive and move on, or to continue holding on.
Dorothea: Things have been static for a very long time, but part of getting out your rut is realizing you like it that way. An opportunity will come your way in April. Even though it's not exactly what you dreamed of–seize it anyway. Watch as many movies as you can in June, a few will prepare you for the winter.
Best match for the year: Sagittarius and Scorpio.
Your color for the year: Opal.
Leo
Alex: This is a very important year for Leos in so far as they will make decisions that more or less dictate the next ten years of their life. Big decisions. Real estate, marriage, children, etc. They need to remember to continue being independent even as these kind of decisions and questions arise.
Dorothea: 2017 will be your year of new beginnings. Perhaps the newest thing of all is right in front of you. Maybe you haven't met it yet, but you will not have to go far to find it. The transition you seek has already begun in 2016 and 2017 will be the time to awaken. So, make sure you wear a little gold everyday. In February, you will definitely meet a soulmate.
Best match for the year: Aquarius and Taurus.
Your color for the year: Malachite.
Virgo
Alex: Their career will be the focus of 2017 and relationships may suffer as a result but Virgos try to manage everything, and they'll try again and perhaps learn some important lessons about what to prioritize.
Dorothea: You've been waiting a long time for what is about to happen. When it does, it won't exactly be what you were waiting for, but it will be better. There will be a man in a red hat near a bus stop–do not talk to him but record what his eyes are saying for the future. In October, you will feel much younger than ever before. By November, you will be reborn.
Best match for the year: Aries and Pisces.
Your color for the year: Tourmaline.
Libra
Alex: A more focused year than usual for Libras, who are notorious for dwelling in not knowing and growing comfortable there. There will be more knowing this year. A relationship will deepen or solidify and they may also grow more comfortable with wherever they are living or have moved to. Not a lot of shake ups, more calm energy around Libras than they are used to.
Dorothea: You have found yourself, but now it's up to others to see how much you have changed. Do not worry about doing this work for them. You have many more friends than you realize. Try to see their loyalty as part of them, not part of what you would have done for them. Take time to be silly everyday.
Best match for the year: Libra and Sagittarius.
Your color for the year: Rose quartz.
Scorpio
Alex: 2017 is going to be a tough year for Scorpios, I feel. Their commitment issues are going to challenge them–in all aspects from career to relationship to their living situation. My advice would be to make unusual moves or moves against their character this year. Be a bit of wild card, which for them means more committed and steady actually, because 2017 will be a real test spiritually.
Dorothea: Letting go is important. In 2017, you have a choice. Let go and find the real depth you have been searching for or settle with what you've got. You passed up a chance at this last year, but it's best to get over that now. In July, listen to your visions, they tell you of the way.
Best match for the year: Aries and Aquarius.
Your color for the year: Garnet.
Sagitarius
Alex: Here's the thing, this next year has the ability to bring tremendous success in love and professionally but it's going to hinge on how Sagittarians manage their emotional lives and especially their feelings about themselves. As always, they are very inventive and secretly optimistic, but they can't dwell in the darkness or what they perceive as darkness whenever it comes up. Sagittarians tend to blow things out of proportion sometimes. They need to show restraint this year in order to see the most good. Do not self-sabotage!
Dorothea: 2017 will be your most expansive year yet. Remember how orange makes you feel–that's how the whole world can make you feel, too. It doesn't matter if your mind is there–put your body into the world and create. In May, you will meet a soul you have known and now will know for this whole entire life.
Best match for the year: Gemini and Leo.
Your color for the year: Aamethyst.
Capricorn
Alex: What they've decided on in terms of their career or relationship is really going to shift under them. The certainty they have will be tested. And it can either make for a transformative year or an emotional volatile and destructive one.
Dorothea: 2016 knocked you down a bit. 2017 will give you the space to get back and rethink what your priorities are. There is no pressure for you to change if you don't want to. But maybe you do want to? Go to California early in the year. Think of the past when you wear leopard print and laugh, don't cry.
Best match for the year: Virgo and Leo.
Your color for the year: Golden calcite.
Watch W magazine's most popular videos below.