Book Club Trailer: Jane Fonda and Diane Keaton Star in a Fifty Shades Inspired Comedy
"Book Club" may be better than the "Fifty Shades: movies.
---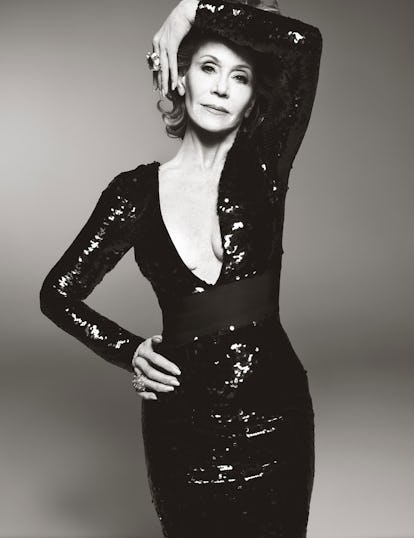 The Jane Fonda-starring Book Club seems to have keyed in on an interesting dynamic: while the quality of the story in the actual Fifty Shades of Grey novels may be debatable, the cultural sensation the S&M themed series created is undeniably fascinating even to people who aren't tickled by reworked Twilight fan fiction involving whips and red rooms. We've never seen something quite like it, and Book Club, which also stars Diane Keaton, Candice Bergen and Mary Steenburgen, dives fully into the phenomenon.
The premise is simple: Four mature, accomplished women in California meet for a weekly book club in which they usually stick to highbrow fare and pinot grigio until Fonda's character, the Blanche Devereaux of the group, decides to spice things up by introducing the girls to Christian Grey with a stack of Fifty Shades of Grey books. Despite some early protests on intellectual grounds, the women all quickly find themselves absorbed in the steamy tome.
Of course, fandom for E.L. James' book serves as a springboard for the women reinvigorating their own sex and love lives later in life in a series of episodes involving online dating, swan-shaped pool floats and, naturally, some Viagra mishaps.
Andy Garcia, Craig T. Nelson, Richard Dreyfus, and Don Johnson also appear as the various men in their lives. Johnson, by the by, happens to be the father of Dakota Johnson the star of the actual Fifty Shades movies. Alicia Silverstone also pops up as Keaton's daughter (Wallace Shawn is also in the cast, so, that means there's something of a Clueless reunion to be had as well).
The movie is scheduled for release on May 18th, incidentally the same day that the Deadpool sequel hits theaters, so there's some smart counter programing at work here as well.
Related: Jane Fonda Thought She'd Be Gardening When She Was 80, Instead She's Protesting
On Her Birthday, We Salute the Always Provocative Jane Fonda
From the very beginning Jane Fonda had a great sense of style. Here she is pictured in a light blue denim shirt and matching blue paisley trousers.

Getty Images
Jane nailed the actress-off-duty bohemian style here as she posed in front of her home in the countryside.

Getty Images
At the 51st Annual Academy Awards, the actress opted for a lavender sequin flare-sleeved dress. She is pictured here posing with her award for best actress in film 'Coming Home'

Getty Images
Jane donned a stylish 80's look while attending the American Film Institute Honoring Gregory Peck in 1989. Her pairing of a cropped fuchsia blazer, floral bustier and high-waisted black trousers was very on trend at the time

Getty Images
Jane welcomed 90's fashion with open arms as she arrived to Stanley Sheinbaum's 70th birthday party dressed on trend – black and gold printed windbreaker, red turtle neck, and high-waisted trousers

Getty Imaged
Even at the actresses wedding reception with newly-wed husband, Ted Turner, she took the untraditional route and opted for a periwinkle embellished blazer, bustier and high-waisted trousers set. She completed her look with a pair of black kitten-heel pumps and metallic clutch bag

Getty Images
Channeling old Hollywood chic at the 11th Annual television Critics Association Awards, Jane arrived wearing a white and blue polka dot turtle-neck halter dress, beige pumps and husband in tow

Getty Images
The Starlet rocked a voluminous black and white mixed print look on the red carpet of the 67th annual Academy Awards.

Getty Images
At the American Film Institute Associates' film Platinum Circle Award Salute to the Fonda Family, Jane looked incredibly chic dressed in a black off-the-shoulder jacket and black flare pants. She accessorized her look with a pair of brown sunglasses and a black leather purse.

Getty Images
Jane donned a ivory and cream ensemble at the Paramount Studios' 90th Anniversary Party. Her look featured a textured ivory cropped turtleneck with matching jacket, cream flared pants and beige pumps.

Getty Images
After a 10 year hiatus, Jane eased back into the spotlight with her first appearance here at the 31st Annual Golden Glove Awards. She looked stunning dressed in a classic black gown paired with leather opera length gloves.

Getty images
At the Los Angeles premier of her film 'Monster-In-Law', Jane posed on the red carpet in in a leopard and floral printed maxi dress and gold metallic embroidered crop jacket.

Getty Images
The actress donned a lovely white trench coat and trouser ensemble while she attended the '( to 5' 25th Anniversary Special Edition DVD Launch Party

Getty Images
At the 2007 premiere of 'Promise Me This' during Cannes Film Festival, the starlet wore an elegant black evening dress that featured a teardrop cutout on the bodice.

Getty Images
Aside from being a world renowned actress, Jane was commonly know for her fitness obsession throughout her career. Here she modestly shows off her amazing figure while covered up in a long sleeved sheer embroidered turtleneck, black slacks and black wide waist-cinching belt.

Getty Images
At the 52nd Annual Grammy Awards, Jane opted for a gorgeous sheer and silk gown

Getty Images
The actress arrived the the Cannes Festival premiere of 'Pirates of the Caribbean: On Stranger Tides' dressed to perfection. She donned an elegant navy blue off-the-shoulder gown accessorized with a statement Chopard diamond and sapphire necklace

Getty Images
Accentuating her curves at the 65th Annual Cannes Film Festival, Jane turned heads in this black and white panel Stella McCartney column dress

Getty Images
Again, at the 65th Annual Cannes Film Festival Fonda arrived in another fabulous form fitting number – this time by Roberto Cavalli. The long-sleeved bordeaux gown sparkled as it was full covered in sequin

Getty Images
Fonda showed a more causal rocker style at the 'Late Night with Jimmy Fallon' show as she arrived in a black studded leather jacket, black henley shirt, denim jeans and black suede booties.

Getty Images
The starlet looked like a Hollywood dream as she posed on the red carpet of the 42nd AFI Life Achievement Award that gave tribute to her career. She accepted her award in a custom black and cream Vera Wang gown that feature sheer long-sleeves

Getty Images
Jane kept it classy and glamorous at the 2014 Rape Foundation Annual Brunch dressed in a mauve belted Elie Saab peplum top with matching slacks.

Getty Images
Putting all of the younger actors to shame on the red carpet, Jane donned a electric blue Atelier Versace curve-hugging cutout gown at the 68th Annual Cannes Film Festival

Getty Images
At the 19th Annual Hollywood Film Awards, Jane looked young and polished dressed in a off-white Balmain gown. The gown featured a tiered column skirt and a wrap bodice with a lace underlay.

Getty Images
Jane attended the Saint Laurent at the Palladium dressed in a black embellished pantsuit by the designer. She completed her look with an extra pop of sparkle with a silver metallic clutch.

Getty Images