Jane Fonda Thought She'd Be Gardening When She Was 80, Instead She's Protesting
Fonda fully expected that "we would have a woman president" by the time she hit her latest milestone.
---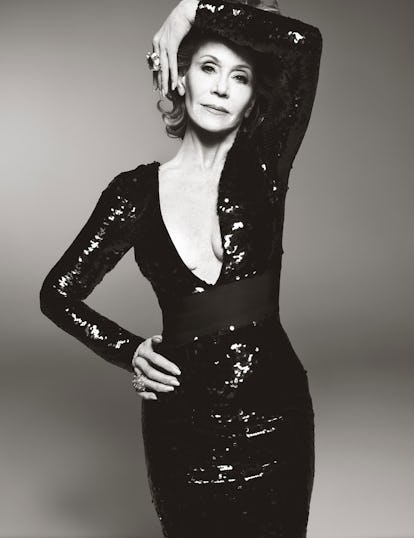 Last year, Jane Fonda celebrated her 79th birthday out in in the streets, protesting the Dakota Access Pipeline with her friend Lily Tomlin. Don't get the wrong impression, though, when you hear that this year she's celebrating her 80th with a lavish-sounding eight-day party called "Celebrating Eight Decades of Jane."
The festivities, which started with an evening of eight courses of meals, are actually a fundraiser for her sex-ed and pregnancy prevention group in Georgia, G.C.A.P.P., and Fonda has already continued her tradition of keeping it real by simply speaking her mind, as she did in October when she pointed out that people were only suddenly listening to women—and therefore making way for the post-Harvey Weinstein reckoning—because many of those whom he targeted and were then speaking out also happened to be "famous and white." ("This has been going on a long time to black women and other women of color and it doesn't get out quite the same," Fonda continued, making a point that many of her famous and white peers still seem to have missed out on.)
Whether it was because the big 80 is approaching, or the sexual assault scandals have only multiplied since then, Fonda decided to get even more explicit when speaking recently with Vanity Fair: "I thought that we would have a woman president [by my 80th birthday]. I thought that I could maybe take up gardening. I didn't think that I would be back on the barricades, no," she said, referring to her activism most decades of activism most remembered by her anti-Vietnam War efforts—which she recently brought back to mind by making merch out of her mug shot from that time that she was arrested in 1970.
"I didn't think that our freedoms, our democracy would be in jeopardy the way they are now," Fonda continued. "I am utterly terrified."
How Celebrities Protest in the Streets: A Visual History of George Clooney Getting Arrested, Kanye Occupying Wall Street, and More
Fonda, who said that she's happily single, brought along her ex Ted Turner as a date to the celebration's kick-off, which has already raised $1.3 million for her charity—one which she took care to point out is also taking particular care to educate adolescent boys in this cultural "tipping point." (A great PR move, yes, but one that she made while also making a very valid point.)
"The sense of entitlement that to be a real man you have to grab women and paw women and assault women and knock up women is the underlying problem here," she said. "Men do it because it makes them feel like real men. It shows that they have power, and whether you're at the top of your game in Hollywood or a young kid in Appalachia, that toxic masculinity is gonna affect how you treat girls." Fonda, for her part, is not about to forget that young kid in Appalachia: "That's what celebrities do, if we're doing our job right. We're picking up the voices of people who can't be heard and broadcasting their story."
If she's said and done all by this point in December, who knows what she'll have also accomplished between the rest of the month and time she actually turns 80, on December 21.
Jane Fonda, Actress and Activist, Is a Style Chameleon
Jane Fonda had style right from the start—as evidenced by this chambray shirt and pants ensemble in 1956.
Photo by Getty Images
Kate Middleton may have wowed onlookers with her post-pregnancy style, but it's hard to beat the red coat and knee-high boots Fonda wore leaving Paris's Belvedere Hospital with her new daughter Vanessa in 1968.
Photo by Getty Images
A black hat, big sunglasses, and boot-cut Levi's? Jane Fonda invented easy, off-duty style.
Photo by Getty Images
Quintessentially '80s, the actress's fuchsia blazer, floral bustier, and super-high-waisted trousers were surely a hit at the American Film Institute celebration of Gregory Peck in 1989.
Photo by Getty Images
Fonda embraced the early '90s in the decade's best trends—a windbreaker, red turtleneck, and big, curly hair—at StanleyK. Sheinbaum's 70th birthday celebration.
Photo by Getty Images
Stepping out with her third husband Ted Turner, Fonda was a vision in a black and white checked print gown and black silk gloves at the 1995 Academy Awards.
Photo by Getty Images
Later that year, the actress epitomized Beverly Hills-chic at the Television Critics Association Awards Dinner with a white high-necked dress, beige pumps, and brown sunglasses.
Photo by Getty Images
Easing back into the spotlight after a nearly 10-year hiatus from acting, Fonda stunned in a simple black dress and gloves at the 2004 Golden Globe Awards.
Photo by Getty Images
Aside from her acting and activism, Fonda is known for being a fitness fanatic. So it's no wonder she's continued to embrace form-fitting styles, like this all-black look from 2011. If you've got it, flaunt it.
Photo by Getty Images
Over the past few years, the actress has adopted a more covered-up approach to red carpet wear—without sacrificing style, of course. In a zebra-printed jacket and black flared pants at the 2011 Women in Entertainment Breakfast, Fonda stole the show.
Photo by Getty Images
The actress gave the younger generation at run for their money at the 2013 Berlin International Film Festival in a gold sequin dress and coordinating tan fur. Stay golden, Jane.
Photo by Getty Images
"I took one look at that Balmain jumpsuit, and I said, 'That's it!'" Fonda explains in W's June/July issue. When you know, you know.
Photo by Getty Images
Related: Helen Mirren and Jane Fonda Prove That 70-Somethings Are the Best Runway Models at Paris Fashion Week
Jane Fonda Loved Turning 75—Thanks to Her Ex Husbands: