Helen Mirren and Jane Fonda Prove That 70-Somethings Are the Best Runway Models at Paris Fashion Week
The pair stole the show from 16-year-old Thylane Blondeau, aka the world's most beautiful girl, among many, many others.
---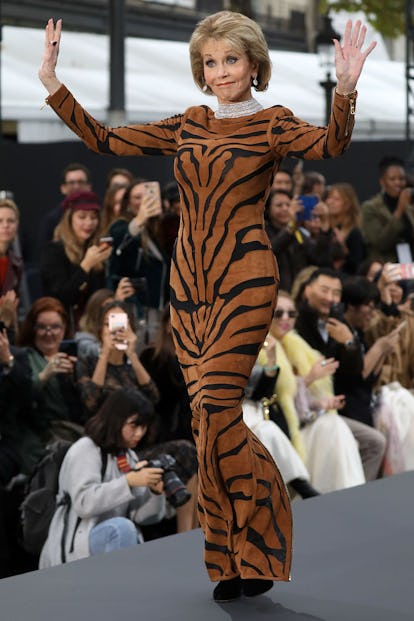 Pierre Suu/Getty Images
Most beauty brand ambassadors would not casually remark that moisturizer "probably does f— all" to a crowd at a press-filled event, and then dare to swing around a cane at one of that brand's biggest blowout events. Helen Mirren, L'Oréal's oldest face at 72, however, is not your average brand ambassador, so that's exactly what she did this past weekend at Paris Fashion Week when she walked the brand's first-ever runway show, which took place on a shut-down Champs-Élyséess.
To be clear, this was nothing like Alexander Wang's show on the streets of Bushwick during New York Fashion Week, but rather, it was a takeover of one of the city's main thoroughfares, which saw L'Oréal appropriately pull out all the stops. Mirren was joined by models like 16-year-old Thylane Blondeau, aka the world's most beautiful girl, plus stars like Maria Borges, Doutzen Kroes, Liya Kebede, Soo Joo Park, Winnie Harlow, and Irina Shayk, to showcase 70 beauty looks by L'Oréal's global makeup director, Val Garland, all while wearing 18 different labels, ranging from Balmain and Isabel Marant to Off-White and Wanda Nylon.
Amidst all that, it was Mirren's fellow septuagenarian who also proved to be her fellow show-stealer: Jane Fonda, 79, made up for the fact that the massive crowd—the event was open to the public—probably couldn't see her custom makeup by wearing a zebra-striped dress, and walked down the runway flashing peace signs, waving her arms around wildly and high-fiving models, all while showcasing the "good posture" she'd told Megyn Kelly about when she shut down the NBC host's questions about plastic surgery just a few days earlier that week.
Oh, and she also stopped mid-runway to greet her friend Naomi Campbell when she spotted her in the crowd, as one does.
Mirren, for her part, may have captioned a runway selfie "pretending to be a model" at the rehearsal beforehand—as well as reminded her followers that "on the other side of the world," people were struggling in Puerto Rico—but she looked equally at home on the runway, thanks in large part to her focus on making the most of her newfound cane.
Related: Jane Fonda Has Zero Tolerance for Megyn Kelly's Plastic Surgery Questions
Jane Fonda Loved Turning 75—Thanks to Her Ex Husbands: