Sorry Halle Berry, Helen Mirren Does Not Agree with Your Views on James Bond
She just won't be playing the woman Bond herself.
---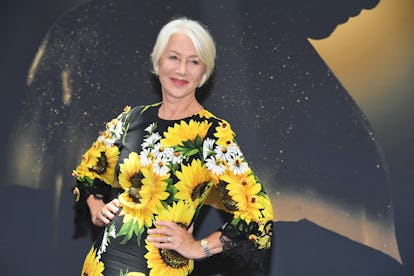 Pascal Le Segretain/Getty Images
We only have ourselves to blame. Last month, with the release of Atomic Blonde, W launched a campaign to position Charlize Theron as the ideal candidate to take on James Bond once the notoriously apathetic current Bond, Daniel Craig, has fulfilled his terribly burdensome contractual obligations to the franchise. Since then, we haven't helped but notice various actresses throwing in their own bids—like Blake Lively, who is reportedly starring in a spy thriller from the producers of the Bond movies. But on Tuesday, actress Halle Berry, who starred alongside Pierce Brosnan in Die Another Day, told Entertainment Weekly that she thinks the franchise should stick with casting male leads.
"I don't know if Bond should be a woman," Berry told EW. "I mean, that series is steeped in history, you know Ian Fleming's stories. I don't think you can change Bond to a woman." She did, however, propose the creation of a new female Bond-like character in a separate, adjacent franchise, much like Theron appears to be trying to do with Atomic Blonde and Lively may be gunning for with her new action film.
Lately, it feels like everyone has feelings about James Bond they'd like to share. (It could also have something to do with recent developments on Daniel Craig's fifth and final film; on Thursday, it was revealed Bond 25 was tentatively titled Shatterhand and that it would feature a blind villain.) On Wednesday, Helen Mirren, who at 72 is L'Oréal's oldest brand ambassador, sat on a panel in Cannes, France, discussing the beauty brand. Amid dropping bombshells like her belief that L'Oréal moisturizer does "f— all" but "makes me feel better" regardless, towards the end of the discussion, she, too, was asked about the possibility of a female James Bond—and, more specifically, whether she herself was up to the task.
"I'm too old," Mirren replied. "In my youth, that would have been great, of course. But that time was different; we could never even have imagined a woman playing that role." But now, it's perfectly plausible—just not to Halle Berry.
Chris Hemsworth thinks Charlize Theron should be the new James Bond: