Daniel Craig Will Never Live Down That Quote About Not Wanting to Play James Bond
Daniel Craig will reportedly return to Bond one final time.
---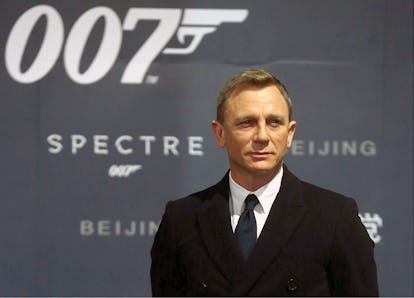 VCG
According to reports, an English man who has long ago lost any sort of passion for performing the activities that constitute his largest source of income and fame will, sigh, return to work at least one more time, despite openly discussing with anyone who will listen how very, very over the job he is.
Or, at least that's pretty much the media narrative surrounding news that Daniel Craig will return one more time to play James Bond. Which might be the perfect case study in how just one ill-advised quote can haunt a celebrity.
After completing Spectre in 2015, Craig gave a shockingly candid answer to the question, posed by London's Time Out magazine, of whether he'd play Bond again.
"Now? I'd rather … slash my wrists," he said at the time. "No, not at the moment. Not at all. That's fine. I'm over it at the moment. We're done. All I want to do is move on."
He reiterated that he wouldn't even think about the possibility of doing another Bond movie for "at least a year or two," and added, "If I did another Bond movie, it would only be for the money."
He later clarified that he was tired at the time of the interview and merely expressing how exhausted he was after the demanding work on Spectre, but the narrative that Craig was reluctant to return to the Bond franchise has dominated discussion of the franchise's future for almost two years.
So much so that when The New York Times reported that while Craig's return to 25th Bond film "is a done deal," the old quote still hung over the story, and the reaction to it.
Maybe it hasn't helped that aside from an "easter egg"-type cameo as a Storm Trooper in the last Star Wars film, Craig has been absent from the big screen since Spectre premiered. Though, he will appear later this year in Kings, opposite Halle Berry, and as a bleach blond ex-con in Logan Lucky. Incidentally, that last film will be director Steven Soderbergh's first film since announcing his "retirement" form feature films in 2013. Turns out, one can live down declarations of retirement in Hollywood.
Despite Craig's seemingly guaranteed return, there's still a lot of questions about the next Bond film. The only thing EON films have confirmed for sure is that screenwriters Neal Purvis and Robert Wade will return once again to write the script and that the film will be released November 8th, 2019. A director, title, or further casting has not been confirmed.
Unfortunately, this does mean that neither Idris Elba, Tom Hiddleston or Charlize Theron will be taking on the role on Bond anytime soon.
Related: Everyone From Katie Holmes to Daniel Craig Shows Up In the Bonkers Logan Lucky Trailer
Chris Hemsworth Thinks Charlize Theron Should Be the New James Bond:
Definitely Not "Bond Girls": Meet the Most Badass Women Who've Starred Alongside—and Tried to Kill—James Bond
A former fighter pilot in the Soviet Air Force, Famke Jenssen's Xenia Onatopp becomes an assassin, in part motivated by the fact that killing apparently gives her sexual satisfaction. That much is clear in 1995's GoldenEye when, after crushing an admiral to death with her thighs during sex, she steals a helicopter and then the controls to a Cold War-era Soviet satellite weapon and kills the center's staff—all before she kidnaps the film's Bond girl, Natalya Simonova, and finally even meets Bond in the first place.

Metro-Goldwyn-Mayer Studios Inc.
As a child, Léa Seydoux's character Madeleine, whom we meet in 2015's Spectre, once shot and killed an intruder looking to kill her father, which led to her reticence when it comes to guns. In adulthood, she pursues medicine and works for Doctors Without Borders before she ends up meeting Bond—and threatens to kill him, too, if he touches her in her sleep.

Metro-Goldwyn-Mayer Studios Inc., Danjaq, LLC and Columbia Pictures Industries, Inc.
Karin Dor's character Helga Brandt is supposedly a secretary in 1967's You Only Live Twice, but before Bond knows it, she has him tied up in her room, where she questions him and threatens to torture him, plastic surgery implement in hand. The two end up consensually having sex, though Dor flees after they're finished, leaving Bond locked up in a private plane.

Metro-Goldwyn-Mayer Studios Inc.
Bond couldn't have done his job in 1967's You Only Live Twice without Akiko Wakabayashi's Aki, the Japanese secret service member and expert driver who both helps Bond on his mission and rescues him twice, with more than a few car chases along the way.

Metro-Goldwyn-Mayer Studios Inc.
Once Aki dies in You Only Live Twice, accidentally swallowing a poison intended for Bond, Mie Hama steps in as Kissy Suzuki, an agent chosen for her diving skills to help Bond stay undercover in Japan, which she also does by pretending to marry him. She later helps him uncover Spectre's hidden headquarters in a fake volcano—and enjoys the view of it exploding with him, after they both invade it and escape.

Metro-Goldwyn-Mayer Studios Inc.
After decades of being ceaselessly in-your-face about his masculinity, Bond was forced to answer to a woman from 1995 to 2012, once Judi Dench became the first woman as M, Bond's boss and the head of the British Secret Service. She squeezed plenty of chastising of the agent in in that time, starting with her very first Bond film, GoldenEye, when she calls the agent "sexist, misogynist dinosaur, a relic of the cold War."

Francois Duhamel, Danjaq LLC, United Artists Corporation, Columbia Pictures
The Second Officer in the Women's Royal Naval Service, and the helpful asssistant to M, the head of the British Secret Service who's also Bond's boss, Miss Moneypenny is not your ordinary secretary—especially when played by Samantha Bond in GoldenEye, Tomorrow Never Dies, The World Is Not Enough, and Die Another Day. Though other iterations of Moneypenny openly flirt with Bond, Samantha Bond's openly spurns 007; in 1999's The World Is Not Enough, she asks Bond if he brought her back any souvenirs from his mission in Spain, and promptly throws his gift of a cigar away.

Metro-Goldwyn-Mayer Studios Inc.
Finally, after decades, Miss Moneypenny gets a first name—and, played for the first time ever by a person of color, Naomie Harris, also adds M16 field agent to her accomplishments as well as secretary. In Skyfall, Harris's Moneypenny does get romantic with Bond, but the film actually starts with her shooting him—a revenge won for all Bond girls throughout the years, even if it was accidental.

Francois Duhamel, Danjaq LLC, United Artists Corporation, Columbia Pictures
Daniel Craig made his debut in the Bond movies opposite Eva Green, who almost steals the show in 2006's Casino Royale as the foreign liaison agent—and secret double agent—Vesper Lynd. After she saves his life with a defibrillator, Lynd later sacrifices her own life to betray Bond, which she does while the pair are on a supposed romantic getaway.

Danjaq, LLC and United Artists Corporation
Bond makes it his mission at the beginning of 1999's The World Is Not Enough to protect Sophie Marceau's Elektra King, a wealthy heiress who once went so far in colluding with a terrorist named Renard to steal her family's fortune that she cut off a chunk of her ear and sent it to her father. Her biggest move, though, comes later: She eventually kidnaps M, and manages to both torture and seduce Bond before he kills her.

Keith Hamshere/Getty Images
Halle Berry was criticized even before she appeared in 2002's Die Another Day, thanks to the film's marketing: Some 007 fans were upset that she was being treated as a costar of the film, thereby stealing the spotlight from Bond, then played by Pierce Brosnan. The film, though, definitely shows she deserves that status: As Jinx, Berry is an NSA operative and Bond's partner in tracking down the North Korean agent Zao, with Jinx taking down the M16 double agent Miranda Frost along the way.

Keith Hamshere, Danjaq LLC, and United Artists Corporation
After being introduced to Bond by none other than Madonna, who plays her fencing instructor, Verity, Rosamund Pike's Miranda Frost works alongside him as M has requested, not knowing that, in addition to being an Olympic gold medal winner, she's also a double agent—and the one who betrayed Bond years earlier in North Korea, leading to over a year of imprisonment and torture.

Keith Hamshere, Danjaq LLC, and United Artists Corporation
Camille Montes, played by Olga Kurylenko, became the first lead "Bond girl" not to have sex with Bond with the release of Quantum of Solace in 2008. Instead of "love scenes," which Kurylenko said she was "so glad" weren't included, the Bolivian Secret Service agent spends the film teaming up with Bond to get revenge on the man who raped and murdered her family.

EON Productions