Lin-Manuel Miranda, Celebrities Blast Trump Over Latest Disgraceful Puerto Rico Comments
Lin-Manuel Miranda leads the charge on Twitter.
---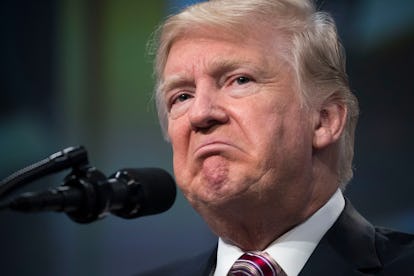 Getty Images
Throughout the week, Carmen Yulín Cruz, mayor of San Juan, Puerto Rico, has been pleading President Donald Trump and the U.S. government for expedited aid to the Hurricane Maria-ravaged island territory wearing a t-shirt emblazoned with the plea "Help us, we are dying."
On Saturday morning, Trump, from the comfort of his golf course in Bedminster, New Jersey, responded with a series of tweets that callously criticized Cruz for her efforts.
Trump's disgraceful comments and excuses quickly caught the eye of other high-profile personalities who were appalled at the president's apathy and penchant for score-settling even in the face of a natural disaster. In fact, they were downright furious that Puerto Rico, which is part of the United States, is not receiving the same level of aid as places like Florida and Texas in the wake of the latest hurricane season, with many pointing out that Trump was disparaging Cruz while he himself takes a golfing vacation.
Perhaps one of the most ardent voices advocating for Puerto Rico in the Twitterverse is that of Lin-Manuel Miranda, the actor-singer-writer-composer behind Hamilton and In The Heights, whose family hails from Puerto Rico and who has visited the territory many times. He minced no words when calling out Trump for playing partisan politics during a humanitarian crisis, saying that he is going "straight to hell."
Trump had begun his cushy weekend with a tirade of tweets about the unraveling crisis in Puerto Rico, promoting his upcoming trip to the island, and complaining about the "Fake News Media." So, about par for the course.
In The Atlantic, James Fallows called the president's comments a new low in an already morally-bankrupt eight months in office: "Temperamentally, intellectually, and in terms of civic and moral imagination, he is not fit for the duties he is now supposed to bear."
For all conservatives' (and some liberals') talk about "keeping celebrities out of politics," it's worth noting that when there's a disaster, celebrities are awfully good at raising awareness and cash, and when there's a leadership vacuum at the top of the actual government, well, someone with a platform will step in and step up. Or maybe it's just that Rihanna cares more than Trump does.
While the president narcissistically attacked the mayor of an American city—something he does routinely with women of color—Beyoncé Knowles had already dropped a Spanish-language track, with proceeds going to Puerto Rico relief efforts.
Indeed, Lin. Nothing but respect.
Watch: Fashion and Hollywood Celebrities Take a Stand and Declare, 'I Am an Immigrant'
I Am an Immigrant