Thylane Blondeau, World's Most Beautiful Girl, is Becoming a Front Row Regular
This is what she looks like now.
---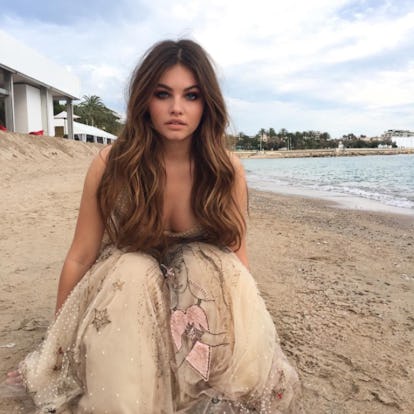 instagram.com/thylaneblondeau
For a reminder in just how quickly the years pass by, look to Thylane Blondeau. It seemed like it was just yesterday when the French model was a mere child and (somewhat controversially) being labeled in the media as "the most beautiful girl in the world." Now she's practically all grown up at 16-years-old, and fashion's newest country-hopping front row regular.
Blondeau, who is just beginning the second leg of her career as a brand ambassador for L'Oreal Paris' Hydra Genius line, is making her front row debuts outside of her home country. Yesterday, she took in Tommy Hilfiger's London show in which three Hadids and two Jaggers walked, alongside Gabriel-Kane Day-Lewis, Daniel Day-Lewis' son. "Thank u so much for this amazing show @tommyhilfiger @gigihadid," she captioned a photo of herself and Gabriel as well as a few other friends. For the occasion, Blondeau suited up in Hilfiger, proving that there is a way to fashionably wear sweatpants out of the house. She wore a pair in blue, as well as white and gold heels, and a red pullover hoodie.
Even though it's been a decade since she became one of the most recognizable child models, Blondeau still has the same pouty smile, flowing hair, and piercing blue eyes.
In a throwback photo she posted last year, you can see how she's evolved over the years. "TB..in St. Tropez when I was 6," she captioned the photo. "Mood."
Earlier this month, Blondeau made an appearance at New York Fashion Week, where she took in Michael Kors' show. For the occasion, she wore an iridescent silk leopard print blouse with green trousers and a matching crocodile clutch and strappy heels, all by the designer. She also sat next to Gabriel Day Lewis at the show.
The runway show wasn't Blondeau's first though. Earlier this year, the model walked in Dolce & Gabbana's Fall 2017 show, where she wore an elaborately detailed sequin dress with jewels on it and a headband that, fittingly, said "Star." Plus, when she was just four years old she walked down a hay-covered runway for Jean Paul Gaultier. The first fashion show she ever attended as non-model though was Chanel's 2016 Spring presentation, as she revealed to W. Outside of her modeling and fashion show appearances though Blondeau is just your average cool teen. When asked what she was most looking forward to doing after last year's fashion week, she said, "Going home to get some rest and going to school."
Related: Teenage Beauty Thylane Blondeau Is the Next French It Girl
9 Famous Kids Who Ruled the Runway at New York Fashion Week 2017: