Botox Has Just Been Approved By the FDA for Treating Forehead Lines
15 years after it was initially approved for treating frown lines.
---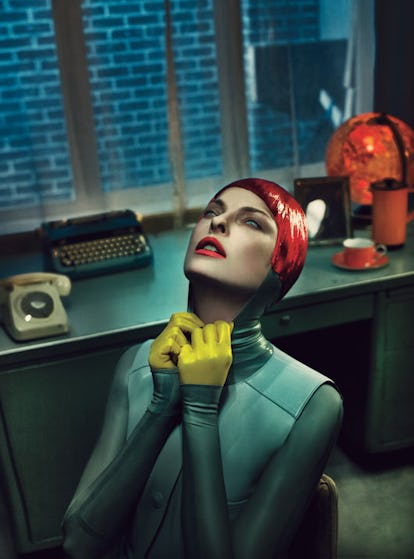 Photographer: Steven Klein Stylist: Edward Enninful
Today brings yet another milestone for Botox, the wrinkle treatment that became a favorite of celebrities in the aughts. The neurotoxin, also known as onabotulinumtoxinA, has just been approved by the US Food and Drug Administration for the treatment of moderate to severe forehead lines, Medscape reports. The news comes 15 years after Botox was first approved for the treatment of frown lines. Since then, it's also been FDA approved to treat crow's feat.
Of course, Botox has been used throughout the years to combat forehead lines, despite only just receiving FDA approval in doing so. And is now somewhat out of favor with celebrities, from Pamela Anderson to Kelly Ripa. In 2011 Nicole Kidman spoke about using Botox in an interview with TV Movie saying, "I didn't like how my face looked afterwards. Now I don't use it anymore—I can move my forehead again."
Even the Kardashians — Kim and Khloe — have moved on from Botox, as both of them experienced negative reactions to the drug. "I had some bruising around my eyes after the procedure, which is totally natural, but because I hadn't looked into the side effects, I freaked out. Botox just wasn't necessary for me at [that] age," Kim told Keeping Up With the Kardashians viewers in 2010.
Aside from having negative reactions to Botox, which is a life-threatening reality as it can affect everything from swallowing to breathing, some have given up Botox simply because their stance on aging has changed. Naomi Watts, for example, has spoken about how aging has opened up roles for her. "Personally, I feel for me it's tough to do Botox — but it's also tough not to! Sometimes, I think I need the help. Whatever anyone else chooses is fine with me, no judgment," she said last year in an interview with New Beauty Magazine. "Of course, I want to look the best I can, but I am playing characters that should match my age and the women and the material that I am interested in are usually going through something. I have to be able to live in my face and tell the story of the character I've taken on."
Related: On the 15th Anniversary of Botox, an Appreciation of How It's Changed Everyone
10 Celebrities Who've Quit Botox and Fillers Throughout the Years
Watch: The Beauty Secrets of Supermodels