Bouchra Jarrar Opens Up About Lanvin's Past, Present and Future
On the day she presents her Fall 2017 collection for one of Paris' oldest houses, artistic director Bouchra Jarrar talks about the founder's legacy, her upcoming redecorated boutique, and her myriad references, from Bowie to Prince.
---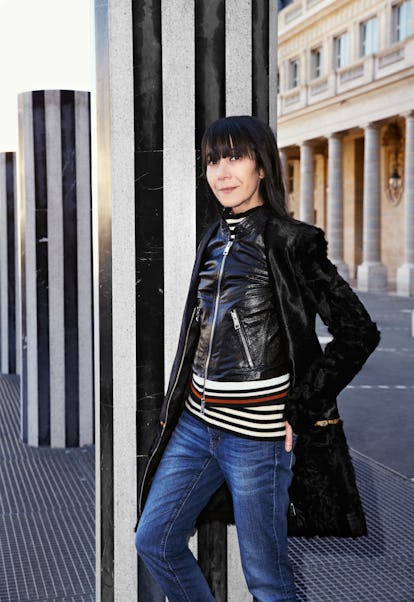 Photographs by Hugues Laurent, Styled by Felipe Mendes; Les deux plateaux: sculpture in situ par daniel buren 1985–86 dans la cour d'honneur du palais royal, copyright DB & adagp Paris
"I'm easily amazed by simplicity," says Bouchra Jarrar, who became Lanvin's artistic director of women's wear last March. For those already familiar with the elegant, often-understated clothes that the 46-year-old designer sold under her own name for six years, both as ready-to-wear and haute couture, this statement will come as no surprise.
Jarrar continues to walk her talk: Upon settling into the Lanvin offices, located across from the French house's 128-year-old flagship boutique on ­Paris's rue du Faubourg Saint-Honoré, she stripped down the voluptuous interiors of her predecessor, Alber Elbaz, painting the walls white and installing minimalist midcentury furniture upholstered in subtle gray tweeds. A revamp of the boutique is in the works.
"The interiors won't feel clinical," Jarrar promises. "But everything will have its place." Mood boards are too much visual clutter for a woman who wakes up every morning designing in her head. "I leave my house to come to work, and by the time I get there I've already processed everything I've seen on the way. My discipline is to keep my brain clear."
Growing up in Cannes, the second-to-last of seven children in a family of Moroccan origin, Jarrar made skirts for her siblings and friends and went on to study fashion at the Ecole Duperré, in Paris. "With each collection, I tell only one story," she says. Her first for Lanvin was about a harmony of opposites: masculine and feminine, black and white, tailoring and flou.
So far, Jarrar has tiptoed around Lanvin's illustrious past and impressive archives. She prefers to "go delicately into the history" because "I'm here, now, in this time." She could not resist, however, redoing Jeanne Lanvin's androgynous pearl, mirror, and fabric necktie necklaces from nearly a century ago ("Seeing those for the first time was just: Wow") and admits to being impressed by Lanvin's way with ­scissors. "She put dresses together with incredible intelligence and knowledge of how things would look best on a woman's body," says Jarrar, who directed Nicolas Ghesquière's studio at Balenciaga for 10 years and then held the same position at Christian Lacroix.
Jarrar loves nature—she refers to the multitude of succulents in her office as "girlfriends" and spends many of her vacations at the wild seashore in Brittany—but her fashion choices are decidedly cerebral. "I stopped shopping when I opened my own house," she recalls. "But before that, I dropped a lot of money at Prada; Maison Margiela, when Martin was still there; and Comme des Garçons."
She's not a fashion obsessive herself, but she does follow the work of peers including Dries Van Noten, Phoebe Philo, ­Azzedine Alaïa, and Karl Lagerfeld. "Véronique Nichanian, at Hermès, too," ­Jarrar adds. "Though I'm not impartial there, because she's one of my close friends."
There are several parallels one can draw between Lanvin's current designer and its founder. They are both women, both entrepreneurs—Jarrar self-funded her own label, which she closed when she got the Lanvin job—and both believers that even the most elegant evening clothes need to be comfortable. That is why Jarrar is keenly aware of the important legacy she has inherited.
After apprenticing for a milliner at the age of 13, Jeanne Lanvin hung out her shingle in 1889 as a hatmaker, but the dresses she made by hand for her daughter, ­Marguerite, were so eye-catching that clients began to ask for adult-size versions. Lanvin also had a knack for marketing, adopting signature colors for her labels (all variations of blue) and, in 1923, creating one of the first fashion logos. The iconic image, based on a photograph of her and ­Marguerite in twin party costumes, defined the brand's identity as both familial and deeply feminine. Lanvin broke additional ground by putting women in pantsuits, sports clothes, and the stripped-down cloche hats she invented; she was the first to offer men's wear alongside women's; and she ventured into luxury home design—something other fashion houses wouldn't do for another 60 years.
"What a force she was," says Jarrar admiringly. "In just 40 years, the things she brought to fashion were enormous. I've got a lot of work to do."
Bouchra Jarrar's Inspirations, from Jeanne Lanvin to Prince
Bouchra Jarrar, wearing a Lanvin coat, in Daniel Buren's installation Les Deux Plateaux, at the Palais Royal, in Paris.

Photographs by Hugues Laurent, Styled by Felipe Mendes; Les deux plateaux: sculpture in situ par daniel buren 1985–86 dans la cour d'honneur du palais royal, copyright DB & adagp Paris
Inspirational photographs in her office.

Photographs by Hugues Laurent, Styled by Felipe Mendes
A crystal chandelier and exposed ducts point to the yin and yang of Jarrar's workspace.

Photographs by Hugues Laurent, Styled by Felipe Mendes
The designer's runway lineup for her debut Lanvin collection.

Photographs by Hugues Laurent, Styled by Felipe Mendes
Photographs by Hugues Laurent, Styled by Felipe Mendes
The stripped-down decor at the rue du Faubourg Saint-Honoré studio.

Photographs by Hugues Laurent, Styled by Felipe Mendes
Brittany, France, a favorite vacation spot.

Getty Images
Jarrar (right), with the model Karlie Kloss, at the finale of her spring show.

Getty Images
A Lanvin sketch by Jarrar.

Courtesy of Lanvin
One of Jarrar's inspirations, David Bowie, 1973.

Getty Images
A white satin suit from the Lanvin spring 2017 collection.

Getty Images
Prince is another of Jarrar's inspirations.

Jean-Baptiste Mondino/Iconoclast image
A floral print for spring.

Getty Images
Jeanne Lanvin, at a fitting in her Paris atelier in the 1930s.

Getty Images
Her salon, in 1921, designed by the architect and decorator Armand-Albert Rateau. Lanvin Décoration services could be engaged through the boutique.

Courtesy of Lanvin
The Lanvin logo was created by Paul Iribe in 1923, inspired by a photo of Lanvin and her daughter.

Courtesy of Lanvin
Experience Fashion Week Street Style a New Way: