Brad Pitt Humbly Introduced Himself With a Name Tag at the Oscars Luncheon
Even though he's a man who needs no introduction.
---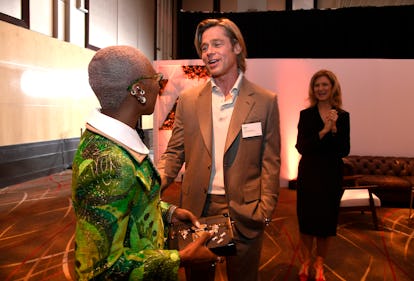 Getty Images
Brad Pitt is a man who needs no introduction. His reputation precedes him, as an A-list actor who probably couldn't walk five blocks down the street without being spotted and stopped by a fan.
And he seems to be having the best awards season out of anyone. Fresh off his Golden Globe win for Best Supporting Actor in Once Upon a Time…in Hollywood, and his big win at the SAG Awards—where he joked about updating his Tinder bio and broke the Internet by grabbing his ex-wife Jennifer Aniston's hand backstage—Pitt attended the Oscars luncheon, where he charmed fellow nominees such as Cynthia Erivo, and walked around with a name tag.
Ever since it was revealed about two years ago that a post-breakup Pitt was out there flirting in Los Angeles coffee shops and whatnot with his real name—which is William Bradley Pitt, by the way—it seems that the actor has taken on a new public persona, one in which he is so humble that he has no trouble joking about dating apps at awards shows and playfully showing off his name tag at luncheons, the purpose of which is to identify the wearer of the label, even though anyone with a pulse could identify Pitt from across the room. (It should also be noted that he was not the only attendee wearing a name tag, but he was certainly one of the few, and possibly the most famous one wearing it.)
This man has the ability to make it seem like the most mundane of accessories, such as the newsboy cap or a name tag, could be the object of his affection, evoking jealousy amongst the best of us who wish we could be the cap perched atop his sandy haired noggin, or that little tag that says "Brad Pitt" and is pinned to his suit.
After Pitt and his ex-wife Angelina Jolie split a few years ago, the actor's love life has been under so much scrutiny to the point where he can't even go to a woodworking class or take a pottery lesson without the rumor mill churning. But he seems to have fully embraced his singledom.
And his mention of being on Tinder reportedly caused the amount of users on the dating app to skyrocket, inspiring a bevy of normies who might believe they, too, could one day have a run-in with one of the great Hollywood stars of our time. (Pitt eventually admitted that he was just joking, and besides, think about it for a second—wouldn't an actor of his caliber be on Raya anyway?)
If his recent displays of down-to-earth humility are all just a ploy to convince the Academy to finally give him his first acting Oscar, then, well, it's working.
Related: Brad Pitt on His Early Days as an Extra, What He Wore to Prom—and His First Kiss