Brad Pitt Is Still Single, Despite Rumors He's Dating MIT Professor Neri Oxman
Despite those MIT professor rumors.
---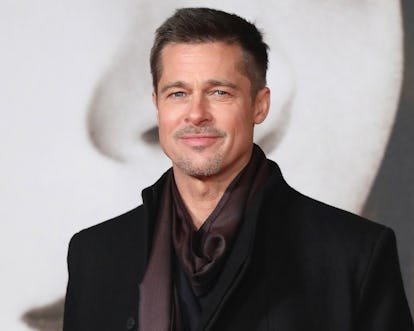 Tim P. Whitby/Getty Images
Ever since he and Angelina Jolie announced their separation, Brad Pitt's love life has been a struggle to keep up with. That's not due to any actual action on his own part; it's wading through all of the rumors. One of those rumors was centered around his relationship with the Massachusetts Institute of Technology professor Neri Oxman, which began in April. As it turns out, though, Pitt is allegedly still single and relishing that fact.
"He has gone on dates but he's not looking to leap into a serious relationship at the moment," a source close to Pitt told Entertainment Tonight. "He is content on his own and enjoys the quality time he spends with the children when he isn't working."
Instead of spending time on his love life, Pitt has apparently been putting all of his energy into parenting the six children he shares with Jolie, as well as his career, which includes a starring role in Quentin Tarantino's Once Upon a Time in Hollywood. "He is focused on two of the most important things he should be focused on, and those are his children and his work," the source said, adding that Pitt is "in a great place personally and professionally…. Being a father is his number one job, and he knows that. He will always be there for those children…. He's spending more time out and about socializing with his close friends, but he also is still a homebody and appreciates hanging around his place."
Pitt confirmed the latter in his latest revealing interview, with GQ, in which he talked about dealing with his loneliness. "You have to wrap your stuff up at night and bring order back to your chaos for the next day," he said. "I find it a great opportunity for the introspection. Now you have to be real careful not to go too far that way and get cut off in that way. I'm really good at cutting myself off, and it's been a problem. I need to be more accessible, especially to the ones I love." Now, it seems like he's taking the time to do that.