The Brandolinis' Bahian Rhapsody
At their vacation home in the laid-back—but increasingly glamorous—village of Trancoso, Georgina Brandolini d'Adda and her family return to their Brazilian roots.
---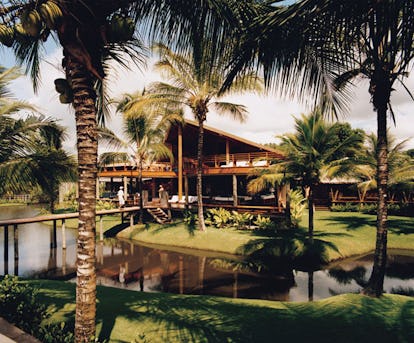 If you knew only a little bit about Georgina Brandolini d'Adda, the Parisian countess who has been a fixture in fashion's most glamorous circles for the past few decades, you probably wouldn't go looking for her in a Brazilian mangrove swamp, in a house off a long dirt road (or "dirty road," in the words of a local man who gives me directions), where teenagers zip around on motorbikes, dodging muddy ditches and stray dogs.
Georgina on her house's footbridge.
But to those who know Georgina well, the fact that she has a vacation home just outside Trancoso, a laid-back village on Brazil's Bahian coast, makes perfect sense. Georgina, who was born in Rio de Janeiro, is recognized for a certain kind of stylish simplicity, as is Trancoso itself. Besides, as you approach her property, which is on the beach a few minutes from town, you realize that life here hardly rates as Outward Bound. Past the thatched-roof gatehouse, a driveway leads through a bamboo thicket to a breezy compound shaded by coconut palms, where Georgina, fresh from a swim in the 25-meter pool, emerges in a bathing suit and pink kanga wrap. At lunchtime, her houseguests saunter in from the beach and sit for a languorous meal on the patio, trading pan-lingual barbs over caipirinhas and stuffed crab.
Nodding to the security guard stationed at the seaside gate, Georgina explains that he's not there to fend off criminals. "Trancoso isn't like Rio—it's not dangerous," she says. "He's there because sometimes people on the beach think my house is a hotel, so they try to come in and have a shower."
During the past few years, Trancoso has made its name as one of the so-called hippie-chic hot spots, those 21st-century answers to Goa or Bali that are luring in-the-know jetsetters. Many such places never manage to get either the "hippie" or the "chic" part quite right, but Trancoso scores high on both counts. Founded in 1586 by Portuguese missionaries, who built a quaint Catholic church and then moved on, the town remained contentedly off the grid until about 1970, when a small group of biribandos—young counterculture types fleeing Brazil's urban jungles for the real thing—showed up. Settling into the empty fishermen's houses around the grass-covered Quadrado, a five-acre town square that overlooks the ocean, the biribandos mixed with local families in a barter-based collective, living off the land and the ocean. It was only in 1982 that electricity arrived, and not until almost two decades later that the latest wave of outsiders—fashionable São Paulo weekenders—rolled into town. Although the influx seemed likely to swallow the village whole, Trancoso has so far retained its unique brand of mellow charm, striking an ideal balance between the scruffy and the superfabulous.
"It's so hard to explain the magic of this place to people who haven't been here," says Georgina's 21-year-old daughter, Bianca, who's visiting from Paris for the Easter holiday. "You tell people, 'Well, in the village there are all these little houses around a big field of grass!' And they're like, 'D'accord, whatever.' But then they get here, and they understand."
Indeed, if you arrive on Trancoso's Quadrado after sundown, chances are you'll fall under its spell pretty quickly. Closed to cars and devoid of streetlights, the square is lit by colored lanterns hanging from mango and jackfruit trees; the soundtrack is a mix of bossa nova and soft laughter coming from the alfresco restaurants, punctuated by the faraway beats of drummers gathered near the church. By day, barefoot teenagers play soccer and practice acrobatic capoeira moves in front of the traditional one-story cottages, which are painted in hues from canary yellow to acid-trip purple. And at all hours there's the distinct scent of burning cannabis, Bahia's unofficial state plant.
Of course, Trancoso's unhurried, no-stress vibe is not particularly suited to construction projects, as the Brandolinis discovered after breaking ground on their house a few years ago and then watching the delays ensue. "It was a mess," Georgina says with a smile. "We had permission to build, but apparently the guy who gave us permission didn't have the right to give it." Reclining on a patio sofa in a vintage Pucci sundress, Georgina speaks in a throaty, rat-a-tat clip while casually alternating among English, French, Italian and Portuguese, depending on the listener. Construction was halted, she recalls, while she and her architect, Italian-born Fabrizio Ceccarelli, chased after the "25,000 authorizations" required by Trancoso's strict zoning regulations.
For the design, Georgina told Ceccarelli and decorator Sig Bergamin, "I want something very open." But evidently not too open. "I hate bugs," she says. "A lot of houses in Bahia have open bathrooms. So at night you turn on the light, and there are all these things flying around." With its glass walls and louvered eucalyptus doors and windows, the house opens up to the breeze during the day but shuts tight when the air-conditioning comes on at night. Because it often rains in Trancoso for days on end, there are a variety of sheltered outdoor decks and terraces, and a pillow-strewn screening room for cloudy afternoons. The decor, what there is of it, is resolutely simple: wooden furniture with comfortable white upholstery, and a few framed photos and Bahian curios. Georgina insisted that all eight bedrooms, including her own, be the same size, adding to the casual, democratic vibe. "In this house you can just lay down anywhere, you know?" she says.
Her trademark lack of fussiness has very clear limits, however. "Je deteste les mangroves!" she confides over lunch, bemoaning the snakes and other critters that lurk in the swamp. A "maniac" about mosquitoes, she pays no mind to neighbors who tease her for hiring an exterminator to spray the compound daily at 5:30 p.m. Still, the more time Georgina and her extended family spend in Bahia, the more they're seduced by the ­laissez-faire rhythm of the place. Georgina says she's always been partial to the mentality of the Brazilians, who, to her mind, are "enthusiastic, fun, always in a good mood. They are happy about life."
If Brazilian joie de vivre is indeed hereditary, then Georgina has plenty of it in her own blood: Her mother, Sylvia Regis de Oliveira, was the daughter of a prominent Brazilian diplomat. Her father was Jean Louis de Faucigny Lucinge, a French prince. Born in the Fifties, Georgina grew up in Paris and married Ruy Brandolini d'Adda, a nephew of Gianni Agnelli, before going to work for Valentino. (She had met the designer by chance during Carnaval while both were in Rio on vacation.) After serving for 20 years as, variously, Valentino's muse, right hand and unofficial PR liaison, she became head of ready-to-wear at Balmain and then started her own line of luxury knitwear in 2004. Now based in Geneva, Georgina and Ruy come to Brazil a few times a year with their two daughters—the effervescent Coco, who consults for Alberta Ferretti and Adam Lippes, and Bianca, an acting student—and assorted in-laws and friends.
All those years in the fashion business have done little to change Georgina's no-nonsense personal style, which is rooted in understated luxury. Even in Paris she favors sweaters and jeans and maintains her lifelong aversion to high heels. "But sometimes, in the evening, I think you have to wear heels, or you look like a midget!" she says. "And my daughter Bianca is so tall, if I'm with her and I'm wearing flats, I look like her maid."
Few people, in fact, could stand next to Bianca Brandolini d'Adda without feeling frumpy in comparison. While at the airport in Paris on my way to Trancoso, I ran into a French man-about-town who asked where I was headed. When I told him, he said breathlessly, "Will Bianca be there? She is now the most beautiful girl in Paris." Indeed, with her model-­perfect legs and cheekbones, Bianca would likely stop all traffic in Trancoso, if there were any. Before lunch, on the beach, Bianca and a friend, both topless, leap gleefully into the waves, then bodysurf back to shore. Later she shows up at a restaurant on the Quadrado, in a black cotton sundress cinched with a leopard-print gladiator-style Fendi belt, texting friends to make plans for the evening.
Since last year Bianca has been dating Lapo Elkann, 31, the designer and Agnelli heir, who is also her second cousin. The fact that the couple has become a tabloid obsession in Italy probably explains why the family is not eager to discuss the romance with a magazine writer. In any case, Bianca has no trouble imagining the ideal spot for her wedding, no matter whom the groom turns out to be. "I want to get married in the church on the Quadrado," she says. "Can you imagine a better place?"
A glam European wedding wouldn't be entirely incongruous in Trancoso these days. The Brandolinis have played host to Valentino and Naomi Campbell; Gisele Bündchen is a regular in town. "If you come here at Christmas, you wouldn't recognize it," says Georgina. "You'll see people go up and down the beach with Louis Vuitton cases. They all fly in from São Paulo on their little jets."
Off-season, at least, there seems to be remarkably little tension between the chilled-out locals and megarich weekenders. Andre Lattari, who runs Trancoso's newest luxury inn, Uxua, sums up the attitude by repeating a familiar local line: "Rich people come to Trancoso to pretend they're simple people." It's the kind of town where, if you get a Reiki-­shiatsu treatment at your hotel one afternoon, you might run into your therapist that night at a forró concert, where she'll ask if the knot in your neck is doing any better. One morning, when I stop by a beachside café just north of town, the place is empty except for a lone waitress who has fallen asleep over a pile of menus. She gently rouses herself to take my order, then, in classic Trancoso fashion, after bringing out my drink—an obscenely flavorful pineapple-mango smoothie—she goes back to sleep.
Silvana Viera da Conceição, a native Trancosan who opened one of the first restaurants on the Quadrado 30 years ago, still recalls the day in 1970 that the first biribanda arrived in town, wearing an ankle-length hippie skirt and countless strands of beads. "We were so afraid—we thought she was a gypsy," da Conceição says. "Everyone ran home to tell their families to lock up the chickens." But the hippies won over the locals soon enough and began planting the trees that now shade the square. Several of the original biribandos are still around, though in the past decade they've made fortunes by selling their land. "Now they're rich and they have normal lives—they take showers and everything," says Lattari.
The inhabitants of Trancoso's beachside manses, including the Brandolinis, tend to hibernate at home during daylight hours, structuring their schedules around very late lunches. "We invite people at two," Georgina says. "They arrive at three, and we eat at four." For non-homeowners there's an increasingly glamorous selection of inns like the Uxua, a cluster of nine houses and apartments furnished in a chic Bahia-mod style and nestled in a garden off the square. Any number of sublime deserted beaches are within an hour's drive, as is everyone's favorite home-cooked lunch spot, Sylvinha's, where at high tide the path to the entrance is underwater, so you need to bribe a fisherman to take you across by boat. Around 4 p.m. the little shops on the Quadrado start to open, and by nine things are buzzing at restaurants like Maritaca, an open-air Italian place that fills with chattering, Marni-clad blonds from São Paulo.
For Georgina, who's not a natural-born lounger, a week or two in Trancoso offers just the right amount of enforced laziness. "I'm a very active person," she says. "I wouldn't live here all year. It's nice to relax here because I'm on holiday. In Europe, if I wake up in the morning and have nothing to do, it drives me mad." After a couple of difficult years during which she fended off a major illness and shut down her knitwear line, Georgina has been getting back to the kind of frenzied schedule she prefers. This fall she'll launch a line of luxury knits for the French boho label Antik Batik, and she's consulting on new high-end retail projects in Qatar and São Paulo.
But she has no businesses planned for Trancoso—perhaps because she knows better. Georgina insists she's now happy that town officials won't let her pave the road to her house, even though it becomes impassable after heavy rains, with ditches three feet deep. "People keep saying, 'Ah, Trancoso is the new Ibiza!'" she says. "I really hope not."