The History of Breast Implants
On the 50th anniversary of the breast implant, Florence Williams takes a look back at the peaks and valleys of the controversial silicone orbs.
---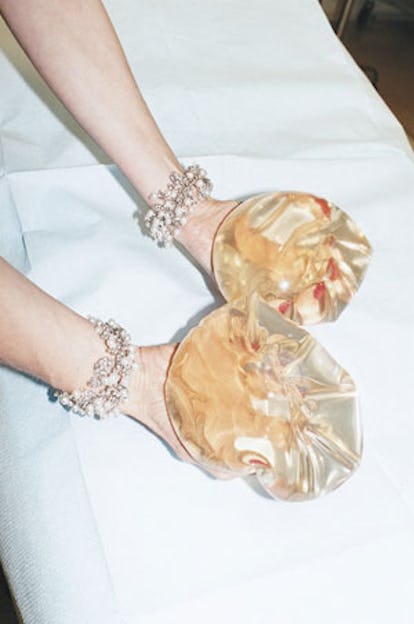 In the spring of 1962, Timmie Jean Lindsey was a 30-year-old Texan with a past. She had six kids, a deadbeat ex-husband, and an ex-boyfriend who had talked her into tattooing his name on her chest. She wanted to rid herself of the garish tattoo, but at Houston's Jefferson Davis hospital, she met a doctor who had an even more daring idea: After having felt a warm silicone bag of blood and thinking it felt awfully nice, he and a colleague had recently invented a new breast implant—and needed a human guinea pig. "That's how it all started," says the 80-year-old ­Lindsey, on the 50th anniversary of the first silicone implantation.
Lindsey's C-cup breasts certainly attracted more male attention, but there were some drawbacks. With her new boobs, she no longer fit into all her clothes, and within five or ten years, she says, the implants had hardened and were causing shooting pains. Like those of many of the women who wear them, the fortunes of silicone implants have waxed and waned in the last half-­century. This medical advancement of the early sixties launched two ­cultural tsunamis: a clamor for implants and then, in the nineties, a clamor against them amid complaints of leakage and infection. Now they are back: bigger, safer, and more popular than ever. According to the American Society of Plastic ­Surgeons, doctors in the U.S. performed 307,000 breast augmentations last year—making the procedure the country's most sought-after cosmetic surgery.
It certainly raises the question, How did so many women ­become so interested in having a bigger bosom than nature intended? Blame it on the media and "women feeling they must compete with what is essentially a pornographic aesthetic," says Victoria Pitts-Taylor, director of the Center for the Study of Women and Society at the City University of New York.
It wasn't always so. For much of Western history, large breasts were considered a burden, even a handicap. And for those who did want to enhance their assets, there was the fear of dubious implant materials. In the early 20th century, surgeons tried fillers like glass and ivory balls, peanut oil, goat's milk, ox cartilage, honey—and paraffin, which melted in high heat. Enter the plastics revolution—and a new breed of implant contenders: Teflon, nylon, and Plexiglas.
Famous People, Infamous Busts
This 1985 picture says it all: even Henry Kissinger couldn't resist gawking at Parton's famous assets.
Anderson actually had her implants removed after splitting from Tommy Lee in 1998, but not long after had them replaced. "I hated being without them. It was like, 'Where are my pals?'" she told Star magazine. "But I could see my feet for the first time in years."
The actress and reality star admits to having implants in her early 20s, but regrets the decision now that she's become a mother. "If I had known that it would or could possibly impact production of [breast] milk, I wouldn't have had them," she said during a 2011 Good Morning America appearance. "I love being a mom…that's my role. These [breasts] don't matter."
The fashion plate is rumored to have been under the knife several times over the years—from her flat-chested Posh Spice days to a sizeable 34DD, before settling in 2009 for a more modest 34B. "I know how a dress should sit," she told The Daily Mail. "I've worn so many dresses in the past and when I see the photographs I think, 'Crikey, my boobs are up round my neck again.'"
Rumors started to fly about Spears when the video for "Oops I Did It Again" hit airwaves with the singer in a skin-tight red bodysuit and a seemingly more ample chest. She has never publicly admitted to surgery, but Rolling Stone magazine reported that she did indeed get implants and later had them removed.
It's another "did she or didn't she" story, but Aguilera's drastic transformation from "Genie in a Bottle" to X-Tina involved some dramatic sexification and equally dramatic apparent chest enhancement.
Poor Tara Reid had a very public struggle with her breasts: she admitted in 2006 to getting implants to "even out" her bust, but said that the procedure was botched—a fact she accidentally flaunted in 2004 when the strap of her dress fell, revealing half of her chest to a crowd of photographers. "If I had to do it again, I never would have done it in the first place," she said on The View.
Montag has become Generation-X's poster child for disastrous too-young plastic surgery. By the time she turned 21, she had had a nose job, collagen lip injections, and implants to take her from an A to a C cup. Apparently unsatisfied, she then took the plunge and had 10 additional surgeries all over her body, including new implants to up her to a G cup. After the press frenzy died down, she hit the tabloids again, claiming she regrets the over-the-top body modifications.
As technology improved, so did demand. Women were lured by pneumatic Hollywood bombshells like Rita Hayworth, Jayne ­Mansfield, and a Las Vegas showgirl named Tempest Storm, whose 44DD-cup moneymakers would be famously insured by Lloyd's of London for a million dollars by the mid-fifties.
Some women went to great extremes for the ample look. In 1964, Carol Doda, who pioneered topless go-go dancing, at San Francisco's Condor club, underwent dozens of injections of ­silicone—a practice first favored by prostitutes in Japan during the American occupation after World War II. Soon the inflationary technique was de rigueur on the burlesque circuit. But such injections were rife with problems. Like paraffin, silicone had a mind of its own and tended to migrate, bunch up, or turn rock solid. (By the mid-sixties, federal regulators had restricted its use.)
Over the years, there have been tremendous advancements in surgical techniques, with fewer infections and a significant ­reduction in hardening. Still, even today there are occasional instances of leakage, causing some women, including Sharon ­Osbourne, to have their implants removed (she turned them into paper weights). And just this past winter, a French manufacturer was arrested for using unapproved "industrial grade" silicone in models that were sold to doctors in 65 countries. But by and large, the majority of implant customers are happy with their enlargements.
Will silicone breasts stick around long enough to celebrate their centennial? Probably not. Now, doctors are working with fat cells from other parts of the body that can be successfully transplanted into breasts. As Tom Biggs, a former ­surgeon who was a medical resident during Lindsey's 1962 procedure, proclaims: "The future is fat!"
Watch W's most popular videos here: