Brooklyn Beckham Is Dating Madison Beer
His first relationship since splitting with Chloë Grace Moretz.
---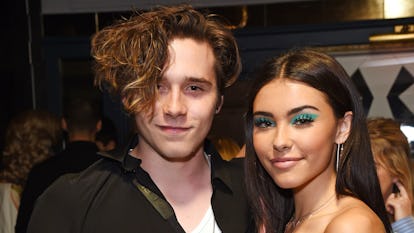 David M Benett/Getty Images
Brooklyn Beckham hasn't been linked to anyone romantically since his two-year relationship with actress Chloë Grace Moretz ended, but Page Six has reported that he is now dating singer and YouTube star, Madison Beer. Though they were just seen out in public for the first time only last week, the publication reports that "they have been seeing each other for a few months." The news broke of the budding romance after the 18-year-olds were spotted walking around in Los Angeles this past weekend as well as attending a concert in Santa Clara, California, last week.
Earlier this month, Beer was in the press after a recording of her ex-boyfriend Jack Gilinsky was leaked, during which he hurled verbal abuse at the star. Beer responded to the recording in a tweet that has since been deleted, writing that she "was blinded by love and much too afraid to come out and say anything in fear [she] would be broken up with/not taken seriously." She also urged her fans come forward if they find themselves in similar, dangerous situations.
Page Six also notes the potential awkwardness between the couple and Justin Bieber, who is credited with discovering Beer, saying that they are "careful not to run into Bieber." Beiber and Beer have been romantically linked in the past, but Beer has denied the rumors, saying the pop star is "like a big brother."
Beckham also made headlines recently, debuting his fourth new tattoo in four months (an eagle on the top of his left hand) on Tuesday. But no word on whether this latest ink is influenced at all by his new romantic connection.
Related: Brooklyn Beckham Is a Budding Photographer
How to Date a Beckham Boy
Your Favorite Celebrities Pick Their Favorite Spice Girls