Bruce Weber on His Friend, the Supermodel Natalia Vodianova: "Her Kindness Is Always Something I Want To Celebrate"
The legendary photographer reflects on his friendship with the supermodel.
---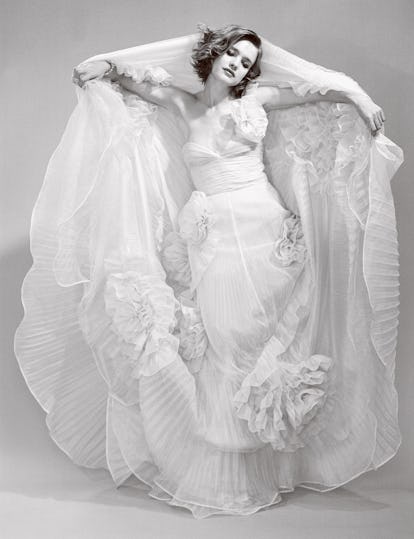 Photographs by Bruce Weber
I didn't need to be listening to a Leonard Cohen song to write about the romance of Natalia Vodianova. She was born to be in front of a Zeiss camera lens; born to be an adoring mother, her five children backlit around her in a field of high grass; born to laugh at her own flirtatiousness; and born to be the sort of rare and unforgettable beauty whose kindness toward those less fortunate is never-ending.
I have known Natalia for 15 years—I first photographed her in the ­Dominican Republic for this magazine after she had just arrived in America, and meeting her was like a thunderclap. It felt as if a cloud had burst open above my head, and suddenly this extraordinary woman had landed in front of my camera. She invaded my senses so completely that I only wanted to photograph her or my dogs every day. Natalia never knew how I felt until she saw my first published portraits of her—her reaction was to just laugh and laugh at what I had asked her to wear or not wear.
See Bruce Weber's photographs of Natalia Vodianova here.
Bruce Weber Shares Intimate Photographs of the Supermodel Natalia Vodianova
"Here we go together down a path of good times. xo" -B.W. Golden Beach

Photographs by Bruce Weber
Photographs by Bruce Weber
Photographs by Bruce Weber
Photographs by Bruce Weber
Photographs by Bruce Weber, Bottom right: ©Pirelli Calendar 2003
Photographs by Bruce Weber
Photographs by Bruce Weber
When I made "I Get Along," my third video for the Pet Shop Boys, Natalia seemed a little skeptical about her ability to act. She was dressed in a paper gown by the famed Broadway designer William Ivey Long. Our director of photography, Stuart Dryburgh—who had been nominated for an Academy Award for cinematography for Jane Campion's film The Piano—was immediately infatuated with her. In one of the first shots of the day, Natalia hesitantly walked up to a wall we had covered in photographs of babies, punk rockers, and juvenile delinquents. Guess what she did as the camera rolled? She pretended to faint, collapsing into the arms of a boy in a paper suit standing next to her just before her head hit the floor. She had all the drama necessary to be an actress!
Over the years, I've concocted one love story after another for Natalia in my photographs. Whether she's with Ed Harris or a rodeo cowboy, Oscar de la Renta or Cody the bear, ­Natalia has always played along like a good sport. But I think the only costar she developed a genuine crush on was my pit bull, Billie Holiday. I photographed them together once—Natalia ­balancing Billie on a vintage bicycle from India, as if they were off to visit Gayatri Devi, the maharani of Jaipur. Billie was a rescue dog we found in Miami, and I imagined ­Natalia connecting with her story on some deep level; for both of them, their early days had been a difficult journey. I admire how Natalia's struggle as a young girl inspired her to create the Naked Heart Foundation, which has built so many playgrounds and helped so many children with ­disabilities in Russia. Her kindness is always something I want to celebrate in my photographs.
Natalia Vodianova Stars in Bruce Weber's New Home Video
Natalia Vodianova and Antoine Arnault at Home: Take a Tour of the Supermodel's Duplex Apartment in Paris
The Vodianova-Arnault clan, at home in Paris (from left): Lucas wears Loro Piana. Baby Roman wears a Dior cardigan and pants; Loro Piana shirt and shoes. Viktor wears a Dior shirt, cardigan, and pants; Loro Piana shoes. Neva wears a Pallas top; Dior pants; Chanel shoes; Repossi ear cuff. Natalia Vodianova wears Chloé overalls; Dior shirt and shoes. Antoine Arnault and Maxim wear their own clothes.

Photographs by Patrick Demarchelier, Styled by Jenke Ahmed Tailly
Vodianova and Lucas under a painting by Park Seo-Bo. Lucas wears an Officine Générale blazer, pants, 
and shoes; Vince shirt. Vodianova wears a Givenchy dress 
and shoes; Repossi ring.

Photographs by Patrick Demarchelier, Styled by Jenke Ahmed Tailly
Books and flowers are scattered throughout the apartment.

Photographs by Patrick Demarchelier, Styled by Jenke Ahmed Tailly
The living room, which is routinely colonized by the children.

Photographs by Patrick Demarchelier, Styled by Jenke Ahmed Tailly
Vodianova wears a Bottega Veneta coat; Cécil earrings.

Photographs by Patrick Demarchelier, Styled by Jenke Ahmed Tailly
A Ryan McGinley photograph is the focal point of the dining room.

Photographs by Patrick Demarchelier, Styled by Jenke Ahmed Tailly
A Takashi Murakami diptych in the hallway.

Photographs by Patrick Demarchelier, Styled by Jenke Ahmed Tailly
The family pet is actually Duane Hanson's sculpture Beagle in a Basket.

Photographs by Patrick Demarchelier, Styled by Jenke Ahmed Tailly
Vodianova wears a Loro Piana shirt; Emilio Pucci pants; Tabitha Simmons shoes. Neva wears a Loro Piana blazer; Louis Vuitton dress.

Photographs by Patrick Demarchelier, Styled by Jenke Ahmed Tailly
Photographs by Patrick Demarchelier, Styled by Jenke Ahmed Tailly
Pins from the Special Olympics World Games, in which Vodianova is actively involved.

Photographs by Patrick Demarchelier, Styled by Jenke Ahmed Tailly
Vodianova wears a Dior dress. Arnault wears Loro Piana.

Photographs by Patrick Demarchelier, Styled by Jenke Ahmed Tailly
A detail of a pillow celebrating the family's British, Russian, and French heritage.

Photographs by Patrick Demarchelier, Styled by Jenke Ahmed Tailly
A photograph of Vodianova with her grandmother.

Photographs by Patrick Demarchelier, Styled by Jenke Ahmed Tailly
Vodianova wears a Chanel dress, Viktor wears Loro Piana.

Photographs by Patrick Demarchelier, Styled by Jenke Ahmed Tailly
Natalia Vodianova wears an Erdem dress; Hermès boots; Cécil ring and earrings. Antoine Arnault wears his own clothes.

Photographs by Patrick Demarchelier, Styled by Jenke Ahmed Tailly; Hair by Teddy Charles at the Wall Group; 
makeup by Aaron de Mey at Art Partner. Manicures by Alexandra Falba for Aymeric AT Mercenaire; produced by Jill Caytan for PRODN; retouching by dtouch; Digital Technician: Jimmy Mettier; Photography assistants: Rudy Lepoultier, Aymerick Lepesant, Oscar Dumas; fashion assistants: Victor Devarrieux, Diane Orlando