Brussels Sprouts
Long a haven for collectors, the Belgian city is emerging as a quirky new capital for contemporary art.
---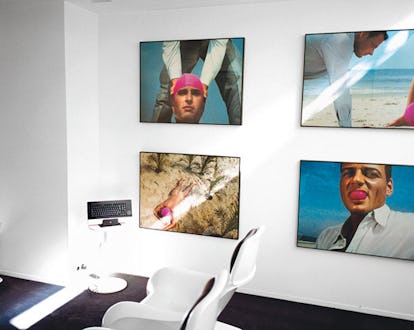 Art dealer Barbara Gladstone, a power player in downtown New York for 25 years, is finally reopening a gallery uptown. "Only it's uptown Brussels, in Belgium," she says with a yelp of laughter that echoes through her still-empty 1890s town house, situated steps away from the luxury shops lining Boulevard de Waterloo.
One of Brussels' quaint cobblestone streets.
Why open in Brussels, a capital dense with diplo- mats and maligned for its dreary weather? Surreal though it may seem, this is an emerging art city. A slow but steady stream of international artists, dealers and curators is arriving, fanning its reputation as a happening spot for contemporary art.
But please don't call it a scene—especially to an artist as prone to provocation as Kendell Geers, a South African transplant who recently displayed a neon piece proclaiming fuc king hell in a Brussels storefront. "Brussels has the best beer, best restaurants, bars and brasseries in the world. That's primary in creating good art," he conveys in an e-mail as blunt as his work, which includes skulls, walls and scooters plastered with profanities. And even if Walvis Café, an achingly hip bar at the gritty end of fashionable Rue Antoine Dansaert, is a magnet for the Duvel-swilling downtown art set, Geers calls it a "place to be yourself without getting disturbed by posers and yuppies."
"Unpretentious" is a term all the movers and shakers of the Brussels art world seem to treasure as much as their rumpled Margielas: Theirs is a low-key community, driven by bold collectors and honest dialogue.
The Atomium, built for the 1958 World's Fair.
The focus of the Belgian art scene, long centered in Antwerp, began to shift to Brussels in the mid-Nineties, according to leading dealer Xavier Hufkens, who represents the likes of Louise Bourgeois and David Altmejd. Like many seasoned local art figures, Hufkens describes the city as a less congested alternative to an overheated Berlin. "Berlin is really almost in Russia if you think about it, and has no collectors," he says, in his gallery. The opening this year of Wiels, a contemporary art center in a former brewery, is a hulking concrete expression of how Brussels is flexing its muscles as a new European art capital.
"It's a very strange city," notes Mexican artist Gabriel Kuri, whose poetic, socially charged sculp-tures, made with found objects, often incorporate sales slips and those numbered tickets you get while waiting your turn at the bakery. Kuri has called Brussels home for the past five years—and not because it is trendy or glamorous: "It's in a perennial state of becoming. It's never there yet," says the artist, the subject of a solo show at the London gallery Sadie Coles HQ in November. "There's a degree of chaos that I find interesting…. Brussels isn't incredibly eventful, but it's not boring either."
To Swiss artist Beat Streuli, who regularly steps out his front door in the city with a long zoom lens to photograph the human panorama, Brussels itself "inspires a lot," he says. "It's much less sterile than London or Paris can be." Shockingly affordable real estate, a strategic location within Europe (London, Paris and Amsterdam all are brief high-speed train jaunts away), and tax advantages for foreign businesses and new residents are some of the factors helping to fuel the expansion of the Brussels scene. An estimated 132,000 French are believed to have relocated to Belgium in recent years.
These include the unfailingly chic Almine Rech, a prominent Paris dealer who decamped to an Art Deco mansion on Avenue Franklin Roosevelt two years ago with her husband, Bernard Ruiz-Picasso (a grandson of the artist), and their children. That she opened a large gallery in uptown Brussels this fall speaks to a compelling equation: Wealthy residents plus cheap real estate equals great art business. "People have more walls and gardens to put sculptures," she says, looking out at her own verdant lawn that not long ago displayed giant works by Ugo Rondinone and Sylvie Fleury. "Proportionate to the size of the country, the passion for art is huge."
Barbara Gladstone's airy new gallery in a 19th-century town house.
At the end of November, a show at Wiels titled "Un-Scene" and devoted to some 20 emerging Belgian-based artists promises to heat things up further. Still, Wiels director Dirk Snauwaert declines to name the participants so as not to ignite a commercial maelstrom. "If you throw a young name on the market, they'll fight for it," he demurs. "The Belgian art world is very collector-driven."
Among the most prominent are Anton and Annick Herbert, early aficionados of Minimalist and contemporary art. But the vast majority of Belgian collectors operate well under the international radar. As Kuri, who has visited a few collectors in the Flemish municipality of Kortrijk, marvels, "I think only Manhattan is denser in good contemporary art collections."
While well-heeled French citizens are apt to buy a hôtel particulier and stuff it with 18th-century art and antiques, not so the Belgians, says dealer Rodolphe Janssen, whose home is in a former coffin factory and filled with challenging works by Gilbert & George and George Condo. "We have no nostalgia about our past," he says, noting that Belgian collectors were recently among the first to buy large-scale pieces by Banks Violette and Terence Koh.
Some collectors are parting the curtains on their private bounty. Walter Vanhaerents, a construction entrepreneur who started buying in the Seventies, last year opened a 32,000-square-foot showcase in a former warehouse, making it available twice a month for private tours. "Artworks are not meant to be hidden away," he says, leading a visitor past eye-popping pieces by Matthew Barney, Bruce Nauman, Takashi Murakami, Tom Sachs and Francesco Vezzoli, to name but a few.
Dealers and collectors Paolo and Cathy Vedovi, who moved from Paris three years ago, predict that the opening next spring of a new René Magritte museum will attract even more popular attention to the capital's art scene. "I think people really want to put it on the map now," Paolo says.